Softens For Awhile
The Bacio Me Lip Balm by Principessa Beauty is a great balm! I have terribly chapped and dry lips. I usually can't wear anything on my lips without them looking worse off. Surprisingly, the Bacio Me balm doesn't do that. My lips feel really soft after wearing the balm and most products don't do that for me. It's a bit heavy on the lips but it's worth it. I'm happy with it!
Published:
Pros:
Scent, long-lasting, softens lips, smooth, cute tin, no colour to balm, a little goes a long way.
Cons:
heavy, no taste (some might like that).
The Bacio Me Lip Balm by Principessa Beauty does not have any packaging other than the tin the balm is in. The tin is black in colour and is 14g (.5oz). The top of the tin has the Principessa logo on it and states the product name. The bottom of the tin states a brief product description, the ingredients, company contact information, and website. The tin stands approximately an inch tall and has a circumference of 6 inches. It's a cute tin. It would be perfect to travel with as it is small and the lid stays well secured to the container.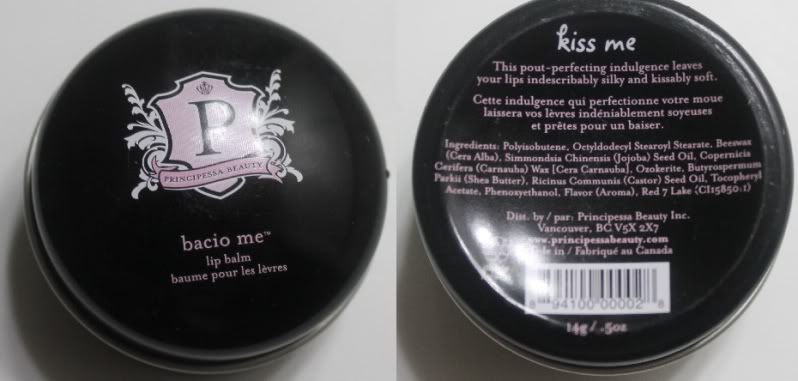 The balm ingredients, as listed on the tin, are as follows: Polyisobutene, Oetyldodecyl Stearoyl Stearate, Beeswax (Cera Alba), Simmondsia Chinensis (Jojoba) Seed Oil, Copernicia Cerifera (Carnauba) Wax [Cera Carnauba], Ozokerite, Butyrospermum Parkii (Shea Butter), Ricinus Communis (Castor) Seed Oil, Tocopheryl Acetate, Phenoxyethanol, Flavor (Aroma), and Red 7 Lake (CI 15850:1). I've listed the ingredient purposes below.
Polyisobutene: increases thickness, acts as lubricant on skin surface.
Oetyldodecyl Stearoyl Stearate: increases thickness, slows water loss.
Beeswax: increases thickness, keeps balm solid, allows smooth application.
Simmondsia Chinensis (Jojoba) Seed Oil: skin conditioning agent.
Copernicia Cerifera (Carnauba) Wax: has the same purposes as the Beeswax.
Ozokerite: emulsifier
Butyrospermum Parkii: another skin conditioning agent.
Ricinus Communis: skin conditioning agent
Tocopheryl Acetate: skin conditioning agent
Phenoxyethanol: preservative
The only ingredient that really stood out to me when I searched on their purposes was the Phenoxyethanol. The
cosmetic database
that I used stated that the European Union concluded that this ingredient is toxic and harmful. The website also states that Environment Canada classifies the ingredient as NOT potentially toxic or harmful. The European Union also classified Phenoxyethanol as an irritant.
I assume that you would need to ingest a lot of the balm for it to be harmful; a lot more than a couple licks of the balm. Just to be safe, I'd recommend you try not to lick your lips while wearing it and of course, don't eat it. As far as the balm being an irritant, I didn't experience this. I have sensitive skin and didn't notice any irritation whatsoever.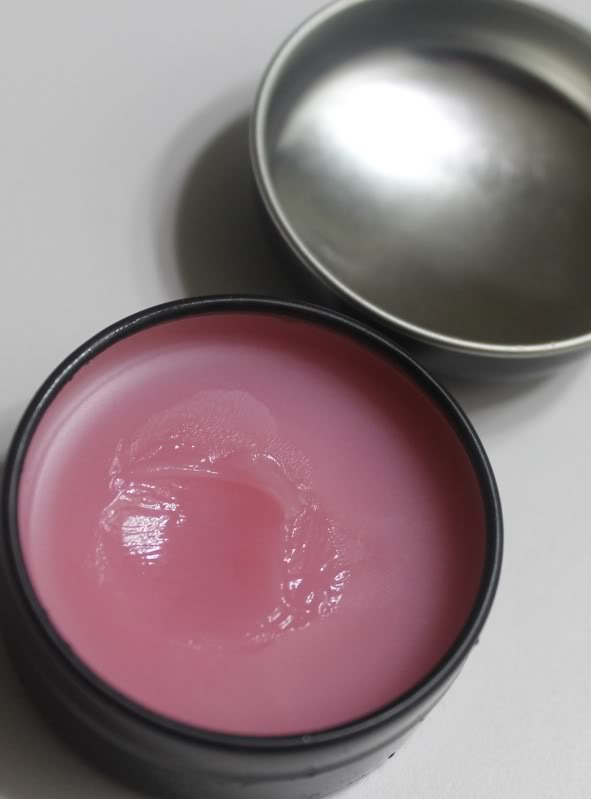 There is no included application brush with the balm so you may want to pick one up at the dollar store if you don't want to use your finger. The balm has a pink colour in the tin but it goes on clear. It's a fairly thick balm; you don't need to use much of it. I actually didn't really like the balm at first because of how thick it felt. I rarely ever wear anything on my lips (lipstick, chapstick, gloss, whatever) so the heaviness of this balm really felt awkward and uncomfortable the first few times.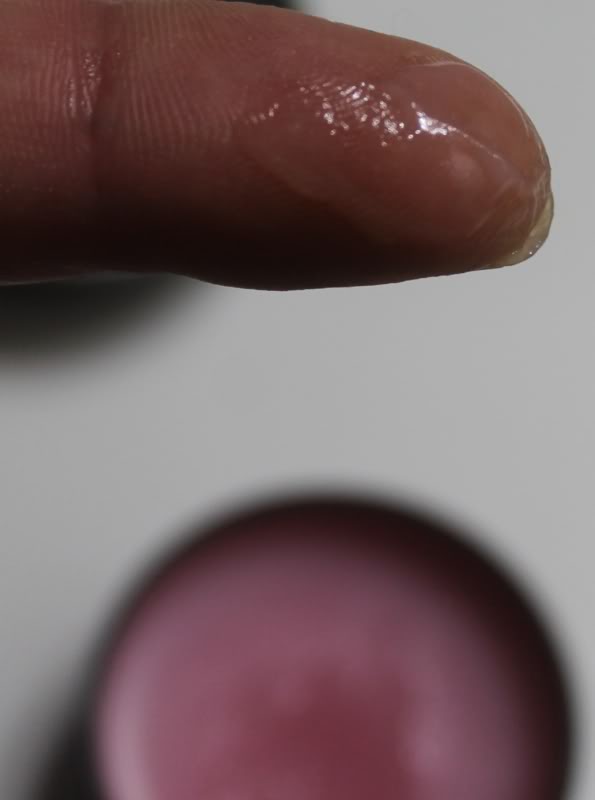 I decided to give the balm one last try after I had looked into the ingredients. A lot of the ingredients act as skin conditioning agents, which my lips desperately need. I have terribly chapped/cracked/dry lips. The biggest reason why I rarely ever wear anything on my lips is because of how terrible it ends up looking. Most glosses or colours will get into the chapped areas leaving my lips looking worse than before. I figured the worst thing that could happen would be that it doesn't help my lips at all and I'd have to give the balm to my sister.
I put the balm on my lips and didn't immediately wash it off like I had the previous times, which it's very easy to wipe off with a damp washcloth. It still felt a bit thick at first but I just kept rubbing my lips together. After a couple of minutes it didn't feel so heavy. I was really happy with the way it looked on my lips. It didn't look uneven. It didn't make the cracks and dryness of my lips look worse like most lip products do. The balm has a glossy, shiny look to it without it being sticky or tacky. It has a vanilla scent to it but sadly, doesn't taste like vanilla. It really doesn't have any taste. The scent doesn't linger that long either. After 15 minutes or so you cannot smell the lip balm on your lips. You can smell it in the tin though.
Experience
...continued


The lip balm absorbs into the lips but it's not a quick absorption where you'd need to reapply often. I found myself needing to reapply the balm after 3-4 hours, which I consider a good amount of time since I'm a smoker. As I had previously mentioned, I didn't experience any skin irritation while wearing the balm. It isn't tacky, greasy, or slimy. It goes on smoothly. The only thing that could bother the wearer is the thickness of the balm.
I've been wearing the balm for the past couple of days now and haven't really noticed any significant changes. I can say though that my lips feel softer for a little while after I've worn the balm. The softness doesn't last though. I'm hoping that with more wear, my lips will soften so that I don't have to wear the balm as often. I'll add information/details about any changes in my follow up review. I've decided to give the lip balm a 4 out of 5. It's a pretty good balm and I like the way it makes my lips look while I wear it and feel after I've taken it off. I just wish the softness lasted a bit longer.
This content is the opinion of the submitting contributor and is not endorsed by EdenFantasys.com

Thank you for viewing
Bacio me lip balm
review page!