Cake Beauty Diamond lip gloss - Lip gloss from Cake Beauty

Product Details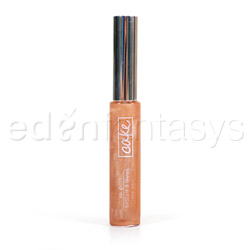 Summary:
This lip gloss is nice if you want to add shine and a hint of color to your lips. It's easy to apply, either alone or over lipstick, and lasts a long time. Plus, it smells delightfully of fresh vanilla cake batter. It remains sticky and tacky on the lips, however, which some may find unpleasant.
Pros:
Adds a nice light color and shine, smells divine, leaves lips feeling smooth when removed.
Cons:
Very sticky when on lips.
Best use:
Cake's Diamond Lip Gloss is great if you want to add some shine and just a touch of color to your lips. It can be worn alone or over lipstick to give the lips a shiny, shimmery and frosted look. The colors are sheer and should work for any skin tone, lip shade, or lipstick shade.

The ingredients include a mix of oils, waxes, extracts, and colorings, as well as Alpha Hydroxy Acids, Vitamin C, and Vitamin E. The gloss is paraben-free, but those with allergies or sensitivities should check the full ingredient list.

Texture / Consistency / Thickness / Viscosity:

The gloss is thick and quite sticky. It is contained in a tube and applied with the small applicator that is attached to the lid. It provides a smooth, thick coat on the lips and gives them a shine and sparkle along with a hint of color. Lips will remain sticky when the gloss is on, although they aren't quite as sticky when the gloss is applied over lipstick. The gloss stays on well, but it will come off a bit if you kiss your partner, and it will also come off on coffee cups and drinking glasses.

The color of the Vanilla Frost is a pearly, very light pink.


Ingredients:

Lip gloss: polybutene, hydrogenated polysiobutene, octyldodecanol, canola oil, ozokerite wax, calcium aluminum borosilicate, ethylene/propylene/styrene copolymer, silica, aroma, zea mays (corn) starch, butylene/ethylene/styrene copolymer, c10-30 cholesterol/lanosterol esters, punica granatum sterols, ricinus commnis (castor) seed oil, henoxyethanol, caprylyl glycol, tocopheryl acetate, helianthus annuus (sunflower) seed oil, benzophenone 3, sorbic acid, rosmarinus offfcinalis (rosemary) leaf extract, peg 8, tocopherol, ascorbyl palmitate, citiric acid, ascorbic acid, may contain (+/-) mica, titanium dioxide, iron oxides, d&c red #6 lake, D&C red #7, D&C red #27, fd&c blue #1, fd&c yellow #1, fd&C yellow #6, bismuth oxycloride, carmine, tin oxide, manganese violet

Taste / Aroma:

This lip gloss smells heavenly. When you sniff the contents in the tube, the aroma of freshly mixed vanilla cake batter will infuse your nostrils. It truly smells good enough to eat. When first applied to the lips, it can be smelled easily, but like all scents seems to dissipate with such close proximity to your nose. The scent lingers as long as the gloss is on the lips, and your partner is sure to notice and comment on how your lips smell.

It does not, however, taste like vanilla cake batter, which is not a bad thing. If you lick your lips, you'll have the bland and somewhat waxy taste of Chapstick on your tongue. If the gloss tasted as good as it smelled, you'd be licking your lips all day and hastening the removal of the product. Licking your glossed lips also seems to make your lips even stickier and feels unpleasant when you open and close your mouth.


Flavor:

Undefined

Fragrance:

Vanilla creme

Performance:

The gloss lasts a long time, and should only have to be reapplied if you eat or drink, or if you tend to lick or wipe your lips during the day. It's best to use water and a washcloth to remove it, or else lips will continue to feel tacky. When the gloss is completely off of your lips, it leaves them feeling smooth.

When applied over lipstick, the lipstick will leave traces on the applicator. This doesn't seem to affect the color of the gloss, but the applicator can be rinsed under water and patted dry to remove most of the lipstick residue.


Packaging:

The Diamond Lip Gloss comes in a .4 oz. tube with a silver cap. The tube itself is clear, and the product is visible through it. The product name and the ingredients are on the tube, but the text is white so it's impossible to read. The tube is sealed with plastic that must be removed before use. The cap screws on securely and the lip gloss is easy to toss in a purse and use anywhere you desire.

Volume:

0.4 fl.oz.

Weight:

0.5 oz

Special Features:

Cake is based in Ontario Canada. Cake doesn't test their products on animals (only on willing human subjects). They only use ingredients approved by both the FDA and Health Canada, and their products are 100% paraben free.

Personal comments:

I absolutely love the smell of this lipgloss – it really smells like vanilla cake batter right after I've mixed it but before I put it in the oven. It's fortunate that it doesn't taste the same way, as I'd be constantly applying it just to lick it off.

The gloss is very sticky and tacky, which I wasn't expecting. Even after an hour, my lips would stick together a bit when I'd press them together. I don't know if that's common in glosses or not as I rarely wear them. It wasn't as sticky when I applied it over lipstick, and I liked how it made the color I used shiny and sparkly. I couldn't completely remove it from the applicator, but even not getting it all off, it didn't seem to affect the color of the gloss when I used it again without lipstick.


Other

Safety features:

No Phthalates / No Sulfates / No Triclosan / Parabens free