Not Soap Radio Over under lip conditioner - Lip balm from Not Soap Radio

Over under lip conditioner videos
Product Details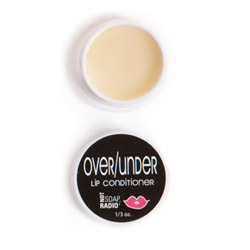 Summary:
Basically, this has replaced Burt's Bees in my book as the best lip balm ever. It's soft, feels nice, lasts for a decent amount of time, is easy to use, smells good, and has an unbeatable price. You will definitely not regret trying it out, and will end up a convert like me!
Pros:
Soft, goes on easy, clear, tasteless, lightly scented, feels good, lasts hours.
Cons:
Germ contamination possible due to design.
Best use:
Over/Under Lip Conditioner by Not Soap Radio is actually the very first non-sex related product that I've gotten from Eden. I must say that my happiness with it makes me want to continue to power shop on EF forever. When I was sent the assignment, I was a tad bit apprehensive because, honestly, I am a die-hard Burt's Bees fan and I was not about to abandon my faithful daily chapstick for a new brand that I had never heard of. However, at the same time I was also incredibly excited because it was a product that I could definitely see myself using every day and potentially loving. I gave in and accepted, because really, what's the worst that can happen?

Turns out, I was absolutely and completely right. Since I knew next-to-nothing about the lip balm before it arrived, I was excited to try it out and write about it. I love getting products that no one has reviewed yet because it's easier not to have a biased opinion or to accidentally restate the same points as other reviewers. When my order came, I took out the tiny plastic pot. It was wrapped in clear plastic and other than the label, had no instructions. I mean, of course I can figure out how to use something as basic as lip conditioner, but usually I make a point to religiously read the packaging on products. I just unscrewed the lid and went for it, and I have to say--I love this stuff!
Texture / Consistency / Thickness / Viscosity:

This balm is the kind that transfers to your lips with your fingers, so I sanitized my hands first. I'm a bit of a germ freak, and I don't like the idea of my hand germs in my lip balm or on my lips. When you first swirl your finger in it, you'll notice that the hard packed substance instantly softens and is easy to use. It feels greasy on the hands, but once its on your lips, it feels like the lip equivalent to a nap on top of a down comforter with a tempur-pedic pillow. Which, in case you were wondering, feels like heaven. It softens, moistens, and honestly makes me want to attack my boyfriend with kisses! He was there when I first used it, and so he wanted to try some. The first thing he said was, "This is so much better than your Burt's Bees. That stuff stings my lips!" He is actually right. If your lips are chapped or dry, this feels so much better than that stinging sensation. I have it on right now, and there's pretty much a party going on. I'm all alone, so I'm halfway considering making out with myself because my lips feel so soft and supple. But seriously, all kidding aside, this stuff kicks every other chapstick/lip gloss/lip balm/moisturizer I've ever had's ASS.

Ingredients:

Organic Aloe Barbadensis (Aloe) Leaf Juice, Glycerin, Organic Butyrospermum Parkii (Shea Butter) Fruit, Cetearyl Alcohol, Behentrimonium Methosulfate, Carthamus Tinctorius (Safflower) Oil, Cetyl Esters, Collagen, Organic Simmondsia Chinesis (Jojoba) Oil, Allantion, Organic Rosa Canina (Rosehip) Oil, Tocopheryl (Vitamin E), Lanolin, Phenoxyethanol (and) Caprylyl Glycol, Flavor, Squalane, Vaccinium Macrocarpon (Cranberry) Seed Oil, Punica Granatum (Pomegranate) Seed Oil, Limnathes Alba (Meadowfoam) Seed Oil, Panthenol, Menthos, Cinnamomum Camphora (Camphor) Essential Oil, Hyaluronic Acid

Taste / Aroma:

Supposedly, this isn't flavored or scented. I suppose compared to other products it isn't very strongly scented or flavored, but I wouldn't go so far as to say it has NONE. It has a very light scent that is reminiscent of sugar cookies or vanilla bean candles. I LOVE IT. It has less taste than it does smell, but that just means I won't waste it. (Like you know, when you're hungry and trapped in an elevator with no food.) The smell is delicious though and I bet you will like it. It's like a gentle candle. It won't irritate you.

Performance:

By my count and estimation, this lip balm lasts noticeably for about 3 hours before you will probably want some more. It doesn't dry up your lips or anything, but that's about when you can't really smell or feel it anymore and I love to reapply, so I do. It's not really necessary though. It could easily go on under a lipstick or gloss, which I like because lipstick tends to look funny on me with nothing under it.

Ingredients: Organic Aloe Barbadensis (Aloe) Leaf Juice, Glycerin, Organic Butyrospermum Parkii (Shea Butter) Fruit, Cetearyl Alcohol, Behentrimonium Methosulfate, Carthamus Tinctorius (Safflower) Oil, Cetyl Esters, Collagen, Organic Simmondsia Chinesis (Jojoba) Oil, Allantion, Organic Rosa Canina (Rosehip) Oil, Tocopheryl (Vitamin E), Lanolin, Phenoxyethanol (and) Caprylyl Glycol, Flavor, Squalane, Vaccinium Macrocarpon (Cranberry) Seed Oil, Punica Granatum (Pomegranate) Seed Oil, Limnathes Alba (Meadowfoam) Seed Oil, Panthenol, Menthos, Cinnamomum Camphora (Camphor) Essential Oil, Hyaluronic Acid

Packaging:

Volume:

0.33 fl oz.

Weight:

0.8 oz

Personal comments:

Basically, I am in love with this lip conditioner. It's not meant to be, but it really is also great when giving head. I know it's just normal lip balm, but that's always a nice plus...

Other

Safety features:

No Phthalates / No Triclosan / Parabens free

Special Features: