LELO Flickering touch massage candle - Massage candles from LELO

Flickering touch massage candle videos
Product Details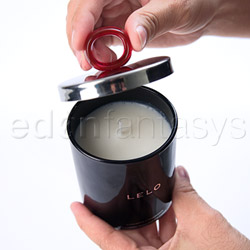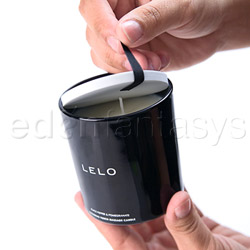 Summary:
All and all I would buy this, it smells nice, looks nice and feels great on the skin. I would buy this for a pair of newly weds, or even a married couple who needs that spark back. If you are looking for a double use candle go for it! I think it is worth its price!
Pros:
Nice smelling, Cute container, nice and silky oil
Cons:
no pour spout to get the oil out
Best use:
This product would work best for couples, or even just for a nice massage. You get the benefit of candle light as well as some wonderful smelling massage oil! This candle will be great for me and my husband, we lack lots of "romantic" time not sex but romance, because we have two little kids sleeping in our room. But once they are asleep we are able to be adults. So for us as parents the best time or occasion to use this massage candle would be once the boys are asleep. But for a normal couple without kids, or distractions any time would be great for this product. Romantic evenings, or just for a nice rub down! I know my old man works hard, so I was really excited to get this candle! I have wanted to get one of these for such a long time!
So I lit the candle and I noted that in order to get enough to massage ones partner with some you would have to be burning it for probably about 30 minutes. The smell was lightly fragrant the candles didn't flicker and held a steady flame.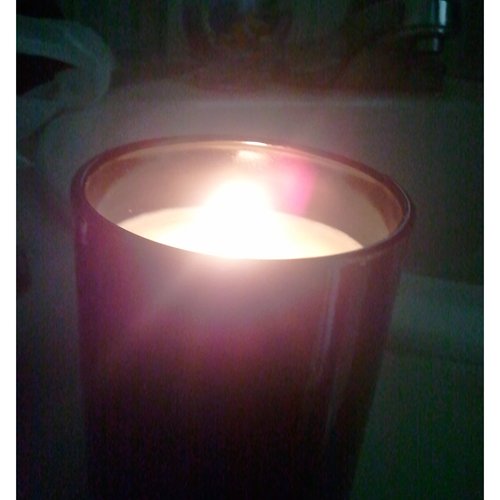 Texture / Consistency / Thickness / Viscosity:

When I first opened the candle, I touched it. It feels creamy, but firm. It is a candle, so in order to get it to be massage oil it needs to be burned in order to get enough massage oil from the candle. You need to burn it for about 30 minutes. Here is the candle poured out on my hand.


Here is after it sat for about 30 seconds.


As you can see, it starts to firm up fast, so you have to rub it in quick.

Base:

Soy wax

Ingredients:

All natural soy wax, shea butter, apricot kernel oil and perfume

Color:

Creamy white

Taste / Aroma:

The smell is light, as soon as I opened the top of the candle I could smell a light fruity-like smell and a slight hint of something dark, but neither smell is overpowering when you open the candle. You don't open the candle and say "WOAH that is strong" - it's the perfect blend of the two scents.

Performance:

The oil you get from burning the candle is slightly greasy but that is a good thing if you are doing a massage it means you don't need as much and the candle itself will last longer here is a picture of my hand after I rubbed it in.


The shine is from the melted wax. Some may not like the feel but it did absorb after about 20 minutes of no friction. So once your massage is over it will absorb. My skin didn't feel softer just felt normal so no real moisturizing effects. The smell was a touch stronger then when the candle was burning, I liked that, it smelled fruitier. I honestly don't get much of the black pepper scent from it.

Packaging:

Packaging is great, the candle made it through being mailed. The candle isn't obviously a mood enhancing sexual inducing item. It looks like a candle with the word Lelo and a cute little top part with a ring. The only big problem is that there isn't a pour spout so you will need a coaster like object and not be able to set it right down on the dresser, book shelf or floor without getting candle oil or wax on them.


Here is looking down into the box


This is when you open the box up, you get a candle, a cute lid and a sponge ( I am saving that for when I get drips down the candle, it feels like a make up sponge.


Size comparison.


Here is the back of the box.


Volume:

5.3 fl. oz.

Weight:

16.5 oz

Other

Burn time:

36 hr

Width:

3"

Height:

3 1/2"

Special Features:

All natural
Disposable
Gifts
Moisturizer

Brand:

Lelo