Best use:
Sexual Health Enthusiasts
is a line of products meant to better your sexual health by adding something new to your regular routine.
After Shave Oil
is a perfect example of one of these products.
This product appears to be geared more towards women; however, the bottle is neutral and works well for men, too, who want to protect their skin after a nice shave.
The After Shave Oil is to be sprayed onto and rubbed into the skin to prevent razor burn, sooth irritation, remove waxy build up from waxing, and so much more.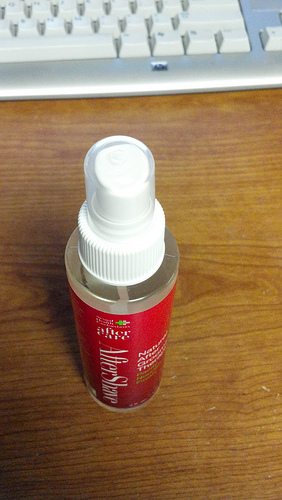 Texture / Consistency / Thickness / Viscosity:

This product is clear both inside of the bottle and once sprayed on the skin. When sprayed on, it looks just like water and, as you rub it in, it turns to more of an oily consistency. The more you rub it in, the more it begins to disappear; however, it rubs into the skin much like a baking oil (like canola oil), if you were to put it on your skin and try to rub it in. It takes a while and leaves a residue on the skin for a few minutes after application. In minutes it soaks in, just leaving behind the scent of the product on the skin and no visible sign. If you rub your fingers over your skin there is a slight greasy feeling, but it does not rub off on clothes and is not sticky in any way. Eventually, after about 15 minutes have passed, the product will have absorbed and there is nothing left over even to the touch! Now the area is free of razor burn and nice and soft!

Because it is oil based, your fingers will be slippery after rubbing this in, so you should probably wash your hands afterward. It is advised to keep this away from the eyes. I wouldn't suggest using this after an eyebrow waxing treatment, because of how close it is to the eyes. Aside from risk of it getting in them, the aroma might burn your eyes at that close range.



Base:

Oil

Ingredients:

Isopropyl Myristate, Cyclomethicone, Dimethicone, Argania Spinosa Kernel Oil, Anthemis Nobilis (Chamomile) Oil, Salicylic Acid, Aloe Barbadensis Leaf Extract, Mineral Oil, Limnanthes Alba (Meadowfoam) Seed Oil, Crambe Abyssinica Seed Oil, Tocopheryl Acetate, Retyinyl Palmitate, Squalane, Citrus Aurantium Bergamia (Bergamot) Fruit Oil, Rosmarinus Officinalis (Rosemary) Leaf Oil, Citrus Aurantium Dulcis (Orange) Peel Oil, Phenoxyethanol.

Color:

Clear

Taste / Aroma:

This oil is not edible, but it does have a woodsy/clove scent to it, and the smell is not too intrusive to the nostrils. It is strongest, of course, in the bottle, but once sprayed on the skin the scent lightens up. The scent eventually fades and disappears, and unless you just don't like the scent, chances are the smell won't bother you too much while it lasts.

Performance:

After misting on damp skin and gently rubbing in as the directions indicate, you should end up with soft, smooth skin. The salicylic acid in the product really assists in reducing redness and irritation after shaving, and does help in preventing razor burn. The combination of natural oils softens and moisturizes.



Overall, this product works very nicely to do its job. In fact, it does specifically what it was designed to! The only major allergy concerns are, of course, to those allergic or sensitive to any of the specific ingredients. It should be used externally only.

There are no parabens, glycerin, perfume or dyes as stated on the product packaging.



Packaging:

After Shave Oil comes in a clear spray-pump bottle. There is a very non-discreet label wrapped around the product, which can easily be removed if needed so that this can be left out and unnoticed. There is a white spray piece screwed on to the top and a plastic cap.

When this arrives to you from EdenFantasys, it will be inside of a plastic bag to prevent leaking. If you take this product with you for travel, you should do the same to prevent any spillage. Otherwise, the bottle does not leak and stands upright on its own just fine.

This 4 fl. oz. bottle stands at 6.5" tall from bottom to the top of the cap, and you can wrap your entire hand around it. It isn't very big and could fit in your cabinet next to your perfume, hair spray or other morning-accessories.

It is easy to remove the cap and spray the product with just one hand, if needed. It also provides an efficient way to use the product without making a mess!

Volume:

4 fl.oz.

Weight:

2.2 oz

Other

Safety features:

No Phthalates / No Triclosan / Parabens free

Special Features: