An Enthusiastic Epidermis
AfterShave is the potion for an enjoyable shaving experience without having to obtain a bezoar. With very little force involved using the pump, this product has become part of my shaving ritual because it does an outstanding job of preventing razor burn and soothing irritated skin.
Published:
Pros:
Performs as advertised
Multi-gender Scent
Very light pump resistance
Cute bottle
Cons:
Strong initial aroma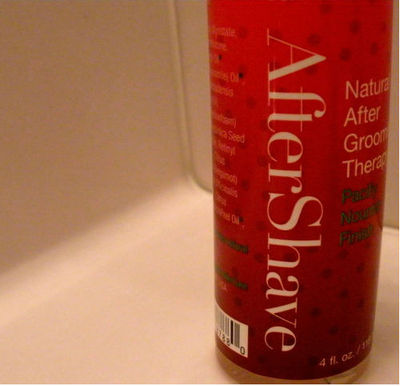 As part of the Sexual Health Enthusiasts'
After Care System
product line, AfterShave was a successful experiment in protecting my
epidermis
from razor burn, the
red patches and bumps
that may result from shaving. The spray both prevents and treats razor burn, making it a wonderful enhancement to shaving. Often I am in a rush to shave and I cannot be as slow and careful as I would like; this product is a fast and prudent solution.
Scent & Texture
Even though the product's fragrance is listed as "undefined", as mentioned in
Peggi's review
, there is a "woodsy" scent. Think less Forbidden Forest and more tropical rainforest because of the citrus tones. The scent will fade after first being sprayed in less than half hour. I like the scent because I do not particularly like floral scents; I appreciate that this could be used by multiple genders.
I was pleased that my skin did not feel greasy because it absorbs within 10 minutes. Dimethicone, an ingredient used in silicone lubes, is possibly responsible for the spray's light, massage-oil like texture. Having studied chemistry, I would argue that the oil should hold up to sweat because they are not "like" substances; the oil formula is mostly a non-polar substance vs. sweat, a polar substance mostly comprised of water, i.e. based on the theory "like dissolves like".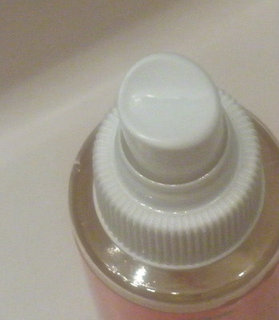 Packaging, Size & Pump
Made in the U.S.A, the bottle arrived packaged in a tied off plastic bag. It wasn't until it was in my hands that I really noticed that the red and green coloring of the bottle looks like a strawberry. This is a really cute feature, particularly if you share a bathroom with a roommate.
The 4 fl. oz (118 mL) AfterShave's size fits comfortably inside my medicine cabinet or in the shower at 6.2" long (15.7 cm) and a circumference of 4.7" (11.9 cm). The pump has only a little resistance because the spray covers a large area, e.g. legs, armpits. I would describe the pump as ergonomic because where you press down is a smooth dip in the plastic, guiding the finger without any sort of arrow indention required.
Ingredients
This clear oil-based spray is listed as having an "undefined" fragrance because there is a lack of perfume added to the product in my opinion. However as aforementioned in the scent section, there is an aroma. Most likely this aroma arises from one or more of the following oils in combination with the other chemicals: Argania Spinosa Kernel Oil; Chamomile Oil; Mineral Oil; Meadowfoam Seed Oil; Crambe Abyssinica Seed Oil; Bergamot Oil; Rosemary Leaf Oil; Orange Peel Oil.
Salicyclic acid
is the key element in exfoliating the skin, used in other products such as acne treatment. The other ingredients included are:
isopropyl myristate
;
cyclomethicone
;
dimethicone
; aloe barbadensis leaf extract;
tocopheryl acetate
;
retyinyl palmitate
;
squalane
; and
phenoxyethanol
.
How to use
Spray on wet skin and gently rub in. This product is not just good for after shaving; it can be used to remove residual wax, soothe skin irritation and smooth skin. The tag for Couples is included because this product might be a nice sensual touch when shaving your partner because the skin is oh so soft afterwards.
To Be Safe:
Keep away from eyes. I was disappointed because I thought about trying to rub some of the oil into my eyebrows after plucking, but I do understand that it is unsafe to do so. The bottle also warns to only use this product externally. I would caution against using this near genitalia, although I did use it for shaving my bikini line and the mons like
P'Gell
did.
Experience
I bought this product to prevent razor burn for my dry, sensitive skin that I've had on my knees and bikini line. Using the AfterShave for the first time, I accidentally sprayed too much thinking that I would need a large amount to really soothe the skin. I've found it takes about 6 to 7 sprays for my legs, bikini area, and armpits to exfoliate the skin. I have not used it on dry skin because I have not noticed any itchiness or irritation in between shaving.

Although not advertised, I have used a spray on my thighs to reduce chafing by decreasing the friction. I do not wax because it leaves my skin stinging, so I cannot verify how well this product works on removing any residue.

In the past I used deodorant which unreliably kept away razor burn; I am so much happier with this reliable spray. I am curious and excited to share this with my male partner for his face.
Follow-up commentary
2 months after original review
This has become a staple of my routine because I've noticed no irritation in reaction to the product or in terms of razor burn. I chose to wash my hands after rubbing in the oil; otherwise, my hands will retain the fragrance for an hour or more.

The upfront cost is a bit high (~$5 per ounce), but this product will last me at least a year. If you only have razor burn once in a blue moon, the larger sized product (4 fl. oz.) might add to the clutter given that the smaller size (1.7 fl. oz.) has not been available for several months.

This product was provided free of charge to the reviewer. This review is in compliance with the FTC guidelines.

Forum
| Discussion | Posts | Last Update |
| --- | --- | --- |
| When | 4 | |
Thank you for viewing
After Shave oil
– aftershave review page!