Evolved California kings drinking game cards - Adult game from Evolved

Product Details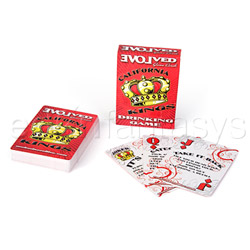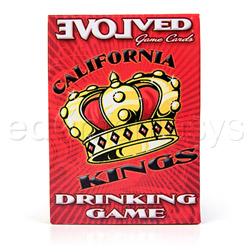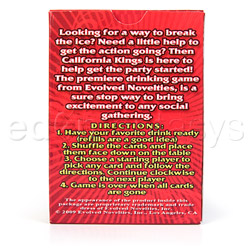 Summary:
I find the majority of novelty, gift-type items boring as hell. Most of them are one-off things that make someone laugh or wince when they open the package, but then they get stuck in a drawer for the next ten years. This deck of cards -- while not inherently sexual -- is at least useful as a real deck of (pretty) cards, even if you're not interested in drinking your way to oblivion.
Pros:
Pretty. Can play actual games with them. You'll get trashed.
Cons:
Not really sexual. You'll get trashed.
Best use:
Purpose / Audience:

Despite their not-so-hot packaging, this deck of playing and drinking cards is actually quite pretty, and rather witty. It's like the Dorothy Parker of card games.

That being said, the whole goal of this game is clearly to get smashed. The directions essentially say, "Turn each card over, do what it says and keep going until you've gone through all the cards." Since "do what it says" mostly entails drinking -- a lot -- then, apparently all you have to do to win the game is still be sitting upright by the end of the deck.

Sexy? Not so much. Fun? Probably. Right up until the barfing begins.

Rules / Content:

This is the easiest game ever -- according to the instruction on the back of the box, you flip the cards over, you drink, you drink some more, you try not to puke. It couldn't be any simpler.

Each card also features simple instructions. Favorite ones include:

--Heaven: Reach for the Sky! Last person with their hands up drinks!
--Rhyme Time: Pick a word for everyone at the table to rhyme with. Keep rhyming clockwise around the group, first person to get stuck or doesn't rhyme drinks!

(Seeing a pattern here?)

There are also cards that are reminiscent of my college drinking days, including ones in which you make up a rule, become the Thumb Master, Chicks Drink, etc.

Design:

These cards are not only quality, they are very fun and pretty to look at. You can see the pictures here. The art makes it a little difficult to read the instructions on the cards sometimes, but in my opinion, it's well worth it.

Other

Special Features:

Bachelor party
Bachelorette party
Birthday party
Gifts
Office party
Wedding party