Sportsheets Deluxe door jam cuffs - Wrist and ankle cuffs from Sportsheets

Deluxe door jam cuffs videos
Product Details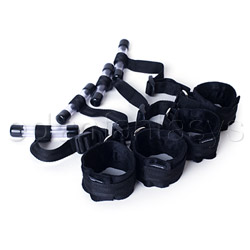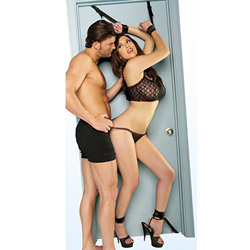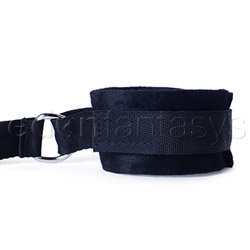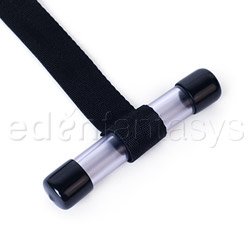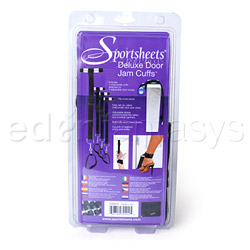 Summary:
These are a perfect set of cuffs for bondage beginners. They're cheap, relatively well made, easy to use, and comfortable. They're non-threatening enough for a first experience with bondage, well made enough for a second experience with bondage, and generally very well suited to their purpose.
Pros:
Cheap, effective, great for beginners, comfortable.
Cons:
Easy to escape, not pretty, not versatile.
Best use:
These are cuffs designed for use in a door jam. They're fairly comfortable and well made, but they're not for heavy bondage fans or even medium bondage enthusiasts - these fall under the definite heading of light bondage. They are also not for every door. If a door has too much space at the top or bottom (anything more than about half an inch) between the door and the frame you may not be able to use these effectively. As well one should obviously use these on a relatively sturdy door.

In older houses this this should be fine as most old fashioned doors are solidly built, but in newer houses take care to find a sturdy door before indulging yourself with these.
Design / Craftsmanship / Material / Size / Fit:

These are simple in design. The tubes that keep the cuffs in place are made of a soft squishy PVC with black PVC caps. They feature plastic buckles for adjustment of the length of the straps, and fasten with Velcro. The cuffs are made from a synthetic velvet and are quite comfortable. They're fairly adjustable and should fit small to somewhat above medium sized people. The strap is nylon and attaches to the tube with a loop. It's fairly sturdy, and should last a good long time.

The Velcro closure means they come on and off quite easily and the velvet material is comfortable, but a cloth bondage cuff is rarely a serious bondage cuff. These are not padded cuffs and will dig into wrists/ankles if you strain heavily against them.

Material:

Faux fur

/

Neoprene

/

Nylon

Color:

Black

Length:

20 1/2"

Closure:

Swivel clip / Velcro

Hook style:

D-ring

Performance:

These are fairly comfortable and reasonably sturdy, but the ability to slide one's hands together combined with the Velcro closure makes these exceedingly easy to escape. Other than that though, provided I didn't strain against them too much, they were comfortable, did not chafe and did not come loose from simple yanking.

For a cheap basic bondage cuff these are very very serviceable. Despite their less than beautiful appearance and lack of versatility (these pretty much only work for door jams) these are a very good set of bondage cuff for bondage beginners.

As stated the Velcro closure makes them easy to put on and take off, and if not put under excessive strain they should last you a good long time.

Other

Size:

One size fits most

Lining:

Faux fur

Texture:

Smooth