Evolved Diabolic playing cards - Adult game from Evolved

Diabolic playing cards videos
Product Details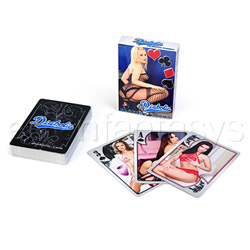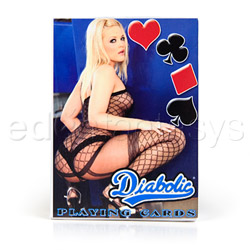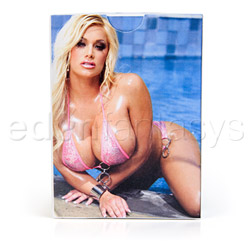 Summary:
This deck of playing cards offers you the chance to play with your favorite porn star… sort of. The smooth, glossy cards feature unique images of scantily clad ladies in provocative poses, sure to spice up poker night!
Pros:
Sturdy cardstock, crisp images, glossy finish.
Cons:
It's a deck of cards, I couldn't find any cons.
Best use:
Purpose / Audience:

This deck of cards would be a great addition to a bachelor/bachelorette gift bag, or even Friday night poker. Anyone who is a fan of scantily clad ladies will get a kick out of these cards as they feature 52 non repeating images of todays top ladies of porn including Alexis Texas and Jenna Haze.

Rules / Content:

Since it's a deck of playing cards you can use it for any game requiring a standard deck. I'd advise against bringing them to family fun night, they're great for a round of "solitaire". This deck of cards would certainly add a little spice to a round of go-fish!

Design:

The Diabolic playing cards are glossy and smooth. They appear to be made of a lighter card stock than casino regulation cards, but I find them easier to shuffle than my deck from Foxwoods. The pictures on the card face are all high quality and crisp. The ladies featured are all scantily clad and artfully posed. The most salacious poses featured show breasts, there are no cards with visible vagina, so it's safe to say it's not a "hardcore" deck. If I were using the movie rating system I'd say they'd be R rated, or TV MA for partial nudity and adult themes.

Other

Special Features:

Bachelor party
Birthday party
Gifts
Office party
Wedding party