SSA Glass Bubbly - Dildo from SSA Glass

Product Details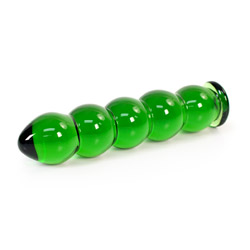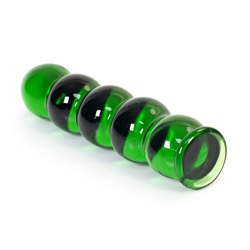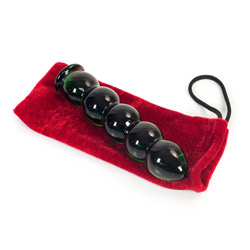 Summary:
Great for those that like a full feeling, but not for those that thrive on clitoral stimulation. No batteries needed, and plenty of textured bulbs for g-spot fun.
Pros:
Easy to clean, no batteries, nice heavy feeling.
Cons:
Doesn't vibrate, base isn't very big.
Best use:
While this toy looks like it might be for anal use, I don't think it would be very safe. The base area isn't much bigger than the bulbous portions of the toy itself. But it is perfect for vaginal use. It doesn't vibrate, so the best use is for insertion into the vagina, and thrusting. It is hard though, so make sure you don't thrust so hard that you bruise.
Material / Texture:

Bubbly is made out of borosilicate glass. It's 100% dishwasher safe and very easy to clean. It's nonporous and you can use any type of lube with it and there will be no chemical reaction with the toy. It's also hypoallergenic. It's very smooth and hard, and has 5 bulbous areas down the shaft of the toy that provide g-spot stimulation when inserted. It would be very easy for the novice user, and easy for the experienced user as well. There is no odor or smell to this toy at all.

Material:

Borosilicate glass

Material safety

Safety features:

Food-grade material / Hypo-allergenic / Latex free / Non-porous / Phthalates free

Design / Shape / Size:

Bubbly is about 6 inches long. The bumps are basically like spheres that are 1.5 inches in diameter at their widest point. The glass is very smooth and there's no seams or rough edges to worry about. The toy is very heavy (probably almost a pound) which adds to the feeling of it when it's inside you. It is a little on the bigger size, and coupled with the weight, it actually feels much bigger than it is, so keep that in mind if you don't like that full feeling. It's a nice kelly green color, and much prettier than the pictures can show. The light reflects though it very nicely. Being a glass toy lover, I didn't figure I'd enjoy this one as much as others simply because I like pretty toys and this one was so plain, but I was pleasantly surprised when I got it in the mail.

Color:

Green

Length:

6"

Insertable length:

5 3/4"

Circumference:

4 1/2"

Diameter:

1 1/2"

Weight:

1 lb

Performance:

It has a base, so it may work with some harnesses, however the base isn't that different than the size of the toy. That, coupled with the weight of the toy, in my opinion would make it not a good candidate for use with a harness. If you are someone who loves to have that full feeling, or likes temperature play, this is a very good toy. Added bonus: It doesn't take batteries!

Care and Maintenance:

This is about as easy as it gets as far as toy maintenance. You can just throw it in the dishwasher to clean and sanitize it. (Don't ACTUALLY throw it... I mean, it is glass after all.) I store mine in a padded bag, but that isn't necessary if you have somewhere to keep it that will prevent it from getting banged around. You also want to check it before each use to make sure there are no chips in the glass.

Care and cleaning:

Dishwasher safe / Soap and water