Break Out the Bubbly
A great glass toy to have in your arsenal, Bubbly serves a few purposes. It isn't safe for anal play, and won't work in a harness. But, what it can do, it does very well. The lovely shade of green is certainly part of the appeal for me, but even if it were clear I'd rave about it.
Published:
Pros:
-Great Color
-Wide Variety of Uses
-Great Design
Cons:
-Cannot Be Used Anally Due to Small Base
I admit it, I have an obsession with green glass toys. I love most glass toys, but if it's green you can bet I'll need to have it right away. This toy was in my cart faster than you can blink! From the moment I had my hands on this toy, I knew I would love it. I love glass toys with stacked bubbles, and have a few of those. Bubbly offers the stacked bubble experience with a little more girth. What could be wrong with that?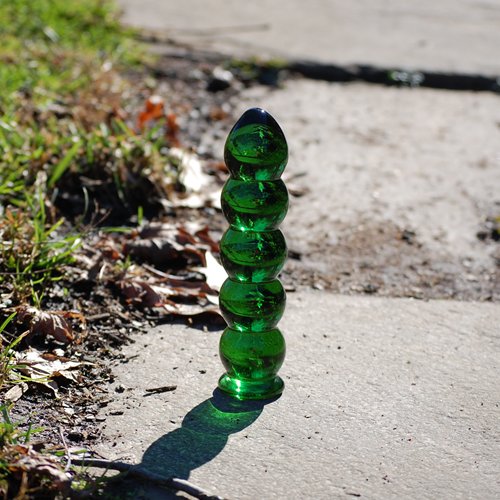 Bubbly is a glass dildo. It has a variety of uses. One of my favorite ways to use a stacked bubble glass toy is to slide it up and down against my clitoris. I place my flat palm against the opposite side of the toy and gently move the toy lengthwise up and down against myself. If you haven't tried this, you must! Bubbly can be used vaginally, of course. There is a slight popping sensation, but not overpowering. There is not enough of a gap between the bubbles to provide too distinct a pop. Slow, purposeful thrusting feels great. As with all glass toys, be sure you are careful to not thrust too vigorously, as you can bruise your cervix and other sensitive internal tissue. Although I'm sure this toy would feel great anally, the base is way too small for anal play. Without a flared base, you run the risk of the toy being pulled to far inside of you, resulting in an embarrassing trip to the ER.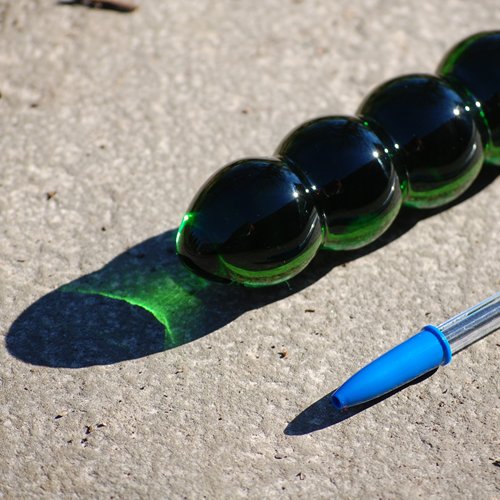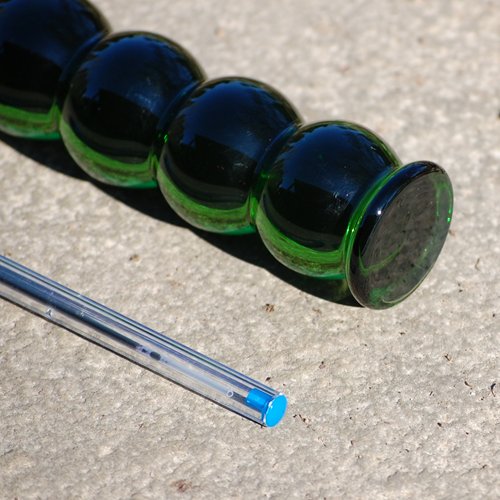 Bubbly consists of 5 stacked bubbles and a very small base. The first bubble has a slight taper with a blunted point. Each bubble is roughly the same size, with a diameter of a little over 1 1/4". The total length of Bubbly is 6", with a 5 3/4" insertable length. The base is very small, with a diameter of 7/8". Because the base is so small, this toy cannot be used in a harness. I do think the base is large enough to allow you to grip it, and it's comfortable in your hand. There is no angle or bend to Bubbly, so if you intend to use it for G-spotting you will need to angle it quite a bit. You could also depend on the thrusting of the toy, and the massaging of your G-spot with the bubbles. The color of Bubbly is a vibrant emerald green. It's a beautiful color, especially when it catches natural light. It would be a great dildo for celebrating St. Patrick's Day!
You could use this toy for some temperature play, as glass holds heat and cold well. Place the Bubbly in a dish of warm or cool water before using it to tease you or your partner. This toy could also be used for body massage, with a nice massage oil. Obviously, the toy is waterproof as well, so it could be used in the shower or bath.
Bubbly is made of borosilicate glass, which is non-porous, hypoallergenic, non-toxic, latex-free and phthalate-free. It has no smell or taste. Borosilicate glass is better known as Pyrex, the bakeware and dishes popular in kitchens the world over. Borosilicate glass is designed to break into large chunks instead of tiny slivers if it would happen to shatter. It's glass, so it has no bend or flex, but that rigidity allows you to get some amazing sensations and pinpoint pressure.
Cleaning Bubbly is simple. You can wash the toy with soap and water, or you can use your favorite toy cleaner. It can be sterilized by placing it in boiling water for three minutes, or washing it in your dishwasher. Because it is a glass toy, you can use any lube you like. It does not tend to collect lint or hair.
Bubbly comes wrapped in bubble wrap, within a plain red storage pouch. The pouch is ok, but is not padded. For storage, be sure to avoid storing Bubbly up against other glass toys, or anywhere it might bang against anything which would break it. No instructions, care information or paperwork came with the toy. It is pretty self explanatory, but you can consult the many reviews for tips on using this toy.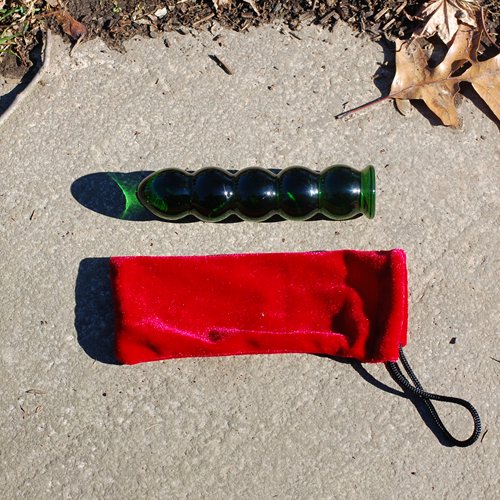 Experience
Bubbly is like the big brother to the Emerald Explorer. It's like the Emerald Explorer put on a bit of weight and the loop on the end fell off. Unlike the Emerald Explorer, you can stand Bubbly on end and take pictures of it outside to freak out your neighbors.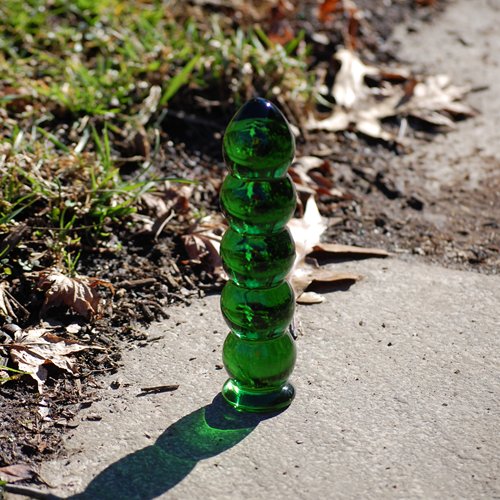 There were times when I used it that I missed having a wider base or a handle to hold on it, but because I used it for vaginal fun, you can always take a break and leave the toy inserted while you rest your hand or reposition yourself.
Using it for clitoral stimulation felt just as nice as using any of my other stacked bubble glass toys. I was able to slide it up and down over my clitoris, applying pressure to the opposite side. The firmness and smoothness of glass, paired with the bubbles, felt amazing as always. It's a great way to play solo, or warm up with a partner. It's also a great way to pleasure yourself if you live with roommates or in a situation where you're concerned about noise, as it's virtually silent but feels amazing.
Vaginally, using this was comfortable and lovely. The smooth bulges slide in and out giving you a sort of undulating wave sensation when they are being thrust. It's not jarring or awkward, and you get no texture sensation. It's just a gentle ride over the bubbles. As there is no gap between the bubbles, you don't get any sort of popping sensation. It's a very gentle toy in that respect. When I used this for play with my husband, the slow rhythmic thrusting felt amazing and really worked to build to something great. When he added in oral, it pushed me right over the edge.
Another way to use Bubbly would be to clench and release around the toy to work your Kegel muscles. The glass is a great material to work your muscles around, and you can really feel the resistance it provides. Although it isn't a Kegel toy you can pop in and leave the house, it would certainly give you a great workout. Also, one thing the lack of a large base means, is that you could roll this along your partner's back, legs and arms to work out any sore muscles or give them a sensual massage. Just add a bit of oil, and you're ready to go.
If you're curious about glass toys, this is a nice one to start with. The size is great for any user, the bubbles don't add too much texture and the toy is just plain gorgeous.
Follow-up commentary
7 months after original review
Although this would feel great anally and it's a shame we can't add it to the anal toy collection, the sensations this gives vaginally keep it around. I have no complaints about quality or construction, and this one is still a great toy to have.
This content is the opinion of the submitting contributor and is not endorsed by EdenFantasys.com

Thank you for viewing
Bubbly
– sex toy review page!