Doc Johnson Platinum silicone dream - Dildo from Doc Johnson

Platinum silicone dream videos
Product Details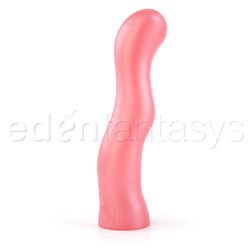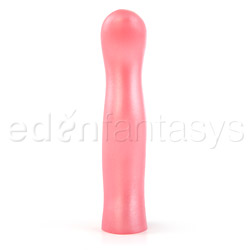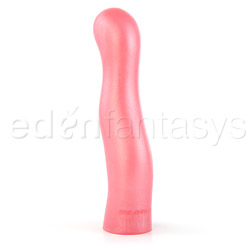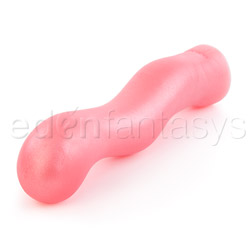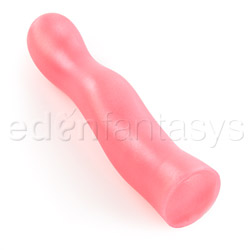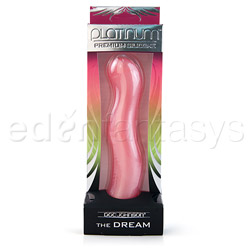 Summary:
The Dream's curved design makes it an excellent G-spotting dildo. It is size is large enough to be felt without being overwhelming for the average user, and its texture is pleasantly soft while still being plenty firm enough for vigorous thrusting.
Pros:
Excellent design for G-spot stimulation; soft, but not too soft texture; very pretty.
Cons:
Unclear if it is 100% silicone; not harness compatible.
Best use:
The Platinum Silicone Dream is a great toy for manual G-spotting, either solo or with a partner. While the dildo does have a bit of a flare at the base, it is not enough, nor is it the right shape, to keep this pretty baby in a harness. Likewise, the flared base is a bit small to be truly safe for anal play, which is a shame because it looks as though it would be a great shape for prostate play.
Material / Texture:

While "Platinum Silicone" is splashed prominently across this dildo's packaging, nowhere on the package does it say that the toy is made from 100% silicone. Since there are not many regulations governing labeling on sex toys, this means that the Dream may be made from a combination of silicone and other less expensive materials. The packaging does claim that that the toy is latex and phthalates free, which is a plus for people who are sensitive to those materials.

Regardless of what they made it from, Doc Johnson has hit on a happy combination of soft, but not too soft in this dildo. You would be hard pressed to do any damage while thrusting with this toy, but it is still firm enough that all the curves and bumps can be felt as they slide by the G-spot.

The material in the Dream is tasteless and odorless, but it is very, very pink! It is bright, vivid, barbie princess pink with a bit of a subtle sparkle to it. If you like you sex toys bright and friendly looking, you will not be disappointed by the Dream.

Material:

Silicone

Material safety

Texture:

Bulged

Safety features:

Food-grade material / Hypo-allergenic / Latex free / Non-porous / Phthalates free

Design / Shape / Size:

The shape and design of this dildo is where this toy really shines. The subtly bulged head, and double curve shape make G-spot stimulation all but inevitable when thrusting with this dildo. Try twisting it around a bit after you have inserted it to find the best internal position for all those bumps and curves.

At 1 1/2" in diameter with a semi-soft texture, the Dream should be a decent fit for most people. While it certainly will not satisfy the size queens out there, most women will likely find it large enough to provide some nice stimulation while not feeling overwhelming or requiring extensive warm up time.

Color:

Pink

Length:

7 1/2"

Insertable length:

6 1/2"

Circumference:

5"

Diameter:

1 1/2"

Weight:

0.5 lb

Performance:

As a manual G-spotting dildo, the Dream gives a top notch performance. As toys go, this one is a bit of a one trick pony. It doesn't vibrate. It is not harness compatible. It has no suction cups or switches or wires or settings. The lack of a flared base makes it a little dicey for anal play. But, if you like G-spot stimulation, its one trick is pretty impressive.

Care and Maintenance:

The Dream is water friendly and can easily be cleaned with soap and water. The packaging also states that it is dishwasher safe. There is no mention of whether it is safe to boil or bleach this toy on the packaging. Doc Johnson does claim that this product is nonporous which means that is should be sterilizable. Of course, there is always the option of using condoms on the toy if you have concerns about the materials or are planning to share in between dishwasher cycles.

As with all silicone toys, care should be taken with silicone lubes. Some combinations of silicone toy material and silicone lube are incompatible and will cause the lube to bond instantly with the toy material creating a gummy texture that cannot be washed off. If you do want to use this toy with a silicone lube, proceed with caution. Do a spot test first, or just stick with water or oil based lubes that you can be sure will not react with this toy.

Care and cleaning:

Bleachable / Boilable / Dishwasher safe

Personal comments:

The Platinum Silicon Dream has almost the exact same design as my all time favorite dildo, the Tantus Squirt. The Squirt is a little bit thicker and firmer than the Dream which actually makes the Squirt quite a bit more intense than the Dream. I see the Dream as being more universally appealing than the Squirt, because the smaller size and more forgiving texture make it much less intimidating and more user friendly.

I generally require far less warm up to enjoy the Dream than the Squirt. And while I certainly will not be replacing my Squirt with the Dream, I'm happy to add the Dream to my collection. The curved design shared by both dildos is pure genius as far as my G-spot is concerned.