SSA Glass Double dare - Double ended dildo from SSA Glass

Product Details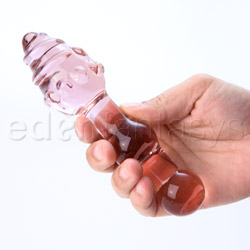 Summary:
The Double Dare has a unique shape and design that will give you a different kind of stimulation that most objects in your toy box. The nubs on its' large tip will send intense stretching sensations through most women as it's inserted and removed. Once inside, this end provides delicious fullness. Most women will find smaller shaft comfortable vaginally, and anyone can enjoy it for anal play. The Double Dare can be easily cleaned and sanitized between partners and uses.
Pros:
Pretty, intense stimulation, great for Kegels, double ended for different desires.
Cons:
Large end may be too large for some, nubs can be irritating, material is delicate.
Material / Texture:

The Double Dare is constructed of solid Pyrex glass with a clear pink hue. The glass itself has a very smooth finish, but the toy is nubbed, ridged, and bulbous, which I'll address in the design section of this review.

The glass construction of the Double Dare is great because:
-It's very easy to clean.
-It's great for temperature play.
-It uses very minimal lube.
-Its' heavy weight and hard feel can provide very intense stimulation.

Some downsides to glass include:
-If it is chipped the must be discarded.
-Its' un-yeilding firmness can be too intense, or even painful for some people.

I think that if selected with care, this can be a great toy for anyone. If you're new to toys, you should be aware that the Double Dare may take some working into. Less novice users should pick this toy if you know that you like heavier toys that are larger than average and very hard.

Material:

Pyrex glass

Material safety

Texture:

Bulged / Nubbed / Ribbed / Textured head

Safety features:

Food-grade material / Hypo-allergenic / Latex free / Non-porous / Phthalates free

Design / Shape / Size:

The whimsical and attractive design of the Double Dare is somewhere between a princess's scepter and a transparent sperm. One end has two bulbous protrusions that slide nicely in and out of a well lubed pussy. This smaller diameter end is smaller than your average erect penis, so makes for nice foreplay (either building up to vaginal or anal sex). This end is just long enough that with vigorous thrusting you may hit your cervix. Be careful of this, or you'll find yourself uncomfortable for the rest of your lovemaking session.

The end with the larger diameter is surely not for the faint of heart. Even after working myself with a good 10 minutes of self-loving with the smaller end, introducing the large nubbed head into my pussy proved to be a challenge. It's not so much the diameter of the head (I've surely taken bigger and loved it!) it's that the nubs are slightly irritating as they're introduced. Once it's in though, the large head feel great.

Weighing in at 11 oz, the toy doesn't feel heavy when you first pick it up. It's after you've been thrusting it for 15 minutes that your forearm begins to burn. For this reason, I suggest getting nice and wet with another toy or a partner before you get down to business with the Double Dare.

Color:

Pink

Length:

6 3/4"

Circumference:

6"

Diameter:

1 7/8"

Weight:

11 oz

Performance:

Once the large head was in my pussy, it gave a feeling of satisfying fullness and I could easily feel the nubs on the walls of my pussy, which I loved as I twisted it around and thrusted it in and out. The full feeling also translated to g-spot stimulation - not because it's curved like your typical g-spot toy, but because it filled me so completely that my g-spot just got in the way of the action!

Personally, I like the small end better, because I found the nubs to be just too uncomfortable on insertion and removal. For a basic glass object, this toy is okay, but I've had better.

Care and Maintenance:

The Double Dare is very easy to care for. Since it is non-porous glass you can wash it with soap and water to remove any reside and lubes. Be sure to wash it before the first use to remove any harmful chemical residue from the manufacturing process. If you want to disinfect it (important between partners and between anal and vaginal use) I recommend using alcohol to rub it down and let it air dry. You could use bleach, but bleach is really not a body-safe chemical, even when diluted. Also, you can boil this toy. If you choose to boil it, I recommend placing a washcloth in the bottom of the pan of water to avoid chipping your glass toy on a metal pan.

You can use any lube you like with glass: water, silicone, oil, or body based. However, keep in mind that if you use any oil based products (commercial lubes, vegetable oils, Vaseline) and then use a latex condom, you risk pregnancy and disease transmission because of decreased condom efficacy.

The Double Dare comes in a black and pink padded bag for storage. To reduce the risk of damage to your delicate glass toy, store it in here when it's not being used. Take care of your glass toys (don't put them on the floor or throw them in a drawer) to avoid damaging them.

Care and cleaning:

Bleachable / Boilable / Dishwasher safe

Packaging:

The Double Dare comes with minimal packaging (no clam shell or plastic wrapping), tucked into a black and pink drawstring pouch. The pouch is ideal for storing this delicate toy and would make a nice gift bag as well. No instructions for use or care are included.