Doc Johnson James Deen signature cock - Realistic dildo from Doc Johnson

Product Details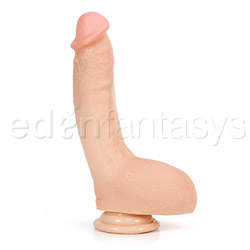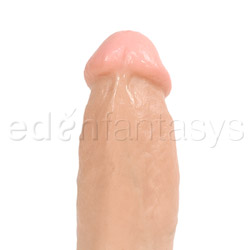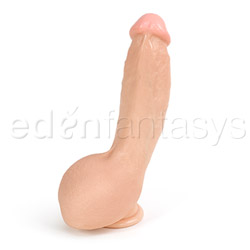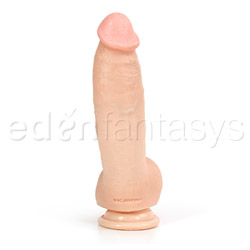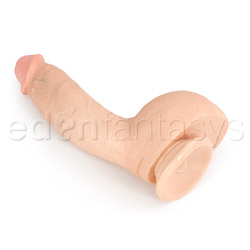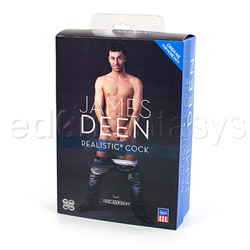 Summary:
"I'm James Deen, here's my penis."- James Deen's deep thoughts on this product.

Doc Johnson has answered the wishes of many porn fans with this life-sized model of porn star James Deen's cock. Now you can welcome porn's boy next door (or at least part of him) into your bed! This realistic looking and feeling toy can be used by hand, suction cupped to a sturdy surface, or used with a harness. Even those unfamiliar with James Deen can enjoy this above average sized dildo!
Pros:
It's James Deen! Large without being huge, suction cup is sturdy.
Cons:
May be too large for some users, not able to be totally sterilized. slight odor.
Best use:
Many people have wondered what it would be like to have sex with their favorite porn star. This realistic dildo from Doc Johnson gives James Deen fans the chance to get as close to the real thing as possible. It can be used alone or with a partner, or even as an accompaniment while viewing its namesake's movies. This toy does not vibrate, so it is primarily intended for internal use. The balls attached at the base will keep this toy from going too far if used for anal play.

James Deen has suggested that this portable version of his penis would be perfect for throwing at those that annoy him, but most users will probably choose to use this cock to make love, not war.
Material / Texture:

This dildo is made of sil-a-gel, a latex-free, pthalates-free material. Although this material is
anti-bacterial it is somewhat porous, so condoms should be used if you intend to share the toy.

The material has a realistic feel. The texture is quite similar to skin, with moderate give if you press against it. The dildo is solid (not hollow), so you can't insert a vibrator into this particular toy. Although somewhat less rigid than an actual erect penis, the toy is stiff enough for easy insertion and can bend back and forth to work with the user's anatomy.

New sil-a-gel toys often have a noticeable odor, and this one is no exception. A mild to moderate scent can be detected with the nose a few inches from the toy.

A vibrating silicone version of this dildo is also available for those who want to be able to totally sterilize the toy, or who simply prefer silicone.

Material:

Sil-a-Gel

Material safety

Texture:

Veined

Safety features:

Anti-bacterial property / Latex free / Phthalates free

Design / Shape / Size:

Created from a mold taken of James Deen's penis, this is definitely a realistic dildo. Every detail, down to the variations in skin color in different areas, has been replicated. The shape of the head is quite pronounced, and the shaft is a bit thicker just below head than toward the base.

The base of the dildo has a suction cup that can be stuck to most smooth surfaces, so the user isn't just limited to thrusting by hand. It is also o-ring harness compatible.

Measuring 6" in diameter at the widest point, this dildo falls on the larger side of the size scale. This is probably not the right toy for those new to penetration, and may even be a bit of a stretch for the average user. That said, it's significantly smaller than some of the extra large dildos on the market, so it could serve as a sort of stepping stone for those that want to move up a bit from dildos the size of an average penis. It measures 8 1/2" in length from tip to base, with 6 1/4" of insertable length. The tapered, rounded tip is helpful for gradual insertion.

As you may guess, this is not a discreet toy by any means; it's about as obviously penis-shaped as you can get. The size and weight make it less than ideal for travel, but at least one won't have to worry about it buzzing in their suitcase.

Color:

Beige

Length:

8 1/2"

Insertable length:

6 1/4"

Circumference:

6"

Diameter:

2"

Harness compatibility:

O-ring compatible

Weight:

1 lb

Performance:

How does one rate the performance of a toy whose only real job is to show up and look like a porn star? (Tough job, but someone's gotta do it.) This is a basic dildo with no added functions or controls, so its use is fairly straightforward. The sturdy suction cup at the base does amp up the possibilities for use significantly. The lack of mechanical parts means this can be used in a tub or shower. The dildo appears to be sturdy enough to hold up over time with normal use.

Special Features:

Harness compatible
Pornstar mold
Realistic design
Suction cup

Care and Maintenance:

The sil-a-gel material has a tendency to collect dust and pet hair, so it is a good idea to rinse this toy before use. It can be cleaned with a mild soap and water or a toy cleaner. One should take care to clean the ridge near the head carefully, since the design will cause fluids to build up in that spot.

Sil-a-gel is compatible with both water and silicone based lubricants. The information on the toy's box suggests storing this dildo separately from other toys, as the materials may react with each other.

Care and cleaning:

Soap and water

Packaging:

The dildo is packaged in a cardboard display box that features a photo of James Deen on the front, an image of the toy on the side, and basic product info on the back. The box's cover flips open almost like a book to reveal a window to the dildo inside. The package includes a discreet black bag that can be used for storage.

The original box with plastic insert may also be used for storage if space and having a box around that's printed with a life-sized cock are not an issue.

Experience:

The happy dance I did over getting to review this toy was epic. I'm not much of a porn watcher, but who can resist James Deen? You can bet that if I go see his upcoming mainstream film in a theater, I won't be able to resist a little "I've totally hit that!" smirk.

I was a little intimidated by all of the "WHOA, HUGE!" comments on this toy and its vibrating twin, but I found it to be totally manageable with a little warm-up. Do not fear the Deen Peen! It is your friend!

Important update! If you're using the included black silky bag to store this, make sure the toy is totally dry after cleaning before putting it in the bag! I was a bit careless with mine, and it now has several large spots that look like bruises where the dye from the bag stained the "skin"!