Doc Johnson The super - Realistic dildo from Doc Johnson

Product Details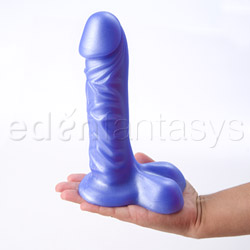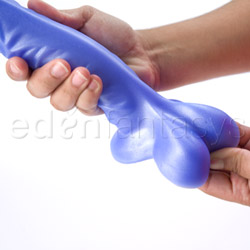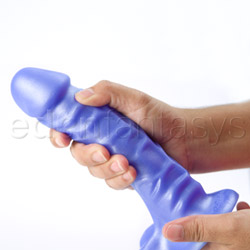 Summary:
This toy is quite larger and is not for the faint at heart. It is very filling and more than likely will require lube and some patience. Just relax is the best advice that I can give. It's textured without being intensely so. If you're up for trying a large toy this is a good place to start, as I found it to be a good experience.
Pros:
Super-safe. Textured, but not too intense.
Cons:
I can't really find anything that I dislike. More colors would be nice though.
Material / Texture:

This is made out of wonderfully safe, soft, and odorless food-grade material silicone (This is VERY important to know in case you are purchasing it to stir your soup.) . Silicone is awarded a 10, the highest safety rating available on the site. Platinum is quite veiny and you can feel the texture, although I don't really see it being too much for people. It also warms up a bit as you play with it to make things a bit more "realistic". There's a slight bit of give to it and you can pull it down and watch it spring up if, like me, you are easily amused. However, it's plenty firm enough to serve its purpose and serve it well.

Material:

Silicone

Material safety

Texture:

Veined

Safety features:

Food-grade material / Hypo-allergenic / Latex free / Non-porous / Phthalates free

Design / Shape / Size:

Platinum looks like a penis and balls. It even feels an awful lot like a penis. Well a giant blue penis and balls, although he does also come in beige. As I have previously mentioned, this thing is quite large. I don't see very many people able to take this without lube.

Obviously, there is very little discretion with this toy. Airport security will be trying not to giggle and the giant dick in your carry-on or they'll be a bit intimidated by the giant dick. If you don't care what security thinks, then by all means take this toy with you.

The color is a bit lighter than the picture and has a nice almost pearlescent finish to it.

Length:

8 1/2"

Insertable length:

7 1/4"

Circumference:

6"

Diameter:

1 7/8"

Harness compatibility:

O-ring compatible

Weight:

20 oz

Performance:

The size is quite large, but you wouldn't be purchasing this toy if that wasn't what you were looking for. You do feel quite full but I found that once I warmed up to it it wasn't horribly uncomfortable. It will sort of stick to the wall but not for any length of time (or maybe the paint in my apartment sucks) so I haven't been able to take advantage of that feature. Well, beyond entertainment purposes anyways. As I mentioned, it is compatible with an o-ring harness. I don't own one so I cannot discuss its compatibility.

Care and Maintenance:

Silicone is pretty easy to care for. You should keep this toy away from silicone-based lubricants and jelly toys; but aside from that, store as you wish. I keep it in a plastic baggy by itself in the drawer my other toys. Silicone does have a tendency to get a bit covered in dusty and hair. Washing it prior to every use is definitely necessary. Washing it after every use is common hygiene. You can do pretty much whatever you want, throw it in the dishwasher, use a mild bleach solution, toy cleaner, antibacterial soap and hot water, or boil it in some water.

Care and cleaning:

Bleachable / Boilable / Dishwasher safe

Packaging:

This toy came packaged in a blister package (which I have since thrown away) and an insert. The insert has a decent design behind Platinum, but I'm a Media Study student and tend to notice things like that. In other words, it wasn't a porn star or flowers or anything super-cheesy. It was decent packaging. The back of the insert lists its key points, such as the material, its harness compatibility, suggests throwing it in the dishwasher, and that it was made in America. There are no instructions but I'm fairly certain that if you need dildo instructions, well, this really is not the toy for you.