Enjoy intense texture with the Wiked ringed realistic dildo

Product Details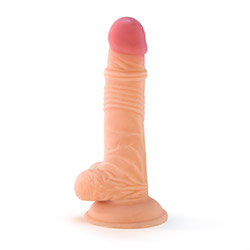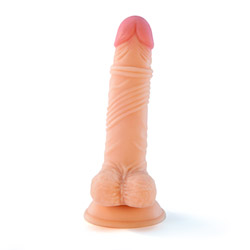 Summary:
If you are looking for a dildo that feels like the real thing but is not overly huge then look no further, the Wicked Ringed Realistic Dildo is for you. Get some actual sex like action from a dildo! Have a climax like you would during intercourse.
Pros:
Feels like a real penis to the touch and when inserted
Cons:
Suction cup does not work
Best use:
The Wicked Ringed Realistic Dildo is super realistic feeling to the hands! You can barely tell that it is a dildo instead of a real penis. When inserted, it feels very close to real. This is an uncircumcised penis replica, and the only thing that takes away from the realistic effect, is the fact that the foreskin stays in place at all times.

The base is flared, so it is safe for anal use (just cover with a condom). It is also compatible with a harness so ladies, feel free to use it for thrusting. It is soft enough and gentle enough for more rigorous play.

The suction cup does not stick well unless it is stuck to the floor. This makes for some interesting play.

The toy is medium size so it can fit in a suitcase fine.
Material / Texture:

Wicked is constructed out of soft, fleshy, PVC. It is squishy to the touch with a hard core, creating an extremely realistic feel.

There is a slight new toy smell, but no taste at all.

This is an uncircumcised dildo with the foreskin pushed back. This dude has a hefty foreskin as two large ridges adorn the shaft just under the head followed by several smaller, sweeping ones. Several veins and skin folds add to the realistic feel. However, only the foreskin folds can be felt when inserted.

The head is slightly pronounced and quite realistic.

The testicles are small but wrinkled and feel very realistic when hitting the outside of the vagina during thrusting.

Material:

Phthalate Free PVC

Material safety

Texture:

Veined

Safety features:

Phthalates free

Design / Shape / Size:

The entire unit is about 7.5 inches long with an insertable length of about 5 inches. Diameter is about an inch. The testicles are 2 inches wide. The suction cup is about 3 inches in diameter.

The size of the toy is good for both beginners and advanced users alike.

The toy is not discreet and should be put in checked luggage only.

Color:

Vanilla

Length:

7 1/2"

Insertable length:

5 1/5"

Circumference:

5"

Diameter:

1 1/2"

Harness compatibility:

O-ring compatible

Performance:

I was amazed at how real this toy felt. The head of the shaft is perfectly shaped and felt very, very real in my mouth. When inserted, I had a hard time distinguishing the toy from an actual penis, however with slower thrusting I could feel all the ridges (which made it obvious that it was a toy).

I tried the suction cup on the wall and it did not stick for a second. I put it on the bathtub and it still did not stick. The only place it will stick is the floor. So, for me, I really did not use the suction cup feature.

Special Features:

Hands free
Harness compatible
O-ring harness
Realistic design
Realistic shape
Skin like material
Suction cup

Care and Maintenance:

Clean this toy before and after each use with soap and warm water. This toy comes dusted in cornstarch so it is important to wash it before your first use. If sharing, cover with a condom. Use only water or silicone-based lubes, never oil. Finally, store in a toy chest or drawer.

Care and cleaning:

Soap and water / Toy cleaner

Packaging:

The toy comes in a black and white cardboard, window box that is perfect for gifting and storage. Care instructions are provided.

Experience:

This dildo felt so good to my hands! Just like I was stroking a real penis. However, I found it a little uncomfortable to insert. The ridges are a little too pronounced and don't have enough give, and so getting them past the pubic bone is less than pleasurable. That being said, once fully inserted, the toy is a dream and provides an intense climax.