Vixen Creations Astro vibe kit - Strap-on dildo from Vixen Creations

Product Details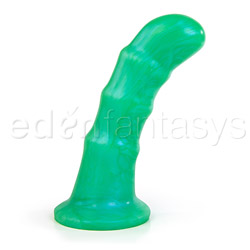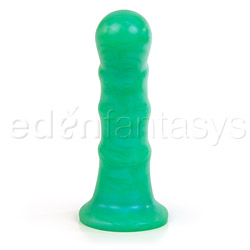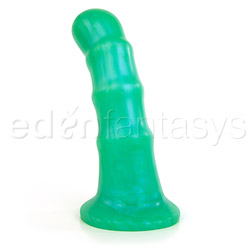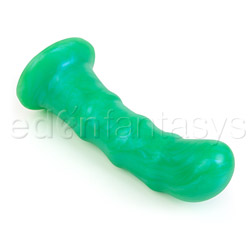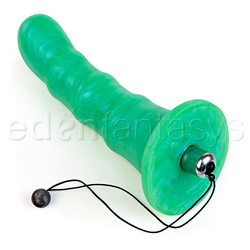 Summary:
This is a vibrating silicone dildo, with a very large diameter. It is easy to clean and provides mild stimulation through a bullet. The bullet can be a little difficult to remove.
Pros:
Made of silicone, vibrating, large diameter.
Cons:
The bullet is almost impossible to remove.
Best use:
This is clearly a dildo/vibrator designed to stimulate women but, as I thought about it for anal usage, it would be equally appropriate for men. At the time of this writing, I'm unsure as to what color options are available. I'm not a huge fan of lime green so that is something to be considered.

This is not a beginner toy - either vaginally or anally. (Or even orally!) My first thought when I saw it, was "It's F....g HUGE." It is. Diameter matters, and this one has a diameter of one and 5/8 inch. It is one of the LARGEST TOYS that I have ever seen. I did play with it orally as part of a fantasy, and I could barely take more than about a inch or two into my mouth. Make sure you keep the size in mind when you think about all the possible ways to use this!
Material / Texture:

This is a huge lime green (it may come in other colors!) SILICONE dildo with a vibrating bullet. Forget the bullet, and look at the size and material when looking at this product. Silicone is fantastic for sex toys. Easy to play with, great with most lubricants, and super easy to clean and sterilize. (Silicone and glass are my all time favorites!)

This particular dildo / vibrator does come with a standard vibrating bullet - with the exception of a beautiful and well designed string with a bead at the end. That would be designed for "pulling" on the bullet for removal from the dildo. However, this is a LARGE silicone dildo and this is a standard sized vibrating bullet. Once the bullet is happily encased in the middle of approximately 8 cm of silicone on each side, IT'S NOT MOVING with a little string. If you're truly motivated to remove it, go find the pliers!

Material:

Silicone

Material safety

Texture:

Ribbed

Safety features:

Food-grade material / Hypo-allergenic / Latex free / Non-porous / Phthalates free

Design / Shape / Size:

The dildo is slightly curved. This is reminiscent of a stack of blocks that is leaning more and more to one side. Many G-spot toys have a similar curve. I'm sure that it is designed to aim for the "g-spot", but it is so large that for most women it will hit all interior walls of the vagina. (Can't speak for the men- sorry!) It also has three slight ridges. These provide very mild stimulation. They are noticeable, but not for primary stimulation.

Color:

Green

Length:

7"

Insertable length:

6"

Circumference:

5 1/2"

Diameter:

1 5/8"

Harness compatibility:

O-ring compatible

Weight:

13.5 oz

Performance:

I found that the bullet in this dildo was its greatest drawback. The bullet was the style of twist on/off. However, I inserted the bullet into the dildo and immediately found that withdrawal was going to prove immensely difficult. (With pliers only!) I did discover, probably through luck, that simple pressure with my finger on the bullet was enough to turn it on and off. I don't consider this a reliable method. The vibrations were transmitted through the entire dildo with a mild buzzing and gentle stimulation.

Functions:

Vibrating

Control type:

Push button

Special Features:

Batteries included
Flared base
Harness compatible
Premium
Vibrating bullet included

Powered By:

3 watch batteries

Care and Maintenance:

Silicone and glass couldn't be easier to care for! Both are non-porous, so you can wash with soap and water or boil briefly. I do not recommend boiling a toy with a vibrating bullet stuck inside though, that leaves soap and water for this one until you find the pliers.

Care and cleaning:

Bleachable / Boilable / Dishwasher safe

Packaging:

Unlike so many sex toys, there was some care that went into the packaging of this super-sized dildo. It comes in a hard plastic, clear tube with a solid base and lid. Made by "Vixen Creations" the label includes a brief description of the company, that the products are hand-crafted and carry a lifetime warranty, and cleaning instructions. There is a recommendation to store the product in the container, and a warning not to use with silicone based lubricants. The case itself has a diameter of 3 1/2 inches can be used for long term storage and reminds me of the Bionicles containers. I'm still trying to figure out where to keep it!

Personal comments:

I loved this. I loved the size and the gentle stimulation, and I know that I'm going to enjoy it for a long time to come. However, as much pleasure as I had, it wasn't enough by itself for an orgasm. It's fairly smooth externally and I prefer a lot of texture, and the vibrations are mild. There is just no way that you can take a standard size bullet with that much silicone, and get anything more than a delightful buzz. I enjoyed playing with this toy for a very long time though out of sheer pleasure in the moment.