Ruff doggie styles Fluffy heart spank-her - Paddle from Ruff doggie styles

Fluffy heart spank-her videos
Product Details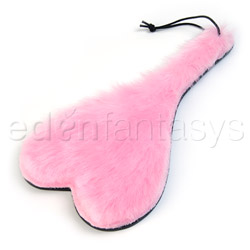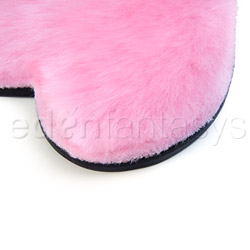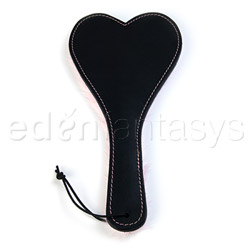 Summary:
Stroke the soft faux fur over the skin, or give a hard smack with the unyielding leather of this small, powerful paddle. While its heart shape and soft side may intrigue beginners, its stiffness and power should satisfy more experienced players, too.
Pros:
Very stiff, powerful, compact.
Cons:
Sheds mildly, fur on handle looks messy.
Best use:
The Fluffy Heart Spank-Her is a small, stiff paddle made by Ruff Doggie Styles. It is best used for impact play or sensation play. One side is covered with pale pink faux fur, while the other is black leather. Between the two surfaces, you can deliver sensations ranging from a gentle, soft glide, to a hard, stinging blow.
Design / Craftsmanship / Size / Material / Features:

This paddle is nearly 11" long from the end of the handle to the top curves of the heart. The handle is about 4.5" long and 1.5" wide. The handle widens toward the end, allowing a better grip. The paddle area is somewhat heart shaped and around 5" at its widest.

The paddle is quite stiff, due to its 1/4" thick leather and an embedded reinforcing piece that reaches well into the paddle area. The stitching on the leather side is tight and even, but the ends of the stitching are visible and have frayed a bit. The edges of the paddle are finished and smooth.

The faux fur side feels mildly plush, and I've noticed very little shedding after several uses. The soft faux fur is about 1" long and brushed down so it lays flat. It appears to be attached to the leather with an adhesive. While the fur layer has stayed attached well so far, the fur can detach from the leather if you pick at the edge of it. Since the fur extends down the entire handle, it may detach over time, especially if the paddle turns during use.

The string through the handle shouldn't get in the way while you play. While it is too small to use as a wrist band, it allows you to hang the paddle between uses.

Material:

Fake fur

/

Leather

Material safety

Color:

Black / Pink

Length:

10 1/2"

Width:

5 1/4"

Weight:

6.5 oz

Performance:

While this paddle's size, faux fur, and pink stitching give it a gentle appearance, it definitely has the potential to deliver hard blows and pain. The fur side is quite thuddy on impact with very little sting. The leather side stings easily and transfers a lot of force without much effort. Skin can easily be reddened with the leather side by using wrist motions alone. Since the paddle is nearly entirely rigid, the leather side may feel much harder than more flexible implements. If you are trying to paddle someone, be sure to aim with the center of the heart. If the edges of the paddle hit the skin first, they create a much more concentrated and painful sensation.

This paddle can easily be used by beginners and more advanced users alike. Starting with the fur side and gradually working from softer to harder blows should help avoid unwanted discomfort. Try the paddle on yourself first before using it on a partner so you have an idea of how much force to use.


Care and Maintenance:

If the paddle remains dry during use, simply smooth down the fur afterward. If something gets on the leather or faux fur, wipe gently with a damp cloth to clean and allow the paddle to air dry. The leather can be treated with a leather lotion to keep it supple. Hang the paddle by its string and/or store it flat in a cool, dry place.

Packaging:

The Spank-Her comes in a simple clear plastic bag without directions or cleaning/care instructions.

Personal comments:

This paddle is my first rigid impact toy. My other paddle is larger, floppy, and doesn't hurt anywhere near as much as this one does. My boy said the leather side of the Spank-Her "feels like a block of wood" and I agree. We didn't have to swing hard at all to elicit yelps of pain from each other. I recommended this toy for beginners and advanced users, but I want to caution beginners to be careful with this toy because it is much more powerful than it appears to be. I really like this toy and hope it stays stiff for a long time.

Other

Texture:

Smooth

Special Features:

Safety features:

Phthalates free