Sexy Living Magic banana - Vaginal exerciser from Sexy Living

Product Details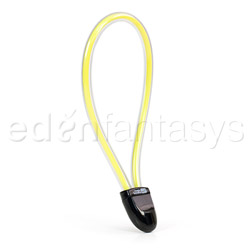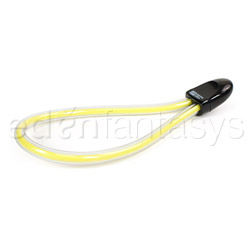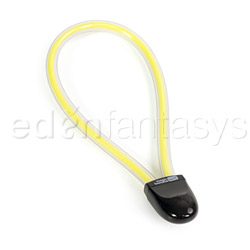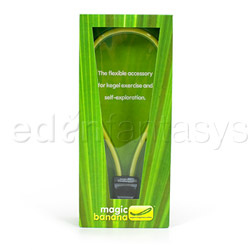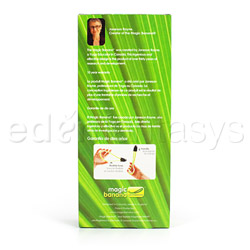 Summary:
The Magic Banana can be used both to discover which areas of your vagina are most sensitive and to help you practice kegel exercises to strengthen your PC muscles. You can use it to achieve moderate G-spot stimulation, as well as to add resistance to kegel workouts. Probably its best feature is that it gives you a way to visually assess your progress in strengthening your PC muscles.
Pros:
Easy to use, multipurpose, can provide visual way to assess PC muscle strength progress.
Cons:
Provides only moderate G-spot stimulation.
Best use:
This product is designed to be used both to strengthen PC muscles and to stimulate your G-spot and other vaginal areas. The product literature states that it can be used to achieve multiple different kinds of orgasms, including full body orgasms. In addition to stimulating your G-spot, it can be used to find your G-spot if you aren't already aware of where it is.

Janeson Rayne, the inventor of the Magic Banana, spent 30 years developing prototypes and giving them to women to test until she came up with just the right design.
Material / Texture:

The Magic Banana is a clear plastic tube with a yellow cord inside. The ends of the cord and tube are secured inside a black plastic handle. Nowhere in the literature that came with the Magic Banana does it say what material was used to make the plastic tubing. One can assume that since thousands of women tested the product before its release that is is a safe material.

It has no scent and is completely smooth to the touch. When squeezing it, you can tell that the clear tubing is separate from the yellow cord, but neither one is compressible.

The black handle is completely hard.

Material:

Plastic

/

Silicone

Material safety

Texture:

Smooth

Safety features:

Food-grade material / Hypo-allergenic / Latex free / Non-porous / Phthalates free

Design / Shape / Size:

The Magic Banana is 9 1/2 inches long and 4 inches wide when relaxed. When squeezed lengthwise, it extends to 10 1/4 inches. It is quite bendable and floppy. When lying on a table, it has a slight curve to it. It is easy to compress with your hand so that there is no space in the middle of the loop. Upon release, it immediately returns to its original shape.

Due to its compressibility, it will easily fit any user.

Color:

Black / Yellow

Length:

9 1/4"

Insertable length:

7 1/2"

Circumference:

2 1/4"

Diameter:

1/4"

Weight:

0.3 lb

Performance:

To use the Magic Banana for kegel exercises, squeeze it together to narrow it, apply lube if desired, then insert. It can be inserted as far as desired. The more it is inserted, the less effort is required to completely squeeze the two sides together. Enough of the product will remain outside you that you can see for yourself how well you can squeeze the tubes together and whether you need to insert it further or less.

The instructions say to squeeze for a few seconds at a time and to continue squeezing and releasing for 3 to 5 minutes at a time. Using it to practice kegel exercises while you're in the shower is one suggestion mentioned in the product booklet.

A woman with PC muscles of average strength will probably want to keep only a small length of the product inside while kegeling in order to better feel the resistance. Even so, the banana does not provide a large resisting force. Rather, it offers mild resistance. Still, it can be reassuring to see the coming together of the tubes with each squeeze.

For G-spot stimulation and self-exploration, squeeze and insert the banana, then move it in and out to varying degrees to discover where the most sensitive region is along the front wall of your vagina. For a product that is not stiff, it provides a surprising amount of stimulation. If you do not know where your G-spot is, this product can definitely help you find it.

Special Features:

Adjustable
Contoured
Flexible

Care and Maintenance:

The Magic Banana is an easy care product. Apply a water based lube if needed before use, and simply wash with soap and water, then towel dry afterward. It does not require a storage container.

The instructions caution to wash it before the first use.

Care and cleaning:

Soap and water

Packaging:

The Magic Banana comes packaged in a shrink-wrap covered box with an attractive design, and an opening in the front to allow you to see the product. Inside is an information booklet about the product with text written in three languages.

The instructions state to squeeze the loop together, insert, and move it at different rhythms and to different depths to find the movements that work for you. The booklet claims that use of the banana can reduce menstrual cramps and improve sleep. It also states that the banana can help you achieve clitoral, G-spot, vaginal and cervical orgasms.

Experience:

Using the banana for G-spot stimulation does feel nice, and I was able to successfully finish with it. However, the banana can't compete with toys meant solely for G-spot stimulation. When I used Ella immediately after using the banana, the difference was compelling.

The literature says the banana can help you find your G-spot and that is true. But probably any toy with a bit of curve can help in that effort. No toy will help define for you the exact boundaries of your G-spot better than the small end of the Pure Wand. As much as I dislike that toy, it does manage G-spot exploration well.

I tried the banana in the shower too, since the product literature recommends that. I found that if you use it while standing, the handle bobbles continuously. I found this to be quite distracting. It also gave me the constant sensation that it was falling out, even though it wasn't. Kegels are best done when you're concentrating on nothing else but kegel squeezes. I don't believe that combining them with showering will allow you to effectively work your PC muscles.

I believe my PC muscles are of about average strength. If the banana is inserted four inches or so, the two lengths of tube extending out touch the whole time. Kegel squeezes only result in slight further movement together. If I position the banana so that only a smaller amount of the loop is inside, there is enough resistance that the tubes don't touch. With each squeeze I can see them move closer together but not to the point of touching. The banana could serve as a way to allow you to assess PC muscle strength progress. It gives you a nice visual way to tell how well you can squeeze the loop closed. This is probably its real strength.