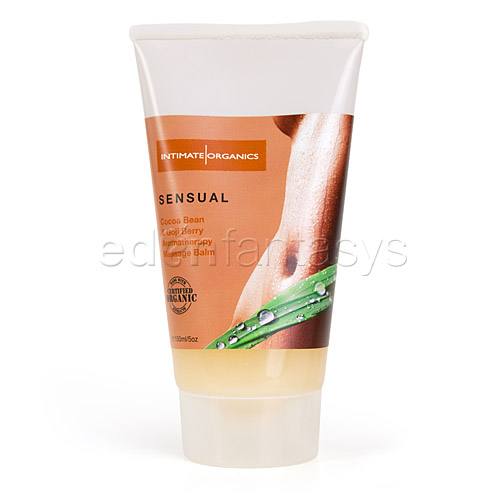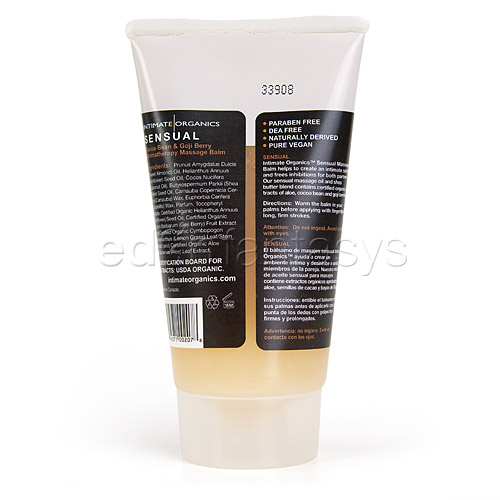 This product is out of stock.
Notify me
A closer look
Massage balm made with organic herbs without parabens and DAE.
Packaging
Volume: 5 fl.oz.
Weight: 0.3 lb
Performance
Special features: Aromatherapy / Organic / Vegan
Ordering Details
Manufacturer: Intimate Organics
Texture
Ingredients: Sweet almond oil, Sunflower seed oil, Coconut oil, Shea butter seed oil, Carnauba wax, Candelilla wax, Parfum, Tocopheryl acetate, Euphorbia cerifera , Certified organic sunflower seed oil, Certified organic goji berry fruit extract, Certified organic lemon grass leaf/stem extract, Certified organic aloe leaf extract.
Taste / Aroma
Fragrance: Cocoa bean / Goji berry
Vegan, Certified Organic, Relaxing, Sensual, Aromatic, Slick

Pure vegan, naturally derived, certified organic.

Intimate Organics has done it again! The Sensual Massage Balm sets the scene for an exciting, sensual evening at home.

Organic, paraben-free, not sticky, long-lasting, smells great.