RealTouch RealTouch interactive sex device for men - Masturbator from RealTouch

RealTouch interactive sex device for men videos
Product Details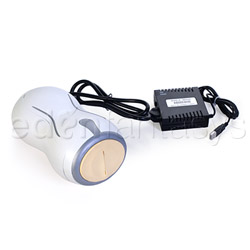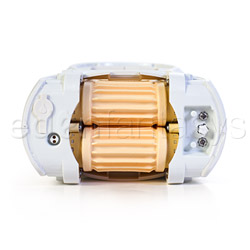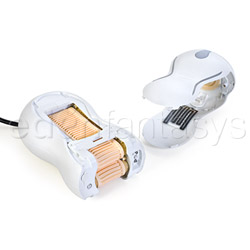 Summary:
The RealTouch is unique, innovative, and a must-have for porn enthusiasts. This isn't exactly plug and play, but if you take the time and learn how it works and how to clean it, you will be rewarded with an amazing product that is unlike anything you've ever used! I can't stress enough the importance of reading over all the instructions before even hooking it up to your computer. Have fun!
Pros:
Amazing sensations, unique design and function, interactive.
Cons:
Lubey Mouse, can't be used or cleaned discreetly, missing line of instructions
Material / Texture:

The exterior of the product is simple hard plastic that slides apart to allow access to the insides.

The inside is where the magic happens! On the two rollers is soft TPR that is pretty easy to clean and definitely feel great. The nice thing about the RealTouch is that the texture isn't for a more experienced or inexperienced toy user; it's great for all users.

Material:

Plastic

/

TPE

Material safety

Safety features:

Food-grade material / Hypo-allergenic / Latex free / Phthalates free

Texture:

Ribbed

Shape / Design / Size / Fit:

Overall, the design is great for a first generation product. I could see a few places where improvements could be made to improve the general shape of the toy. I bet the next gen of RealTouch is going to be even better.

Except for the entrance to the toy, it's pretty discreet. You can't really tell what it is when you look at it. It could easily pass as a strange peripheral for your computer, like a strange scanner or camera. It is a little bulky to use. Maybe if there was some sort of stand or something you could put under your desk to hold it up, it'd be great. It is a bit heavy to hold in place while you're balls deep and watching a 10 minute porn clip that you can feel.

The rollers inside are about 6-7" long, but that isn't too much of a problem. If you're a longer guy, just put in what you can. If you're an average sized guy, just go all the way in and you'll enjoy the ride.

The heating elements and lube application system are great. No one likes cold lube or having to stop in the middle of what you're doing to apply more.

Color:

White

Length:

10"

Fits up to:

Any size

Circumference:

16"

Width:

5"

Vaginal depth:

9"

Weight:

3.5 lb

Functions / Performance / Controls:

Here is a short video on how the RealTouch works.

Basically, there's a pair of TPR rollers inside the hole that move back and forth with varying speed and intensity that stimulate what you see on screen. The device is programmed to auto-lube (a feature I'd like on all things, auto-lubing). The lube even gets warmed inside the product!

As I mentioned above, the device replicates what you see on screen. This is both a good and bad thing. It's a good thing because men are (usually) visual sensationalists. If we can feel what we see on screen, it adds so much more to the experience. However, you know how sometimes the couple on screen go at it and he slips out? You'll feel that too. It feels great and then nothing because he slipped out. I caught myself swearing at the actor on screen "Just keep it in already!".

This is NOT a quiet product...at all. If you live alone or have the place to yourself, that's fine. The nice thing is that you don't have to have the volume up on the video for the product to work. It's about as loud as a radio controlled (RC) car.

The RealTouch is not designed to work in water.

Functions:

Stroking / Sucking

Special Features:

Powered By:

Electric

Control type:

Cybercontrol

Care and Maintenance:

Cleaning the RealTouch is a bit more involved than any other product a guy will use.

After using the product, you'll need to clean it soon after use. Make sure you read all the cleaning instructions (included in the pamphlet) and watching this helpful video.

You'll want to clean this in the shower or kitchen sink. It's really too big to clean in most bathroom sinks.

Packaging:

When you receive the RealTouch, you'll get a VERY large box seen here:


Out of the shipping box, you'll have this relatively large box:


Inside the box, you'll find the product (very securely packaged), bottle of Wet original, the instruction manual, DVD, and all the cords and connections you'll need to hook this up to your computer.

You can't really use the boxes for storage. They are pretty big and not discreet. It's a good thing that the product isn't too obvious and doesn't necessarily need be hidden.

Experience:

So, you get a HUGE package in the mail and you're really itching to try it, make sure you read the ENTIRE booklet before trying to use it! Because you're hooking something up to your computer, you're going to want to make sure you do it right.

The only problem I really found with the initial set up is that the directions don't tell you exactly how to configure your Windows Media Player. The directions tell you how to get to the options menu, which is handy, but not quite all you need. You have to select "Plug-ins" and then manually select the device to operate; in this case, the RealTouch Platform agent. If you don't do this, you'll have a porno on your screen, but nothing going on with the device.

When I received this product, it came with a 10 pack of 10 minute straight porn clips. These are the same videos on the RealTouch site. If you're into gay male porn, you'll have to stream and buffer the videos.

I really think 10 minutes is a good length for the clips. The manual states you shouldn't let the product run longer than a 1/2 hr. That's really a LOT of time when you think about how this product feels and what it's supposed to do. That's three 10 minute clips. When I used the RealTouch, a single 10 min clip and I was fine.

The RealTouch comes with a 3 oz bottle of Wet Original Lube. Admittedly, this isn't my favorite lube. I think it's too runny and doesn't hold up well. You can use any water-based lube with the RealTouch though. I added a couple pumps of Maximus and added the entire bottle of Wet. The good news is that you don't use the entire reservoir of lube each time you use the RealTouch. There's no way to gauge how much lube you have in it, but I'd guess you use no more than a quarter of the lube reservoir per use.

Finally, make sure you get everything ready before using the RealTouch. If you use a laptop, I'd suggest an extra mouse you don't mind getting lubey instead of your laptop's courser pad. You can't really put yourself in soft (I wasn't able to) without lube. You don't want to have a lubed grip on the product or your laptop.