Tenga Flip hole black - Masturbator from Tenga

Product Details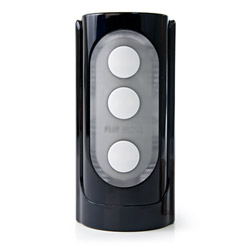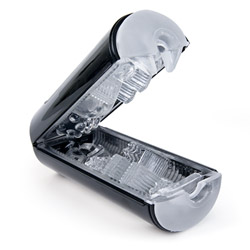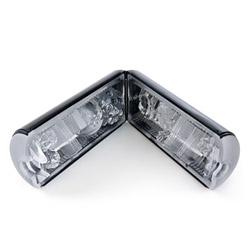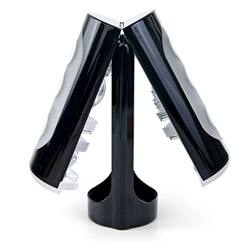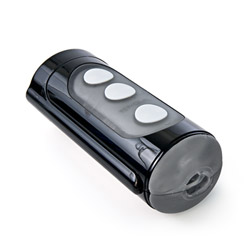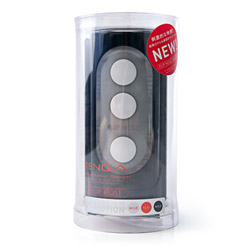 Summary:
As far as sex sleeves go, the Tenga Flip Hole comes second to the Fleshlight, but still stands out as one of the best products available. The innovative design and sensation make it a guaranteed 'orgasm bringer' and the clamshell feature and hardy silicone composite material make it more practical to own, maintain and keep around than a Fleshlight.
Pros:
Brilliant design, good depth, very innovative and effective product.
Cons:
A little too firm for my liking, can be a bit noisy and messy.
Material / Texture:

The Black Hole is made from composite silicone on the inside, with a hard black plastic casing. A black plastic clasp holds the two halves together - either 'ready for action' with the hole showing, or totally sealed up. The TPR Silicone is a much better mix than other Tenga products (which are made from jelly), but it is a little harder than some people would like. Compared to Cyberskin products, which can feel just like 'the real thing', the interior of the Tenga is a bit too hard.

This does mean you get a LOT of stimulation, though - which is especially useful for people who normally find it difficult to reach orgasm with some masturbation sleeves.

Material:

TPR Silicone

Material safety

Safety features:

Hypo-allergenic / Latex free / Phthalates free

Texture:

Ribbed

Shape / Design / Size / Fit:

The Tenga Black Hole is a masterful piece of design.

The reversible black clasp means you can seal the unit completely and it looks totally innocent - unlike the rival product, Fleshlight, which just looks suspicious. The Black Hole could be mistaken for a men's product like shaving cream or cologne, meaning it's safe to hide in the bathroom.

Remove the clasp and you can unfold the Flip Hole like a clam-shell, revealing the interior. That makes it a doddle to clean and dry (the inability to dry the interior of other sleeves is a real problem.) It also means you can thoroughly lubricate it before use, instead of just pouring lube into one end.

Place the clasp on the other end and the hole is revealed - and the Black Hole is ready to be explored!

Color:

Black

Length:

6 3/4"

Fits up to:

Any size

Circumference:

9 1/4"

Vaginal depth:

6"

Diameter:

3"

Weight:

1.5 lb

Functions / Performance / Controls:

The silicone composite interior is exposed on either side, along with three 'buttons' that don't really do anything - until you insert your cock. When you're inside the Black Hole, the sides 'bulge' and you can adjust the suction and grip by 'pressing' the buttons and expelling the air from the shaft (which emerges with a wet fart sound around your penis.)

It's a NOISY toy. When you fuck it, it makes a 'squelch' or 'schlurp' noise that travels pretty far. It's also a little messy - the interior bulged outwards and tipped lube into my lap the first time I used to, absolutely soaking both my balls and the chair I was sitting on.

Special Features:

Disposable
Lubricant included

Care and Maintenance:

Unlike the Fleshlight, which uses delicate Cyberskin, the Tenga is pretty hardy. You can rinse it clean and dry it thanks to the clever clamshell design. Because it's made from silicone composite, you must NOT use silicone or oil-based lube with it - but it comes with three sample test-tubes of lube (from 'mild' to 'wild') and regular water-based lube works fine.

Packaging:

The strength of the Tenga is that it's pretty much 'packaged' all on its own. However, when it first arrives it's in a clear plastic casing with three test tubes of water-based lube supplied. The bad news? The instructions are almost entirely in Japanese (at least, I think it's Japanese.) You'd think it would be easy to figure out (insert Penis A into hole B) but the black plastic clasp and the three 'buttons' actually raise a few questions that the instructions don't answer (unless you read Japanese.)

Personal comments:

I am personally jaded about male sex toys. I've tried a bunch of them and they normally suffer the same two faults - being two short or two difficult to use. I even cut my penis on one of them!

Yet the Tenga manages to overcome these faults - and ends up being one of only two sex sleeves (the other being the Fleshlight) that I use on a regular basis. I prefer the sensation of the Fleshlight (it's a bit gentler, deeper and quieter) but the Tenga is still an amazing product that does a great job. In some respects, it's even technically superior, thanks to the clamshell design.