Lover's Choice Inc. Ophoria k balls - Vaginal balls from Lover's Choice Inc.

Product Details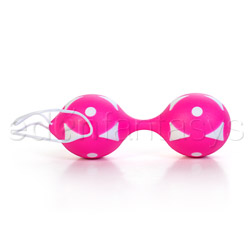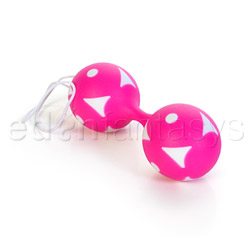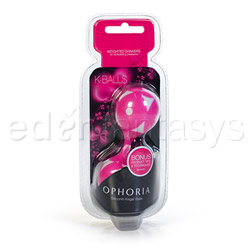 Summary:
These durable body-safe silicone Kegel exercisers feature twin inner "shakers" to provide extra stimulation, and a strong comfortable cord to aid with retrieval. There will undoubtedly be a few women for which the K-Balls will be too big for though.
Pros:
Body-safe silicone material is easy to clean.
Cons:
May be too large for some users.
Best use:
K-Balls are Kegel exercisers, designed to be worn inside the vagina to give the muscles something to clench around and help build pelvic floor strength. They can be worn during daily activities to remind you to clench or used as part of a regular Kegel exercise regimen.

Inside each of the balls is another ball, called a "shaker," meant to provide a little extra stimulation and help increase blood flow to the area. How much their vibrations can be felt vary from person to person.
Material / Texture:

For all intents and purposes, K-Balls are made of silicone, but feel very firm as if each end contains a hard plastic ball underneath the seamless silicone that covers and connects them. There is no pliability to the surface of either ball. The connector stem between them isn't really pliable either but does flex to help the set conform to your body once inserted.

The silicone is odorless and isn't really prone to picking up lint and such during storage. It has a matte texture that causes a considerable amount of friction when dry which, combined with the size and hardness, will make lubricant a necessity for most users. Once some lubricant is applied they feel slick enough that the texture isn't noticeable.

Material:

Silicone

Material safety

Texture:

Smooth

Safety features:

Food-grade material / Hypo-allergenic / Latex free / Non-porous / Phthalates free

Design / Shape / Size:

The overall insertable length is 4", which should be fine for most users. The width of each ball is 1.5" and should be suitable for most users since that's roughly the width of the average penis. If you already have strong vaginal muscles, they may not be small enough to enhance them much more, but K-Balls would be good for women who are just starting with Kegel exercises or trying to recover from childbirth.

Length:

7 1/2"

Insertable length:

4"

Circumference:

4 1/2"

Diameter:

1 1/2"

Weight:

0.2 lb

Performance:

Judging by the sound of them, the inner shaker balls are wooden and so make more of thumping rattle when shaken, which can't be heard once K-Balls are inserted. It may take quite a bit of movement to feel the thumping effect inside you though.

The soft plastic retrieval cord doesn't stretch and is very strong. It can be positioned wherever is most comfortable for you once the K-Balls are in place.

Care and Maintenance:

One of the nice things about K-Balls is how easy they are to clean. You can use soap and water, a toy cleaner, or toss them on the top rack of your dish washer. To keep them extra clean, a 10% bleach solution can be used or a bleach wipe with a 10:1 ratio (Clorox Germicidal wipes are one).

They should not be used with silicone-based lubricants.

Care and cleaning:

Bleachable / Boilable / Dishwasher safe / Soap and water

Packaging:

The K-Balls come in a clear plastic package that has a perforated backing to make it easier to open. Once you break it apart, it isn't very useful as a storage container, so you'll want to find somewhere else to store these.

For cleanliness sake, putting them in a plastic sandwich bag before storing them would be a good idea.

Experience:

Michele says:
I've worked with these things on and off for the past 2 weeks and have come to the conclusion that I'm not an average woman when it comes to unaroused vaginal sizes. I've heard so many women talk about how awesome SmartBalls are, which are basically the same size as these KBalls, but neither fit my anatomy lengthwise for some reason. No matter what I try, the second ball won't go in past the large muscle near the opening (whatever that's called) without hitting my cervix in a negative way. I can get them in, but if I leave them at a comfortable depth then there's always a little of the second ball poking out.

As far as width, they fit fine but I have no idea how they would benefit anyone who already has their muscles in good shape; since it's no real effort to keep something so large inside. Based on the quality of construction and what I said about their size compared to SmartBalls, I'm going to give K-Balls 4 stars. Really, I'd love them if they fit. I really wish that some company would make an all-silicone set like these that were about half the size and twice the weight so they would be useful for women like me.

Alan says:
This is obviously a women-only product, but I just wanted to add that, aside from my wife's grumbling about them, I never heard any noise when she walked by or anything so this toy should be discreet enough for a lady to wear out in public.