Not So Special Ophoria K
There isn't anything really wrong with this toy, but there isn't anything that makes you cheer either. In the world of Kegel toys, it's a middle of the road option with its own pros and cons.
Published:
Pros:
--Body Safe Material
--Good Size for Most Users
Cons:
--Removal String May be Uncomfortable
--Need Just the Right Amount of Lube
The Ophoria K Balls are Kegel exercisers. They are designed to be inserted vaginally, and left in place while you clench and unclench your Kegel muscles. They also have small balls inside the toy that roll around when you move, providing a mild rumbling sensation. The Ophoria K Balls have a string for removal, which is anchored in the end of one of the balls.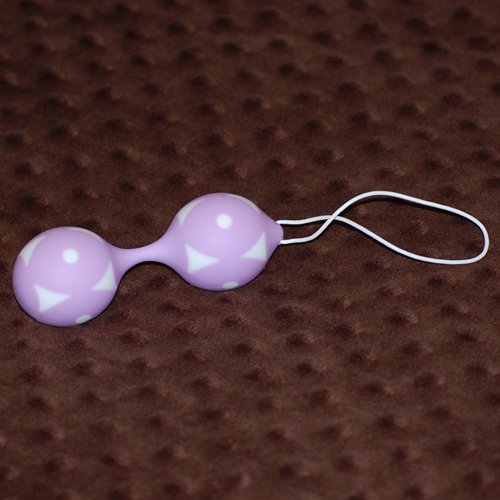 For those who may not know, strengthening your Kegel muscles can lead to stronger orgasms, reduce incontinence, and return muscle tone and tightness after childbirth. To find out how to exercise your Kegel muscles, try stopping your urine mid-stream. The muscles you're clenching are your Kegels. To use any Kegel exerciser, you clench, hold and release those same muscles. Start slowly and build up to more clenches that you hold for a longer amount of time. It really does make a difference!
In my opinion, these balls are a good size for most users. They may be too large for some women, who prefer only smaller insertables. I found them average sized and had no issues with insertion or removal. They won't present much of a challenge to those who are advanced Kegel exercisers, but if you are new to Kegeling they give you a decent workout. The balls themselves measure 4" from the end of one ball to the end of the other. The balls are 1 1/2" in diameter. There is a small flexible section between the two balls, which allows it to move with your body. The small balls inside the toy that provides the rumble provides a very mild sensation. It simply serves as a reminder to do your exercises, it isn't really designed to give you a lot of pleasure.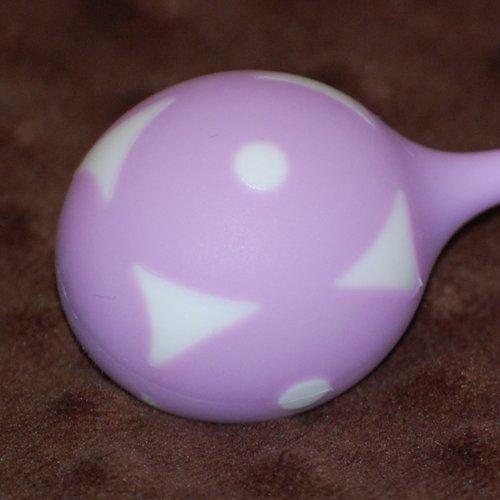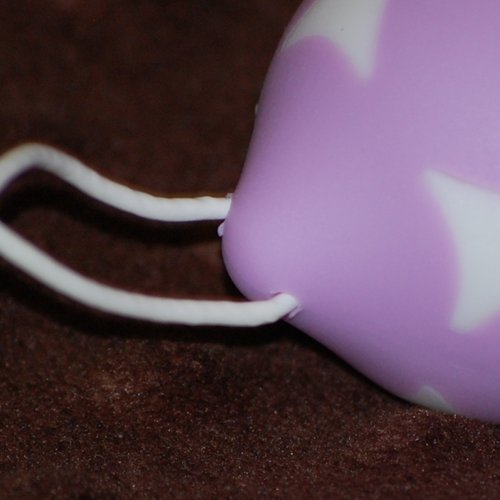 This toy is marketed as being made of silicone, but in reality it's really a plastic toy coated in silicone. The balls themselves are hard plastic and have no give or squish to them. The silicone that surrounds the plastic is very thin. Because of the design of the toy, with the patterning and such, there is a fair amount of drag to the surface. You can put a small drop of lube on the ends of the first ball to help with insertion. Be sure to always use water based lube, as silicone lubes will damage the toy. Try to only use the lube you need, as too much lube can cause the balls to want to slip out.
The Ophoria K Balls are easy to clean. They can be washed with soap and water or your favorite toy cleaner. They can also be thrown in your dishwasher and run through a cycle. If you want to sterilize the toy, you can wipe it down with a 10% bleach solution. The toy doesn't collect a ton of lint or hair, but be sure to check it over before using it, to make sure it's clean.
Because it comes in a plastic form with a cardboard back, this toy doesn't store well in it's original packaging. Once you remove the cardboard to open the package, it doesn't close back up. I store the Ophoria K balls in a plastic bag after I clean them.
Experience
I'll start out by saying that I have lots and lots of Kegel toys in my toy collection. This one isn't one that gets a lot of use. There is nothing wrong with the Ophoria K Balls, but they aren't the cream of the crop either.

The surface has a great deal of traction, with each of the colored blocks and dots creating a seam where it meets the white areas. I don't like the feeling of that during insertion and removal, but I wouldn't call it painful or even uncomfortable. I just prefer to not have to deal with it, and so many toys don't have that issue.

The cord isn't the most comfortable during use. I really have to work to get it situated somewhere that it isn't pinching my labia or rubbing somewhere it shouldn't. Once you get it into a position that isn't awkward, it isn't an issue. It works well for removal and such, but it is a lot of work to get into a position that won't bother you.

I don't tend to prefer the double Kegel toys. I have the Teneo Uno and Duo, and I much prefer the Uno. The Ophoria K Balls are similar in design and size to the Teneo Duo. They are comfortable while inserted, but I tend to prefer the feeling of a Kegel toy that I can't feel unless I clench around it. I wear Kegel toys while I go about my day and do other things, so I want them to do their job when I am doing my exercises but not bother me when I'm not.

I also noticed that because I had to use some lube to overcome the slightly rough exterior, these balls have a tendency to be overly lubricated and really want to come out. Putting them in with no lubrication isn't very comfortable, but it really was tough to keep the lube to just the right amount to get them in there, but not so much that they wanted to come out.
Follow-up commentary
5 months after original review
These have been put the the toy box of items that isn't in my regular rotation. The retrieval cord just isn't as comfortable as some of the others I own. There is nothing especially wrong with it, there are just better choices out there.
This content is the opinion of the submitting contributor and is not endorsed by EdenFantasys.com

Thank you for viewing
Ophoria k balls
– vaginal balls review page!