System JO JO H2O for women personal lubricant - Lubricant from System JO

Product Details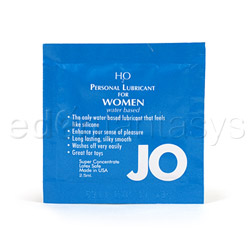 Summary:
The JO H20 for women lubricant is a nice lubricant in a sexy, travel-friendly package. The frosted slim bottle is attractive, but can be difficult to use in the heat of the moment or with slippery hands.
Pros:
Sleek packaging, silky texture, one-hand operation.
Cons:
Pump dispenser can be a pain, parabens.
Best use:
Anyone looking for a slick, water-based, long-lasting, non-sticky lubricant should love this one! The little pump bottle (similar to an expensive face lotion pump) is discreet and would be easy to store near the bed, or in a travel bag.
Texture / Consistency / Thickness / Viscosity:

The texture of this lube is described on the packaging as having a 'silicone feel,' which it does. It has a slippery/slick texture much like silicone lubricants, but DOES NOT linger like silicone lubes -- it is very easy to wash off. My girlie friend and I thought it felt very much like 'the real thing' (meaning real vaginal lubrication, not real silicone).

This product contains no silicone, and no oil. It is silky-smooth, but not greasy.

Base:

Water

Ingredients:

Propyl Paraben, Methyl Paraben, Sodium Carboxy Methyl Cellulose, Glycerin, Purified Water

Color:

Clear

Taste / Aroma:

The System Jo H20 for women has no smell, and only the slightest sweet taste which is not unpleasant at all.

Performance:

This lube is deliciously slick, not too thick, and lasted for us through a very long sex session. Cleanup was easy afterward.

JO H20 worked exactly as intended, but it does tend to be absorbed a little more quickly than oil- or silicone- based lubes, and you may need to reapply often.

The "forefinger-only" type pump seems like it takes a few pumps to get enough lubricant applied for use...BUT a little bit goes a long way.

Safety features:

L-Arginine free / Petro-chemicals free

Special features:

Packaging:

The packaging is modern, sleek and very attractive. The bottle is slender clear plastic, wrapped in a sexy frosted label, with a small pump on top. The pump does not dispense very much lubricant at once and is a little hard to handle with slippery hands. It's also hard to tell which direction the pump is facing in the dark. However, it doesn't take much of this lube to do the job, and it's easy enough to operate. Generally speaking, the packaging is great, and the one-hand operation is a plus overall.

Personal comments:

This product DOES contain parabens and glycerine, so it won't work for people with sensitivities to these ingredients. Otherwise, it's a great lube!