The lil guy - anal probe by Doc Johnson - reviews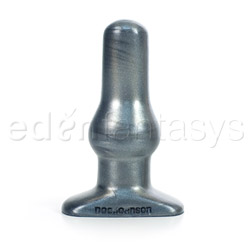 The lil guy
Probe by Doc Johnson
Please, let me know via email when the new review on this product is available.
The lil guy reviews
This plug is a middle of the road plug, looking for a good home to those entering into anal play or wanting something consistent. I would buy this plug and you can't beat the cost for the quality you are getting, but the fit, in my case at least, would be dependent on your anatomy as the neck on this plug can cause it to pop out during play.
With being new to anal, this toy was fun to use since I was able to comfortably use this toy without a problem. This toy has so many options. I can warm it, use it in the bath, or cool it down. This toy was a hit.
Overall this is an ok toy. It's nothing to write home about but will get the job done for most. Being made out of silicone is one of this toy's greatest strengths. This isnt a bad toy it's just there are many other toys with a better design.