Fifty Shades of Grey Inner goddess - exerciser for vaginal muscles by Fifty Shades Of Grey - reviews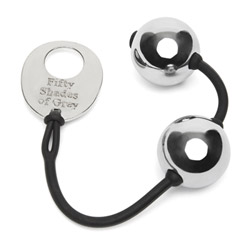 Fifty Shades of Grey Inner goddess
Vaginal balls by Fifty Shades Of Grey
Please, let me know via email when the new review on this product is available.
Fifty Shades of Grey Inner goddess reviews
Fifty Shades of Grey Inner Goddess by Lovehoney & approved by E.L. James has put out one of the most iconic toys in the Fifty Shades of Grey Series, Ana's Silver Balls. Let your fantasy's out & feel the experience that Ana got when Christian used these vaginal balls for the first time. Open up some role play with your partner or use them everyday. These vaginal balls are heavy & pack a big punch in the sexual desire department. These are a definite pair to add to your collection.
The Fifty Shades of Grey Silver Pleasure Balls are fun to wear and give your PC muscles a solid workout. Designed to strengthen your pelvic floor, these balls are exciting to wear and help you to gain better muscular control and have stronger orgasms. They're easy to insert and comfortable to wear. Although not designed for the brand-new beginner, anyone with a little bit of experience can find a way to wear these.
If you are looking for very heavy ben wa balls for your kegels and don't mind threading these with dental floss (or another cord of your choice) instead of keeping the nylon, I highly recommend these. The weight will be difficult for some and are not recommended for beginners.