Anne Hooper's Ultimate Sex Positions - guides to a better sex - reviews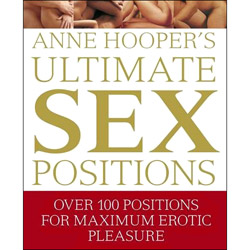 Anne Hooper's Ultimate Sex Positions
Book by DK Publishing
Please, let me know via email when the new review on this product is available.
Anne Hooper's Ultimate Sex Positions reviews
There are many possibilities and helpful hints for couples looking to create a more intimate and romantic atmosphere and experience in the bedroom. This book would be a great starting point for couples who are just starting to explore. With over 100 positions there's a little something for every couple.
Ultimate Sex Positions includes over 100 positions that the average couple will be able to do. Each position includes a beautiful, full-color photo of the position being done, a title of the position, a tagline of what the position is useful for, text about why the position is pleasurable, and how the male/female can improve the position by doing something extra. This book provides sensual, tasteful photography of sex positions that will motivate many couples to try a new, adventurous position.
If you or someone you know is new to the art of lovemaking, this book is perfect. It's romantic, it's beautiful, it's just like sex should be. Granted the raunchy stuff is fun too, but the very basic element of lovemaking is love and sharing ones self with a partner. Though the more experienced may find the positions to be yesterdays news, perhaps a new bride who is still all full of lovy-dovy butterflies would find this book absolutely enchanting.