Passionate kit - sensual kit by Shots media - reviews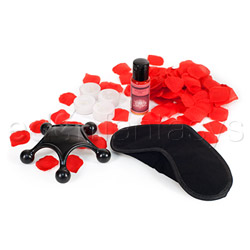 Passionate kit
Sensual kit by Shots media
Please, let me know via email when the new review on this product is available.
Passionate kit reviews
Shots Media's Passionate Kit is a prepackaged massage/romantic kit that can be a nice addition to a steamy weekend or evening. However, most of the items are not of the best (or even decent) quality and you are unable to choose which massage oil you get in the kit. But the plastic star shaped massager is nice and I wish it was made available separately.
Are you in need of a gift for a couple's event? Do you not like them that much? Here is the perfect, already wrapped gift for you! Affordable and already packaged kit, it cancels weeks of wondering what to get and doesn't hurt your budget too much!
I think this kit is romantic, cute, and inspiring. The massager tool is awesome by itself and I was surprised by the quality of the massage oil. The rose petals were a complete failure and the mask is just ok. The mood candles are plain tealights. I like this kit but I think it's expensive for what it really is. I love this for a romantic weekend or when you need a gift for a couple! It's a convenient kit when you need a little something to spice things up.