A Gift for Those Friends You Don't See Much...
Are you in need of a gift for a couple's event? Do you not like them that much? Here is the perfect, already wrapped gift for you! Affordable and already packaged kit, it cancels weeks of wondering what to get and doesn't hurt your budget too much!
Published:
Pros:
- Quick & Easy Gift
- Price is Right
- Already Wrapped Gift
Cons:
- Not High Quality
- How are those rose petals???
Touche's Passionate Kit is a great gift idea for brides/grooms or gag gifts for loved ones. If you don't mind skimping on quality, it's less expensive then getting each item shipped separately. Although I'd rather buy better items for myself individually, you can't beat the convenience of this set when you're in need of a quick gift!
The set arrives in the classiest cardboard box I've ever seen. Shrink wrapped in plastic, the box wasn't damaged at all in shipping.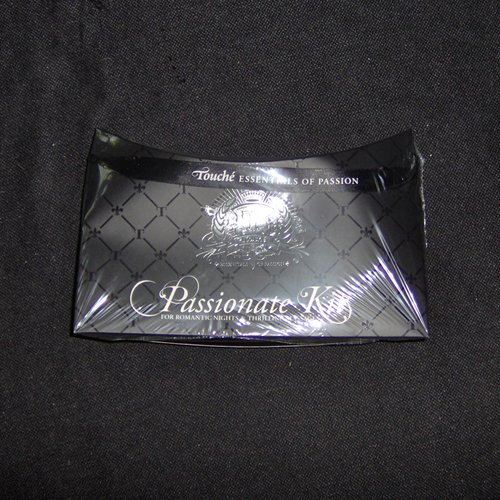 Because of the special design coating on the box, it not only looks sleek but is also smooth to the touch. The inside of the box is black as well! It comes with a inscribed black ribbon as a short handle that is knotted on the inside. A great little addition if you ask me, and it also prevents more wear on the box. Seeing as this IS cardboard, it will get dented and bent along the way. But with the handle, you can ensure it gets to it's destination a little less damaged. The back of the box has a brief summary of the kit in four different languages. It's a bit less classy than the front, but I suppose it's better than sticking a flyer in the box. The lid is a simple fold in, fold out!
Box Length: 10"
Box Height: 6 1/2"
Box Width: 3"
Handle Max Height: 3"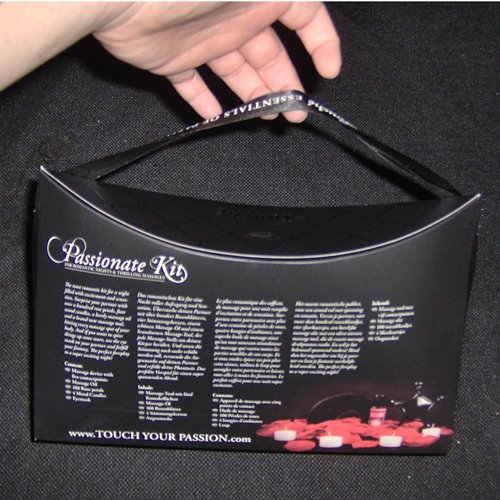 Once you, or that somewhat special friend you've given this to opens the box, you will find five different items:
'Mood' Candles
Massage Oil
Hand Held Massager
Eyemask
100 Rose Petals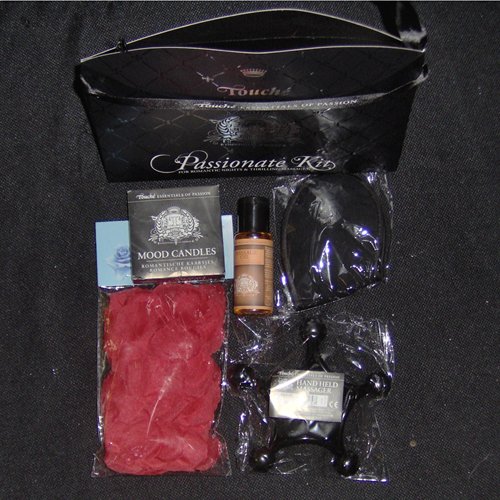 So let me discuss these items, in no specific order.
Mood Candles
When I read 'mood candles' I had expected something nicer. However, these are tealights. Yes, tealights. You get a set of four non-scented tealight candles in a little black box. Although I was disappointed in the kind of candles in here, they are nicer than your average tealight. At least if you shop at the dollar store like me...
Each candle is about 1 1/2" in diameter and a bit over 1/2" high. It has a nice wick and smooth, solid wax that isn't seen a lot in my experience. The thing that surprised me the most in these candles, though, is the tiny nubs on the bottom so that the plastic isn't sitting directly on your surfaces. Good use of brain power if you ask me. However, these are not in foil, but directly in a clear plastic shell. I wouldn't let these stay lit for too long no matter what. I have let mine burn at most an hour so far with no problems.
Eyemask
For an eyemask, it is decent. Definitely not high quality, but not something you get out of a grab bag either. The material is about as smooth and soft as a t-shirt. It has two different flexible and adjustable straps that ensure a good fit. At the bottom there is an extra piece of black material that prevents your wearer from peeking underneath.
The mask is 8" in total length, and about 3 1/2" in height. The bands are adjustable enough that I can't see it NOT fitting any size head, assuming you aren't a giant inflatable lumberjack. The mask comes in a plain plastic bag with no writing so I have no idea what the actual material is, but so far I haven't broken out because of it. It can be a bit irritating for me (I have sensitive skin!) after awhile, but I think people with normal skin could wear this to bed if they wanted to.
Rose Petals
Well, I'd have to say this is the most disappointing item in the kit. I actually see items like this in the nickel barrel! I was expecting silk petals, or something close to it. These, however, are nothing to get excited about. They feel like they are made from a thin canvas material and there are loose threads everywhere. They are all somewhere around 1 1/2" in diameter. Some petals are cut like petals, others are in shapes that I don't think there are names for. If these are anywhere near you after being rubbed down with oil, plan on some sticking to you and feeling scratchy.
Experience
(continue)

Massager
The hand held massager comes in it's own plastic bag as well, with some writing and a bar code. It's made of hard black plastic that has no give to it. There are five pressure points, each a round tip almost 1" in diameter. The overall massager length is a bit over 5". The center star shape is easy to grip while you massage your partner, but if you get oil on it you may have trouble holding on with how smooth this is. Although this item is nothing fancy, it has a nice effect when done right on a tense back. Usage really depends on how sensitive and knotted up a person is though. For instance, tighter knots and thicker skin can withstand more pressure and some turning of the device. Sensitive backs should be kneaded with only two of the pressure points and in a more circular pattern.

Massage Oil
Touche's own brand of oil in a 50ml bottle is much too greasy for me. I prefer my oils to be thicker and smoother like baby lotion. This felt like spreading vegetable oil on dinner. It says the scent is Orange Lemongrass but it smelled more like a musty cellar to me. It's very thin, greasy, and it WILL stain delicate materials! This washed out on my sheets, but my satin pillowcase has a dark mark on it now.

As for your skin, if you enjoy the scent and don't mind feeling like an oiled pig, it does do the trick. With my sensitive skin, I had no breakouts or hives. My partner (a man) enjoyed the scent as well, so perhaps it's just more of a manly appeal. He said his skin felt smooth for a week after. So there is the possibility that I've just pampered myself too much with more expensive products. Underneath the lid is a throw away cover to protect this from dripping before you use it the first time. The lid itself is a snap open and shut cap that so far is leak-proof.

INGREDIENTS:
Orange Oil, Lemongrass Oil, Lemon Oil, Almond Oil, Olive Oil, Sesame Oil, Wheatgerm Oil, Juniperberry Oil, Peanut Oil, Rice Bran Oil, Sunflower Oil, Cotton Seed Oil, Grapeseed Oil, Jojoba Oil, Apricot Oil, Carroweed Oil

Oil, anyone?

Overall, I was disappointed in this kit for myself, but I still think it would be worth it to buy in a gift emergency. If you have showers/parties coming up and don't know what to get that certain couple, it does the trick well enough. For the price, it would take double your money or more to buy the nicer items and make a kit yourself. This kit IS one of the better ones I've seen. Not that that's to be bragged about. You get what you pay for sounds about right in this situation. We all have friends or family out there we don't want to shop too hard for...
Follow-up commentary
2 months after original review
Half of this kit will only be good for one use, if even that. I stick by my original idea that this is only good as a quick gift. If you're looking for items like this for yourself, you should buy everything individually and of higher quality.

Thanks for reading and all the great comments!
This product was provided free of charge to the reviewer. This review is in compliance with the FTC guidelines.

Thank you for viewing
Passionate kit
– romantic sex kit review page!