Plaid chemise and thong - chemise and panty set by DreamGirl - reviews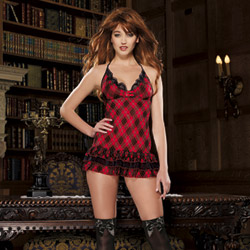 Plaid chemise and thong
Chemise and panty set by DreamGirl
Please, let me know via email when the new review on this product is available.
Plaid chemise and thong reviews
I've never been one to get into costumes - but since my husband sees this as a "naughty Catholic schoolgirl outfit" and his eyes get as big as saucers, all I can say is "Enroll me now - please!" This is just so comfortable to wear and the design is so playful and not just "country". It forgives figure flaws and helps anyone look good. Dream Girl - YOU ROCK!

I've never been a big fan of plaid outside of sexy skirts, because it's always seemed very "country bumpkin" to me, as my mom would say. When I came across the Plaid chemise and thong set by DreamGirl, however, my mind was completely changed. Plaid is definitely not just for sheets and flannels anymore, and I have never been so thrilled to be proven wrong.
I've decided this is my new favorite outfit. It looks great on and hides the flaws I like to hide while showing off the parts I like to show. The quality is high on both the material and seaming, though the buckle detail borders on cheap. It fits true to the size chart, even though I was in between sizes and ordered down instead of up. A major win for Dream Girl.