(3x/4x) When I was a naughty Catholic schoolgirl...
I've never been one to get into costumes - but since my husband sees this as a "naughty Catholic schoolgirl outfit" and his eyes get as big as saucers, all I can say is "Enroll me now - please!"

This is just so comfortable to wear and the design is so playful and not just "country". It forgives figure flaws and helps anyone look good.

Dream Girl - YOU ROCK!
Published:
Pros:
Soft comfortable fabric
Covers up flaws nicely
Stretches a bit
Cons:
Cheap buckles
Dry Cleaning Recommended
As many of you may know, I had Sam (aka Julia) mentor me for doing lingerie reviews because I wanted to add this to my list of items I felt I could do good reviews on. When I graduated, I celebrated by buying five new outfits (hey - Eden was the one offering 30% off a $150 order and I had a lot of gift cards I'd been saving).
I bought this outfit for two reasons. For one thing, I wanted it for weeks. I would look at it and add it to my wishlist and then remove it a day later only to relist it 30 minutes after that. My first experience with Dream Girl products was NOT a good one at all and I thought, "Never again" and finally removed it from my list. Then I watched
BadK1tty's review
and decided to give the company one more chance. What can I say? Dream Girl has now won their place in my heart and I will frequently look at their plus size outfits now when I want more lingerie.
I chose to go with the 3x/4x because according to Dream Girl's size chart, it is designed for women who wear sizes 18-20, wear bra sizes 48-54DD, have a 40"-44" waist and 50'-56" hip. Since I wear 22/24 and am 44D with 49" waist and 57" hips at my last measurement, I went with this size and prayed it would work. It did.
It came wrapped in pretty pink tissue paper that quickly got tossed aside. I mean - who wants to mess with paper when you have a chance to FINALLY try on that outfit you've been dying for. Right? So I pulled it out and pulled it over my head and fussed with it a minute or two and turned around to see my husband's eyes as wide as saucers. I mean - ladies, he LOVED it.
I don't know about you, but I always tend to think of "sexy" as red or black lingerie. I figured that since this was plaid it might be fun or flirty - but a turn-on to my man? I was buying it more for me. I thought the fabric design would make me feel young again (and it does).
My daughter stated that I should wear it with white fluffy panties (and yes, I agree - it would look adorable). My husband said, "I could see you trying to wear that to a Catholic school. You walk in the door and they try to say something and you reply, 'What? It meets all the standards.'". I think he was forgetting the standard of covering your assets - if you know what I mean.
So what is so great about this outfit? For one thing, while the fabric is light and almost see-through, the plaid design hides your flaws. Since this is made of 90% polyester and 10% spandex, it is also forgiving of your figure shape and for once YOU can win the battle of the bulge. To me, it feels so soft and almost like a second skin. The straps are more narrow than I would like - but they are very stretchy and still comfortable to wear. I hate outfits where the straps either dig into you or just don't seem to sit right on your body. While I am not a big fan of underwire, I must admit that I need underwire to help me look my best in most lingerie. This underwire is very comfortable and I didn't feel like it was digging into me. The cups were not lined or padded but they were still comfortable to wear.
Unfortunately, the company recommends that you dry clean this outfit, and I think that is because of the two buckles that are in the breast area. While I will admit that this is a change from the bows you'll often see, the buckles appear cheap and gaudy compared to the quality and design of the rest of the outfit. I am considering cutting them off very carefully and just having the outfit without them. I also plan to wash this outfit in a lingerie bag on a delicate cycle with cold water.
Experience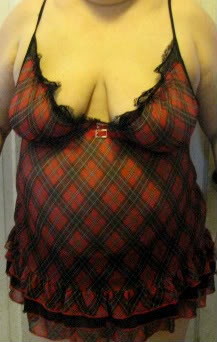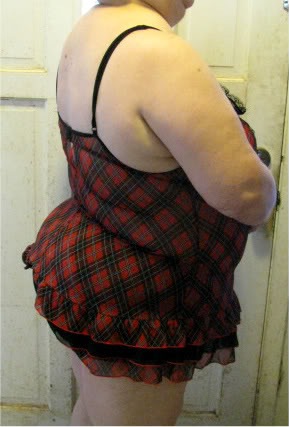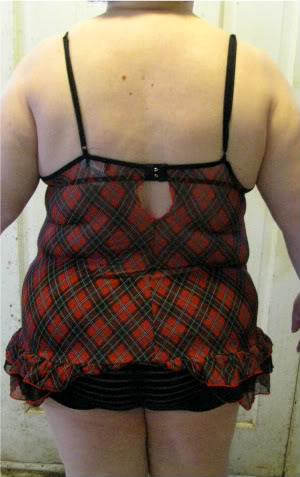 (Why didn't he tell me it had to be pulled down? ARG! I am NOT wearing the thong but am wearing some black boyshorts).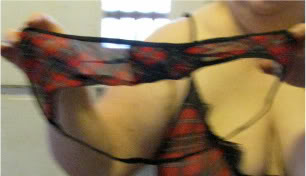 I could wear the thong although I hate thongs - it does fit. But I'm NOT showing it on here.
As I close this, I simply want to state that this is a fun outfit to wear both around the house and in the bedroom. I only have one concern. If my husband sees this as a "naughty Catholic schoolgirl outfit" and it "meets the standards" - then what was HE learning in school?
This content is the opinion of the submitting contributor and is not endorsed by EdenFantasys.com

Thank you for viewing
Plaid chemise and thong
– chemise and panty set review page!