I Think I'm In Love
I've decided this is my new favorite outfit. It looks great on and hides the flaws I like to hide while showing off the parts I like to show. The quality is high on both the material and seaming, though the buckle detail borders on cheap. It fits true to the size chart, even though I was in between sizes and ordered down instead of up. A major win for Dream Girl.
Published:
Pros:
High quality material and seaming
True to size
Underwire
Cons:
Cheap buckle
When
Beck
posted a picture of this piece, I fell in love. Red and black plaid is one of my favorite things for an outfit, not for lingerie, but for clothes that I would wear out and about. This looked like a piece that I would wear for a night out on the town, or rather a sexier, bedroom version of it. It had to be mine.
This dress has no packaging. Eden is nice enough to wrap it in some hot pink paper so it's not just in the box by itself and able to get messed up. I actually almost like the pink paper wrapping more than a box. It somehow felt a little more expensive, like it came from a boutique.
It is made of 90% polyester and 10% spandex. It is a mesh material, meaning it is see through. I didn't realize this from the stock photo, but I actually like the see through material better than a solid one. That's a personal preference of mine. The plaid design means it's a little hard to see through it completely. It's not totally sheer where you will be completely on display, but things will be visible especially when the right amount of light comes through.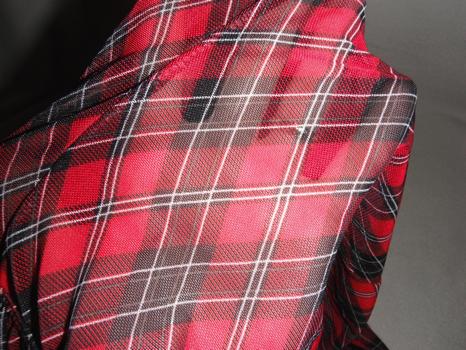 The material has a little stretch to it, but not very much. If you get it in a size that isn't quite perfect, it will stretch to fit a little more than the original measurements. It does not have the amount of stretch you would find in something with more spandex in it or most "one size fits all" outfits. The seaming has more stretch than the mesh material of the outfit.
The material is a little scratchy to my hand, but very comfortable to wear. I had this on for an extended period and never got itchy in it. It felt much softer on me than it does when I run my hands on it. I didn't end up sleeping in this, but I probably could have if push came to shove. I wouldn't recommend it for that use.
You can order this dress in sizes S-4X. The size chart can be found
here
. I wear a size 4/6, 28 waist, 39 hip, 34DD/36D. If you look at the size chart, Dream Girl isn't sure what size I should get. By my dress size, I should order a small. By my waist, I should order a medium. By my hips and bust, I should order a large. Generally what I do is order to my waist because if I order to my bust, the rest of the outfit doesn't fit. I was a little worried that it would be tight, but my ego didn't want to order a large, so I went with the medium.
The medium is 23 inches long from the tip of the breast cup to the bottom of the dress. It is 12.5 inches wide underneath the chest. It is 16 inches wide near the hip area. The cup from tip to wire is 7 inches long. Each cup is 6 inches wide. The straps are adjustable and the back has a snap closure like you would find on a bra to further help with sizing.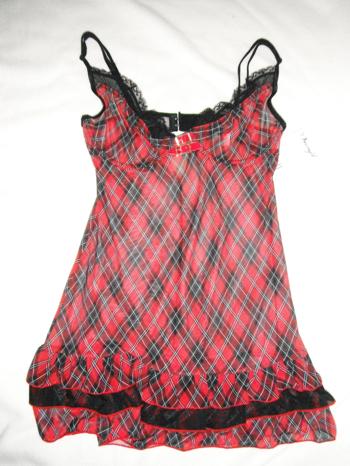 You also get a matching thong with this outfit. The medium thong is 14 inches wide at the waist and 7 inches long. The material is 4.5 inches wide at the top and 1.75 inches wide at the bottom. It has a liner on the inside so you could use these as regular underwear if you wanted.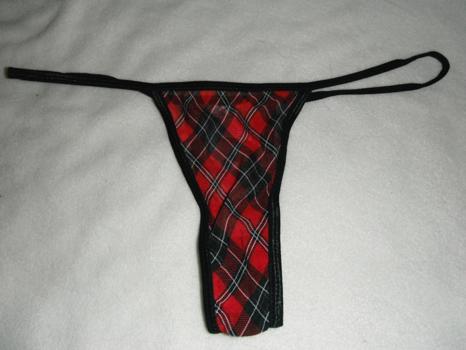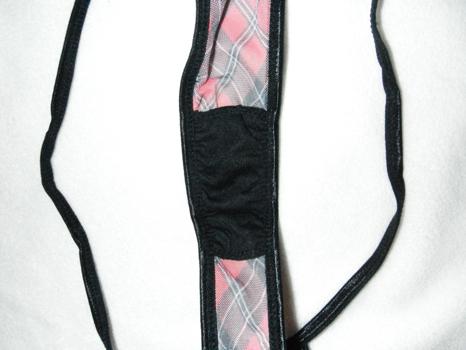 There is underwire on this dress, so it is important that it at least somewhat is in the correct range of size for your bust or the underwire will dig in. This ended up fitting well on me, but I think the large would have fit okay too. If in doubt, you can always order up. The cups on this cut into my boobs a little, similar to what happens if I wear a C cup. The underwire fits just fine, perhaps a little tight underneath my breasts. Can I just take a minute to say how thrilled I am to have underwire in a dress? Seriously, for someone with D/DD breasts, that's a big deal. My boobs look great in this because the underwire keeps them where they are supposed to be. So happy!
Experience
CONTINUED...
The waist fits just about perfectly. The hip area feels like it has to stretch a little to fit, but since I was an inch out of size range for the hips, this was expected. Overall, I would say the size chart was very accurate and you're safe ordering based on this. If you're very close to the cusp, as I was, you'd probably be okay going either way. I would recommend ordering up to be safe, unlike what I did.
The design on this is beautiful. It's a red and black plaid pattern with the white accents to it. There is a buckle accent in between the breasts, a nice change up from the traditional bow. There is also a lovely lace detail on the cups. The buckle seems a little on the cheap side, but everything else is seems to be of high quality. The lace is gorgeous and didn't have a fray on it.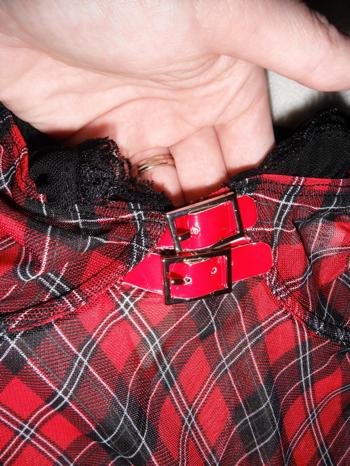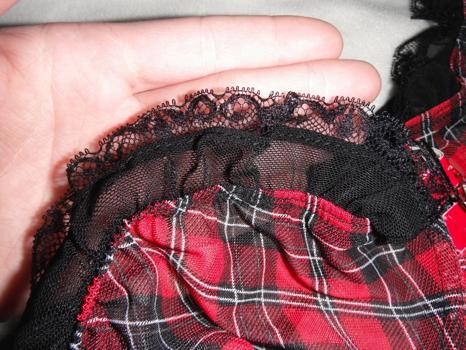 I cannot find a fray on this dress. The quality is very impressive. The mesh of the dress seems to be sturdy, the seaming seems to be well done, and it appears to be a piece that will hold up for a long time. Where the seams meet, they are sewn together nicely.
To care for this item, you should hand wash it in cold water and line dry it. You should not put this in a dryer or iron it.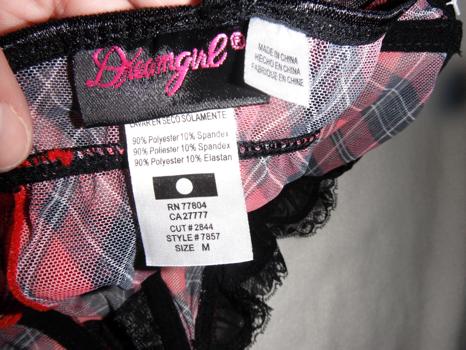 EXPERIENCE:
I am head over heels in love with this outfit. It fits like it's supposed to and looks very sexy on. Because it's a full dress, it hides my hips (the part of my body I'm always looking to hide), while showing off my breasts and legs (the parts I'm more proud of). I love that it has underwire in it because that juts makes my breasts look even better when this is on. I'm also happy because I can actually fit in the matching underwear, which is rare because of my wider hips.
I'm also thrilled because it seems like this is a quality outfit that will last for a long time. The material seems to be good and the seaming doesn't look like it will begin to fray or pop anytime soon. I think I'll be able to have this in my collection for years to come.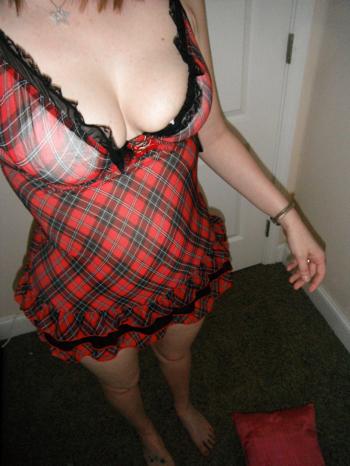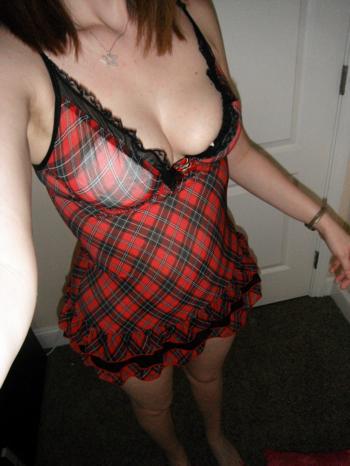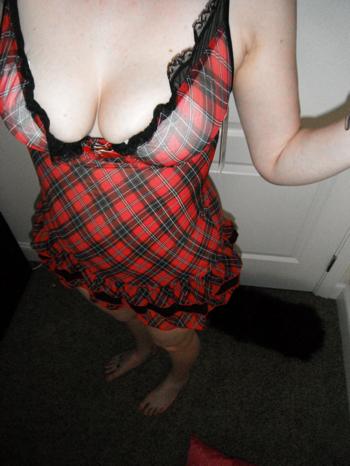 Personally, I think this might have jumped up to "favorite outfit" status. My husband says he really likes it, but that he wouldn't say it's his favorite. He still does say that it looks sexy on and he does like it "a lot." We both agree this is a five star product all around.
This content is the opinion of the submitting contributor and is not endorsed by EdenFantasys.com

Thank you for viewing
Plaid chemise and thong
– chemise and panty set review page!