Pipedream Fetish Fantasy inflatable lover's pillow - Position pillow from Pipedream

Product Details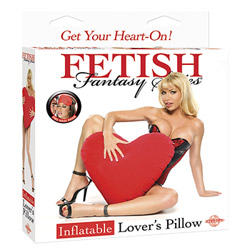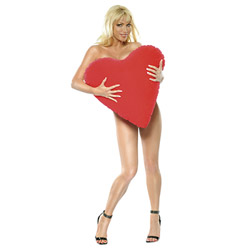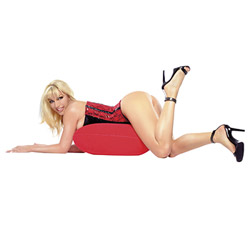 Summary:
The Lover's Pillow provides an extra boost of firm pillow support for the adventurous lovers. Although the Lover's Pillow will open up new opportunities for sexual positions for couples, adjusting it may provide some difficulties. It will please those couples who don't mind a little adjusting in the middle of the moment, and who like to hit positions not normally assumed by the human body.
Pros:
Enables new positions, very discreet.
Cons:
Shape is less than ideal, not big enough.
Best use:
The Lover's Pillow is an inflatable pillow meant to be used to prop up the body in some way during sex, so as to allow greater diversity in positions for many body types. I found that the pillow was useful for both partner sex and masturbation.

My partner (a cisgender man) and I started by using the pillow while he was going down on me (I'm a trans man). The pillow was high enough that, as I rested my pelvis on it, my partner could prop himself up on his elbows as he went down on me. It was wide enough that I steadied myself by spreading my legs, a most convenient position. Although we didn't try it, it occurs to me that the pillow could be perfect for 69ing, a position which can sometimes be tricky to find the right spots for due to mismatched heights and builds. I have to say, though, I didn't really appreciate the Lover's Pillow until my partner started fucking me. My arched midsection allowed him to penetrate me at different angles than I normally experience when fucking.

In solo play, I found that the Lover's Pillow allowed me to penetrate myself as if I were riding a cock. Because I normally jerk off on my side, I can't always get the feeling of having a cock penetrating me from beneath. With my chest resting on the Lover's Pillow, though, I could rise and fall on a cock (my favorite--the Tex, from Vixen Creations) as if I were riding a partner.
Design / Craftsmanship / Material:

The Lover's Pillow is made of vinyl, and is sufficiently velvetty so as to be comfortable and non-abrasive. Although it was made well, I am skeptical of the lasting nature of a plastic blow up toy. Nonetheless, it was sturdily designed, given the limitations of vinyl and inflatables. It had no smell.

Material:

Vinyl

Material safety

Color:

Red

Length:

23"

Weight:

8 oz

Performance:

As I describe in the "use" section, the Lover's Pillow did enhance my sex considerably. Nonetheless, there were a number of drawbacks to this toy. The pillow was small enough that I couldn't get my torso on it and my head at the same time, so my head was left either deliberately held up (which made my neck tired) or flipped back (which was fine for awhile, but ultimately got a little uncomfortable and made me feel a teensy bit dizzy. In addition, unlike a real pillow, the Lover's Pillow couldn't be folded or shaped to fit into exactly the spot I wanted it to. So when I wanted it to be a little lower down, I had to take out air. When I wanted it to be narrower, that couldn't be done. I found, ultimately, that I preferred just using normal pillows, from my bed, to the Lover's Pillow. They were more versatile and more comfortable.

Love pillow special features:

Inflatable

Packaging:

The Lover's Pillow came in a simple box with pictures of a woman sitting on the pillow. Unfortunately, I found that balancing as she was doing was easier said than done. Alas, it seems my dreams of being just like her will have to wait for another day.

Care and Maintenance:

Because you won't be inserting this toy in any orifices, care is somewhat up to you. You can clean the vinyl with soap and water, though you can't sanitize it. You need never deflate it--I play to keep it out as a whimsical decoration for my bedroom. Nonetheless, if you'd like to deflate it, it can be stored in a fairly small space.