I have a huge (inflatable) heart!
This position pillow doubled as a bath pillow, for me! As a bath pillow, it is large but extremely comfortable and a lot easier to use than the ones you find at the dollar store! Your only regret will be if you don't buy this pillow!
Published:
Pros:
Easy to use
Doesn't deflate when it shouldn't
GREAT bath pillow!
Cons:
Difficult to blow up if you have asthma!
This inflatable heart pillow, which measures almost two feet in length, is the
Inflatable Lover's Pillow
, made by
Pipedream
. This pillow is actually meant to be a sexual position pillow. It is meant to be blown up via the little mouthpiece close to one of the edges of the heart, and then placed under you or your partner during intercourse. The purpose of something like this would be to add comfort and raise parts of the body or cushion them so that you can have sex in various, otherwise uncomfortable positions. For
my
purposes though, I did not purchase this item with that in mind! I actually purchased this product for a much different reason: I wanted a bath pillow!
This product is made out of vinyl, which means it can be submerged in water. If you are using it for its intended purpose you will want to note that vinyl can be introduced to water and silicone based lubricants
only
. If anything were to spill on the heart or it gets dirty, you may clean it with warm water and soap.
The outside of the pillow is coated with what feels and looks like velvet, which made it even more comfortable as a bath pillow, and I'm sure would feel much more comfortable against your bare skin during intercourse than a pillow that feels like plastic! The pillow comes in a pretty red color, which we loved since that is one of our favorite colors. The red isn't terribly bright, nor is it a deep color; it reminds me of the color of the Russel Stover's heart candy boxes in color. It doesn't scream "sex toy" if one were to just look at it from across the room, if you were to leave it on your sofa or on the bed with the mouthpiece facing downward. We could never do this because we have cats who like to run across the sofa with their claws out like a buzz-saw, but if you don't have crazy cats, you most likely could.
The box wasn't nearly as discreet as its contents. The front of the white box shows somewhere on there but easily missed due to the model, the company logo and name of the product. The distracting blonde model in a tight strapless corset with very much cleavage and a sexy look on her face holds the pillow for you to see - her heels making her look like she's ready for a night of fun! In the left top of the box is a brunette model wearing the eye mask you get as an additional "prize". The back just shows the model sitting on and laying on the pillow, but there is so much more you can do with this pillow.
The mask is also red, and feels like it may be made out of vinyl or some other plastic-like material. It wasn't terribly comfortable nor did it block much light, so it isn't really suitable for much. I did keep it though, and was prancing around with it on like a headband. If you are as silly as me, you may get a good half hour out of it before you get bored with it.
Once you are done using the pillow for whatever your heart (no pun intended) desires, you may either leave it inflated, or let the air out and fold it back up. You can try to fold it back up like it was when you first received it, and if you can make it look that neat, please share your secret with me! I just folded mine up and put it in another box. You may be able to fit it back in the thin box it came in. If you are able to do this, please share your folding secret with me!
Front and back of the box: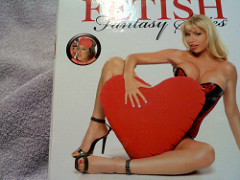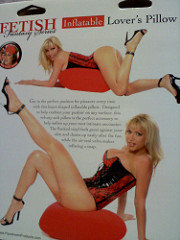 Experience
I enjoyed using this pillow. As I have asthma, it would've taken me quite a while to blow this pillow up all the way, so my guy was nice enough to do it for me! We didn't blow the pillow up the entire way, since I was using it in the bath. As a bath pillow, it works well. I wish it were a tiny bit smaller, but it works just fine for what I need it for. I just put it against the back of the tub and it stretches from one side to another almost, and lean back against it while I have a hot, steamy bubble bath surrounding me!

It was easy to use, easy to deflate, easy to clean - it was easy for my guy to blow it up, just not me because of my issues with breathing in the first place. This pillow deserved 5 stars for comfort and function for my uses!
Follow-up commentary
3 months after original review
I still use this from time to time, but because of its bulky size, it is not always convenient to bring with me into the bath. I will be getting a smaller bath pillow soon, but I do enjoy this one in the mean time!
This product was provided at a discounted price in exchange for an unbiased review. This review is in compliance with the FTC guidelines.

Thank you for viewing
Fetish Fantasy inflatable lover's pillow
– position pillow review page!