When You're Tired of your Old Smushy Pillows for Positioning...
A great starter pillow for those who are interested in getting into positioning accommodation peices. The heart pillow is gorgeous, and is a nice, thick vinyl material. Despite the low cost, the quality is superb!
Published:
Pros:
Inexpensive, holds a lot of weight, can be deflated, easy to clean, it's pretty!
Cons:
deflates a bit during hard use
When my partner and I need help positioning ourselves, we typically use one of our regular pillows. This rarely is needed though. We decided to try the Fetish Fantasy Series Heart Pillow just to try it out and see if it really made any difference for us. This pillow is inflatable, so of course it is not as good as the liberator pieces here at EdenFantasys, but we wanted to try a less expensive piece first.
I'll admit, I figured that even if it doesn't do us any good sexually, it's super cute and I could lay on it while watching T.V, etc.
So when we received the pillow, it came in a cute little box. The front of the box has a female model holding the pillow, the series title, brand, and the name of the product. It also says "free mask inside". Woot! Bonus! The back of the box has the female in two different positions on the pillow. As you can see in the photos below, the package is far from discreet.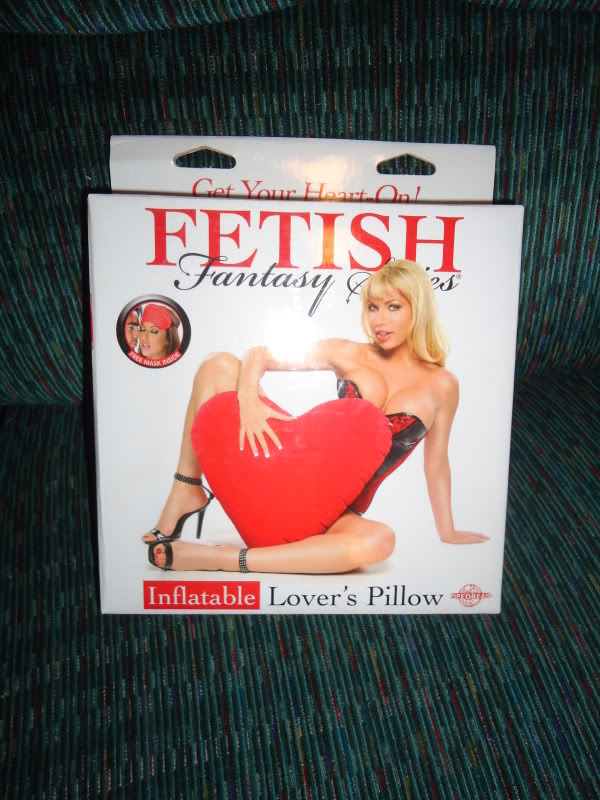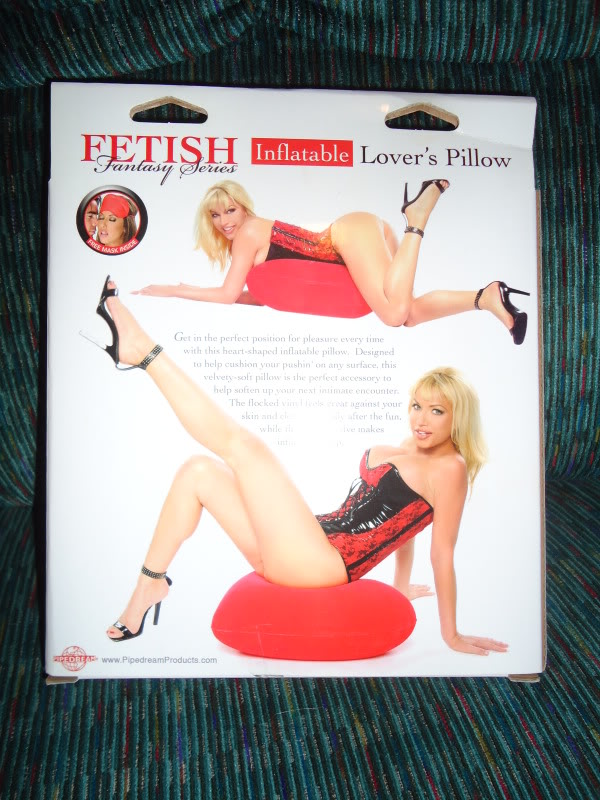 I did not notice any odours when I opened the package. Both the mask and pillow came in separate plastic bags. The bonus mask that comes with the pillow is nothing that will blow your mind. It's a simple, cheaper-quality mask with just one elastic band. You cannot see through the bonus mask, and the elastic makes it accommodating to fit most sizes of heads, but its still kind of junky. Whatever though, it was free! Below you can see the mask, and the pillow before it was blown up.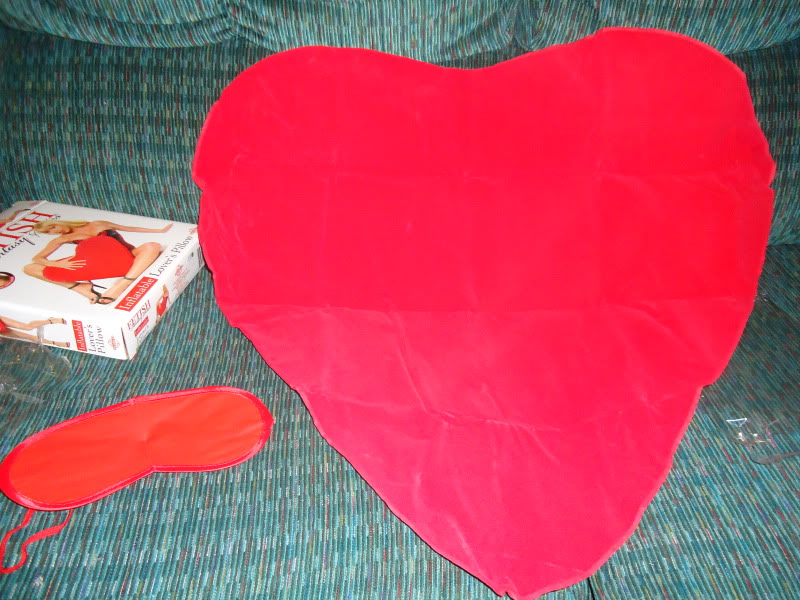 The inflatable pillow was a 'mutha' to blow up. It only took me about 10-15 minutes, but because the material is vinyl, I had to really put my all into it. So yes, it's possible to blow up manually (with your mouth) but it's not a fun experience. Below is a photo of the pillow after I had inflated it.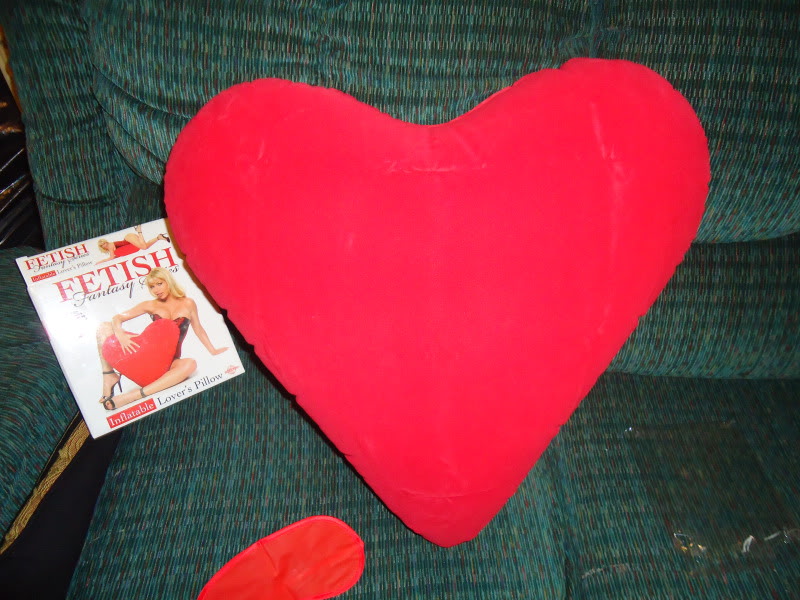 The material of the pillow is vinyl, and the outside of the pillow feels a bit velvety. It's smooth, soft, and feels great! The pillow is 23 inches in length. It's actually a lot larger than I had expected it to be!
The outside of the pillow will pick up cat hair, dust, etc. I set the pillow down for a minute on our couch where our cat lays, and it is now covered in cat hair. Luckily, to clean the pillow, all you need to do is use a damp washcloth to wipe it down, and use soap when needed. A lint brush would also help with any hairs, etc.
You can inflate the pillow to your desired firmness. I inflated ours until there was no more room for air. Like most inflatable things, the more you use it, the more the air will need to be re-filled.
I found that using it for sexual positions were nice and an added convenience. We used it on our rug though. I cannot say for certain, but the pillow may slip a little bit if you use it on your bed sheets. Also, because the pillow is inflatable and can get smushy, it may make certain positions a tad bit awkward when the pillow starts deflating a bit.
The box does not say how much weight the pillow can handle. For most people, it should not be a problem because for many positions your entire weight will not be placed on the pillow (legs on floor, knees on floor, etc).
I was really curious though how much weight it could hold, so I did a test. I was completely sure that it was going to pop under my ass, but luckily, it didn't. I inflated the pillow to the firmest I could get it. Then, I slowly sat down on it. I crossed my legs and all of my body weight was on the pillow. I'm probably somewhere around 160-165lbs, so I was pretty impressed with this. The pictures below are of me sitting on the inflatable pillow, with all my weight centred on it. That thing in my hand is the mouse to our laptop because there was no auto-timer setting. I would have used my good camera, but it died after taking the previous photos.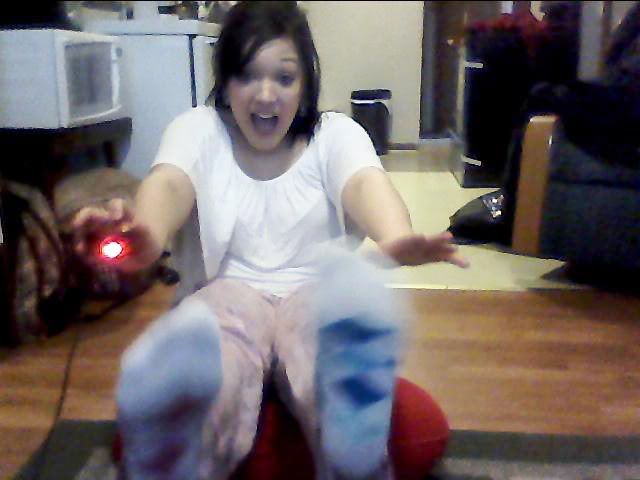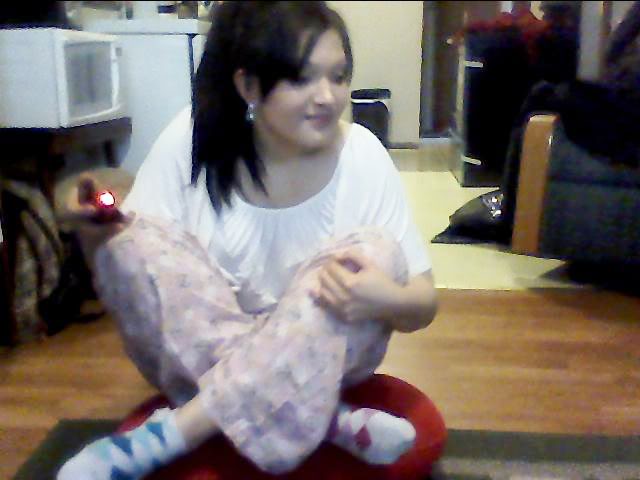 I would absolutely recommend this pillow to those who have yet to try any of the liberator furniture. If you've used any liberator pieces, you probably will not find this pillow that amazing. The price is excellent, holds a lot of weight, and can be deflated if you want to hide it away.
Follow-up commentary
2 months after original review
My partner and I still like the inflatable heart pillow. In fact, my partner just recently bought the Fetish Fantasy Series Inflatable position master because he enjoyed the heart so much! We both agree that doggy style is our preferred position with this pillow. We've used it on our bed since the review and it's been comfortable, and the pillow did not slide on our sheets. We think this is a great pillow for those who may be interested in trying different support pieces, but want an inexpensive piece to begin with.
This content is the opinion of the submitting contributor and is not endorsed by EdenFantasys.com

Thank you for viewing
Fetish Fantasy inflatable lover's pillow
– position pillow review page!