Doc Johnson The big man - Prostate massager from Doc Johnson

Product Details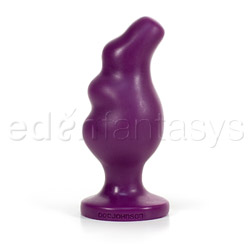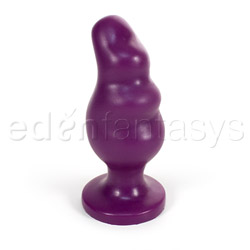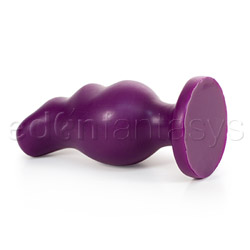 Summary:
The Big Man is exactly what the name suggests: BIG. It starts off reasonably, but quickly swells to a breathtaking 2 1/4" diameter. It then quickly tapers back down to give your sphincter a place to rest before going through the removal process. The nub at the top and the ridges along the back provide a variety of prostate stimulation. If you already know you can take a 2" diameter plug, then this may be just what you've been looking for: a plug that takes you to that next level.
Pros:
100% silicone construction, top nub and ridges provide prostate stimulation.
Cons:
May be too big for most, circular base not as good for long term wear.
Best use:
Doc Johnson's The Big Man is billed as a prostate massager, and given the sheer magnitude of this thing, I'm certain that you won't help but feel it on your prostate. The way it bulges and then narrows to a neck seems to make this more like a butt plug, but again, given its size and the shape of the base, it may not be all that comfortable to just wear. There'll be no forgetting you have this thing stuck in your ass, that's for sure.

Which direction to face The Big Man to maximize prostate stimulation is debatable. On the one side you have a pronounced tip followed by a round mid-section, while on the other side you have the three bump ridge. That tip could put serious pressure on the prostate, and getting something of the size of that round mid-section inside you is guaranteed to put pressure on your prostate. The three bump ridge rubbing up against the prostate should make for some excitement as well. The Big Man's size and shape both lend themselves to serious prostate stimulation no matter how you slice it.
Material / Texture:

The Big Man is another item in Doc Johnson's line of 100% silicone toys. They have really widened this particular portion of their lineup recently. Silicone is one of the best materials available for anal toys. It means that the Big Man is non-porous and can be sterilized for cleanliness and to allow for sharing. It is softer than other materials that can be sterilized like steel or glass. The silicone of the Big Man has a matte finish, so it requires more lube than those other materials.

Material:

Silicone

Material safety

Texture:

Bulged

Safety features:

Food-grade material / Hypo-allergenic / Latex free / Non-porous / Phthalates free

Design / Shape / Size:

The main feature of the Big Man is right in the name, BIG. It starts off reasonably, but quickly works its way up to the full 2 1/4" diameter. The first two bumps on the back represent intermediate stretch zones before you're faced with the big plunge. It is possible that a more gradual stretch may be easier to accommodate, but this technique seems more adventurous. After accomplishing the final bulge, your rectum is met with a much narrower neck that is close to the same as the first bulge. This provides a place for your anal sphincters to relax again until you are ready to continue the journey of removing the toy. The circular shape of the base isn't as conducive to resting between your cheeks as other designs might be, but after this thing is all the way inside you, the cheek stretch wouldn't be all that much more uncomfortable.

Length:

5 1/2"

Insertable length:

4 3/4"

Circumference:

7"

Diameter:

2 1/4"

Weight:

0.3 lb

Performance:

I have to admit, I have not been able to insert the Big Man all the way in yet. It is larger than any other anal toy I own, so it is providing me something to work toward. I used to really have to work on 2" diameter toys, but those are becoming easier, so I'm hoping that I'll be able to work up to the Big Man eventually. That being said, I feel that the performance available here would be pretty spectacular. The sheer size and the two different sides for prostate stimulation should both make for a pretty exciting time once one is ready to take it all in. I'm going to keep working on it and hopefully be able to provide additional information in a follow up review.

Care and Maintenance:

100% silicone is a material that is very easy to care for. Typical cleaning can be accomplished with soap and hot water, but there are several options for a deeper clean. Sterilization can be accomplished by boiling for 10 minutes, wiping with a 10% bleach solution or running it through a dishwasher cycle on the top rack without soap. Cleaning is simplified because of the lack of sharp ridges that would tend to hold dirt. Store it separate from other silicone containing toys, particularly those that are only partially silicone, as it may cause material degradation. Also, avoid silicone based lubes as they may deteriorate the material as well.

Care and cleaning:

Bleachable / Boilable / Dishwasher safe / Soap and water

Packaging:

The packaging is a clear plastic clam shell meant for hanging, with a cardboard backing with some information about the toy. It could be used for storage if you don't mind the extra space it takes up. I personally don't use this kind of packaging for storage, so it goes in the recycle bin. There isn't a lot of information on the cardboard backing, but this thing is pretty self explanatory, just do your best to stick it in your butt. What more do you need to know? As for being discreet, since it is clear you can see exactly what you're getting. The Big Man isn't realistic, and there aren't photos of scantily clad people, so in those ways it can be considered discreet. The packaging is pretty minimal and easy to work around, so that seems successful.

Other