Doc Johnson The super big man - Prostate massager from Doc Johnson

Product Details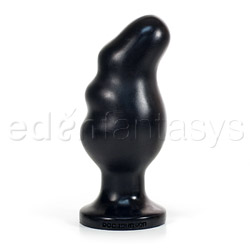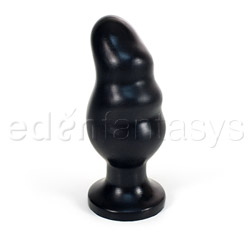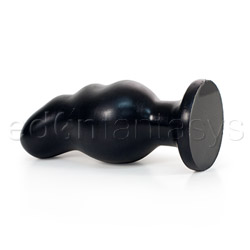 Summary:
This is a great toy; whether you want to use it vaginally or anally is entirely up to you. It's an experience unlike any other, and I highly recommend it to everyone interested in finding out what it's like to be filled to the brim.
Pros:
Great size, 100% platinum silicone, smooth, tapered.
Cons:
Might be too thick for beginners.
Best use:
The Super Big Man by Doc Johnson is intended to be used as an anal plug, but it can also be used as a vaginal plug. This is by no means for the faint of heart (or orifice) and is intended to be used by people who are already aware of their own personal and physical limitations.

The easiest way to insert this particular plug is to squat over it, with a fair amount of lube on both the toy and the orifice in which you wish you use the plug. Not using enough lube or preparing the cavity with a smaller toy first can result in microscopic or even visible tears, and caution should be used when using this toy until you are used to its girth.

The best thing about this particular plug, is the tapered head. The second best part about this toy is the thickness of the neck. It's quite a bit more slim than the Super Big End by Doc Johnson. This is not a thrusting toy, by any means. This is meant to be used as a stationary part of your foreplay or for use during double penetration. Because it is made of 100% Platinum Silicone, it holds temperature quite nicely.
Material / Texture:

The Super Big Man is made out of 100% Platinum Silicone, which is the same quality of silicone as medical grade minus the FDA seal of approval. (No manufacturer can call their dildos medical grade.)

The texture of the material itself is really smooth, like all silicone products. However, this particular plug is tapered at certain intervals. These waves are crucial to easy insertion as traditional plugs tend to graduate abruptly.

There is minimal give to the material: do not expect this to yield to your body. This is a toy your body must succumb to; it requires a degree of patience. This is definitely not for players who do not like thick toys.

Material:

Silicone

Material safety

Texture:

Bulged

Safety features:

Food-grade material / Hypo-allergenic / Latex free / Non-porous / Phthalates free

Design / Shape / Size:

The Super Big Man, is, well, just that - big. The circumference of the toy at its thickest point is exactly 8" thick. The thinnest point of the plug is about an inch and a half around; this is the neck of the toy. The first bend and ridge measure out to about five inches in circumference. Even at its smallest girth, it's still the size of the average realistic dildo.

This is easy to pack up and travel with so long as you aren't carrying a clutch or expecting to slide it into your pocket.

Length:

6"

Insertable length:

5 1/2"

Circumference:

8"

Diameter:

2 1/4"

Weight:

0.5 lb

Performance:

It's a plug, and it does what it is designed to do - fill your hole with tons of silicone goodness. This plug is sturdy, durable, and of excellent quality. It is sure to last a lifetime, if treated properly.

The way this toy stretches your cavities is exquisite and absolutely delightful, if you can swallow the sheer anxiety of inserting something as thick as this.

It goes in easily with lube, comes out just as easily, and sends pulse-waves of pleasure to local erogenous zones.

Care and Maintenance:

Silicone is one of the easiest materials to clean and store. You know when silicone is clean because there will be a slight static charge happening when you go to put it in your hand. This is boilable, bleachable, and top-rack dishwasher safe.

You can store this in the original packaging, in a toy box, or any place else you can think of to keep it out of sight. Technically, you can store silicone with silicone, but I would highly recommend keeping this away from jelly toys or other soft materials.

Care and cleaning:

Bleachable / Boilable / Dishwasher safe / Soap and water

Experience:

Using this toy for anal stimulation was completely out of the question for me: I'm just not at that stage. However, as a vaginal plug this was absolutely divine, as it made me focus on my throbbing sex and kept my mind in the gutter the entire time I was using it.

I was able to walk, sit, stand and bend over with ease, because the neck itself was not in the way and there wasn't an obnoxious base to keep my thighs from closing together.

I absolutely adore this plug, and I would recommend to each and every size queen who is into foreplay of a different nature.

Other