Wonderful, fantastic, awesome...get the idea?
Butt plug or probe, The Super Big Man delivers everything you need. Tapered tip for easy insertion, speed bumps for resting between stretches, a narrow neck to keep it in and a anal safe base all come together to make one fine toy for your anal or vaginal play time. Platinum cured silicone with a firm density means you will feel all the stimulation along with lifelong enjoyment with minimal care requirements.
Published:
Pros:
Multifaceted use, Very stimulating, Wonderful silicone.
Cons:
Something needed to orient the direction during use.
With a name like 'The Super Big Man' you would expect this toys to be quite large, right? Well guess what...IT IS! While it is not the biggest out there, it does have some features that other plugs/probes in its class do not. As such, this butt plug is reserved for the experienced size kings/queens, although intermediate players may find it will be a good stepping stone into larger toys.
So, let's delve into this fine offering from Doc Johnson, shall we?
First, let's have some eye candy to set the mood.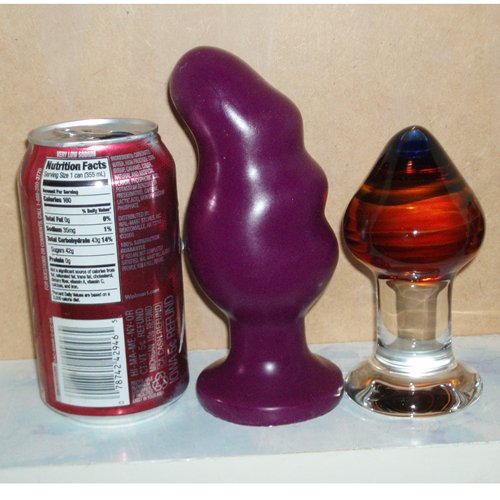 On the left we have the standard pop can and on the right is the Sexy Spaded Large. As you can see The Super Big Man has the same girth as the Spades and the pop can. That is a full 8" of circumference (2 1/2" diameter) to please your hungry ass, add the 5 3/4" of insertable length and this becomes one filling plug!
But this plug does not just settle for that, it adds three speed bumps and a wonderful tapered and curved top.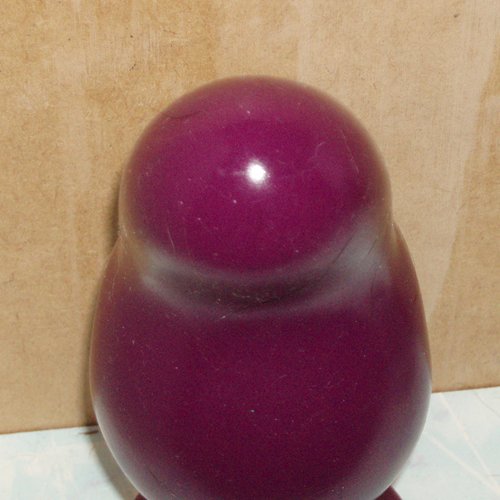 The curved top has a nice taper that helps with insertion, most folks will probably still need some warm up but the shape does help with that. Another bonus with the top portion is that is can stimulate the prostate (Or G-spot for that matter) while you are working it in. Heavenly!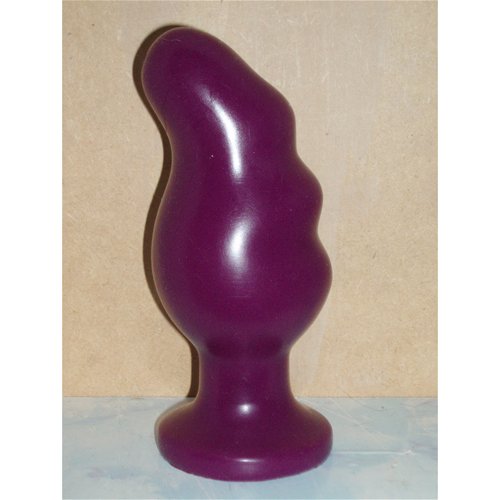 Then we come to the lovely speed bumps, these are multi-talented too. First, they allow your anus to have a resting point between them. When you are stretching the sphincters from the 5" cir. (1 3/4" diameter) top section to the 5 3/4" cir. (Almost 2" dia.) first speed bump, your ass will thank you when it can relax a bit. From there you stretch up to 7" cir. (2 1/4" dia.) and 8" cir. (2 1/2" dim.) at the last speed bump. Once inserted the speed bumps can massage the P-pot as well.
The neck drops down to a 4 1/4" cir. (1 1/4" dia.) which will keep this Super Big Boy in place during use. The base is as big as the largest area of the plug, it should be, eh? While the base is not the best for long term wear due to the size it does assure you that this plug will not get sucked in. I'll take safety before comfort any day.
Doc Johnson uses nothing but high quality Platinum cured 100% Silicone with this plug. Is there a better soft material to use for an anal toy? Naw, I think not! The plug has a wonderful matte finish which helps hold onto the lube. This silicone is on the firm side but that could very well be because of the thickness. The only place you really have and flexibility is in the base. Below is a picture of me trying to bend it, it took just about all of my hand strength to get it that far.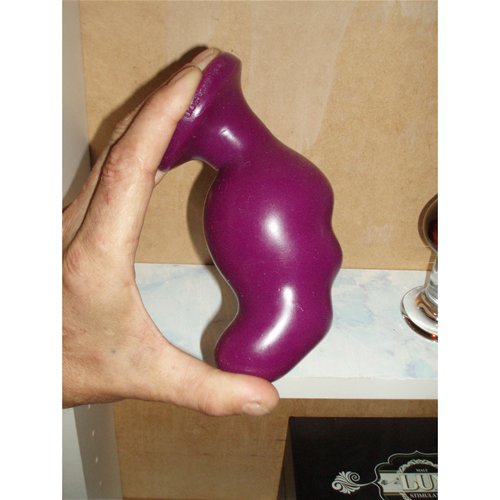 Standard silicone cleaning and care apply; boiling, 10% bleach, top rack of the dish washer or antibacterial soap and water can all be used. Store in a plastic bag or toy pouch, just keep it away from dissimilar materials.
Water and oil based lubes work fine but do a spot test if you want to use silicone based lube; not all silicone lubes will agree with The Super Big Boy.
Experience
I'll start this section off with my only complaint, although it is a small one. When using toys this size it can be somewhat hard to 'feel' which direction the toy is facing without pulling it out and looking at it. Plugs like to twist and turn unless you hand is on them, no? You are enjoying the stimulation when all of a sudden it stops, you then have to pull it out, re-orient the toy and reinsert. Kind of a pain, eh? Why can't manufactures add a small bump or something on the base to help you out? Well a razor blade fixed that right up! I just cut a small notch into the base.
See-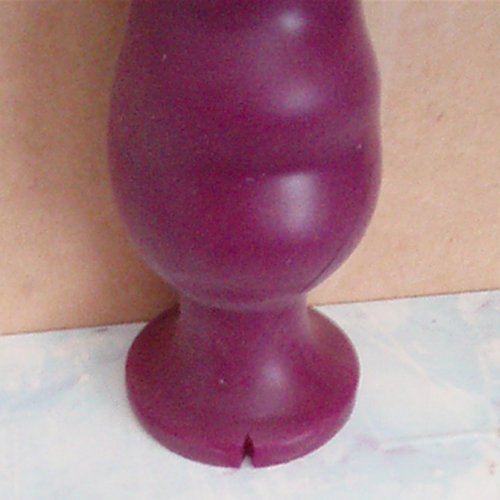 Solved that minor problem, eh?
Now the good stuff. I love this toy, but more as a probe than a plug. I find that the best way to use toys of this size is to get on my knees and lower myself down on it. Doing this allows me to better control the insertion. I find myself sort of bouncing up and down on it, this is just divine. The curved top massages my prostate with authority, the pre-cum flows like Niagara Falls. Even better is when my ass finally sucks it in fully there is that terrific "Plop!" that just sets me off on the final stretch to orgasm. A couple strokes are all that is needed after that.
As a plug, it works just as good. It stays in with little effort on my part, provides not only a full feeling but applies wonderful pressure to my prostate. I like to put the speed bumps towards my P-spot and then work the pelvic muscles to massage it, so very nice! As stated before, long term wear is not the most comfortable since the base is so large. Honestly though, the stimulation it gives just drives me to the brink every time so I don't leave it in for that long anyways.
This product was provided free of charge to the reviewer. This review is in compliance with the FTC guidelines.

Thank you for viewing
The super big man
– sex toy review page!