Wolwin GmbH SinFive Emigi set heavy - Vaginal balls from Wolwin GmbH

Product Details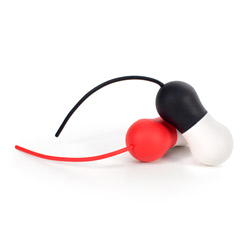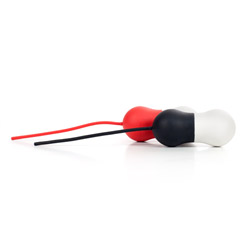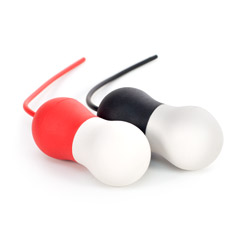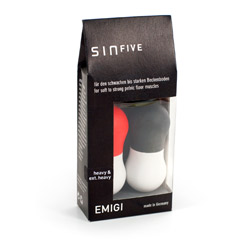 Summary:
The SinFive Emigi has a different design than most kegel toys which makes it more comfortable. The smaller size makes it more effective as well. It's not about size, it's about weight! This duo pack provides two different weights that are heavier than their previous kegel toy. The price is also excellent. Compared to other balls of similar quality, the Emigi is an excellent buy.
Pros:
Size, Comfort, Price, Effective, Two weights
Cons:
Retrieval cord isn't looped
Material / Texture:

The Emigi is made of WTP which is a specially formulated thermo plastic. This same material is used to make children's toys, so you know it goes under close inspection where it is manufactured in Europe. It is super safe for the body because it is hypo-allergenic, non-porous, odorless, phthalate and latex-free.

The material even cleans itself! The Emigi was the world's first sex toy with this material. The anti-microbial layer added to the material during production keeps it safe from bacteria. When micro-organisms come in contact with it, their metabolism is destroyed, effectively preventing their survival. This process is 99.9% effective and safe.

The WTP is smooth, yet has a slight matte texture making it easier to hold inside the body. It has absolutely no smell or taste. You can use any kind of lubricant except oil.

Material:

Elastomer

Material safety

Texture:

Smooth

Safety features:

Hypo-allergenic / Latex free / Phthalates free

Design / Shape / Size:

SinFive has developed a different shaped product than the others out there. Most of these have two balls that are more distinct from each other with a flexible connector. The Emigi is instead shaped like a long peanut. It's also shorter than most at 2 1/2" long. The largest circumference is 3 3/4" (1 1/4" in diameter) making it a very comfortable size for many people, including beginners. The design also makes it easier to insert. Say goodbye to pinching!

The inside of the peanut shape has the two weighted balls that roll freely inside. They are designed to be able to provide a vibration sensation as the wearer moves around. This particular set has two weights and are the company's heavy set. According to the company's website, the Flame (red) is 72 grams. The even heavier Black is 92 grams. If you've used the lighter Raspberry, you will surely notice a difference in weight.

At the end of the peanut shape is the strong retrieval cord. It is 1/8" thick and 4" long. Some might find that the cord is long, but it can easily be cut to your preference. The long cord can poke areas of the vulva or clitoris if you are not careful, so be sure to tuck it where it feels most comfortable. Because of the size and lack of noise, these are very discreet and suitable for travel.

NOTE: There are a few seams running laterally along the bulbs, but they cannot be felt internally. Clean around them thoroughly.



Color:

Black / Red / White

Length:

6"

Insertable length:

2 1/2"

Circumference:

3 3/4"

Diameter:

1 1/4"

Weight:

1 lb

Performance:

Lubrication isn't required, but some may find that using some can ease the insertion and long wear. Just like with a tampon, relax, and hold the end of the peanut guiding it in with a gentle pressure. If there is any pinching or a large amount of resistance, change the angle or add more lubrication. A small amount of resistance is normal, especially if the user has strong pectoral muscles. Due to the more fluid design and no connector between the bulbs, there should be very little discomfort during insertion. Be sure to push them in as far as you can. They are inserted correctly when the body pulls them up on its own. They should be noticeable at first but not uncomfortable.

The Emigi is so discreet that is can be worn in public with no issues. Wear them during a workout, walk, shopping, at work...you name it! They can even be worn during sex for a double penetration feeling. The vibration won't always be felt and may not be felt at all by some users. This does not take away from the effectiveness of the design in tightening the muscles. The vibration offers a low amount of added stimulation, which makes use more fun. You can relax during use or make it harder by doing kegels.

Taking the device out was super easy! The cord felt secure and didn't require tugging to remove the balls. Just relax and slowly pull on the cord.

Care and Maintenance:

The material cleans itself by being anti-microbial, but the balls should still be rinsed with mild soap and water before and after use. Then, place them in an area where they can dry before returning them to their packaging or storing. The material can be used with anything except oil lubricants. Water-based lubricant works well and so does silicone.

Care and cleaning:

Soap and water

Packaging:

The packaging is minimal and only as large as it needs to be. Both kegel balls come in a small box that opens at the top. The front has a clear panel so it isn't the most discreet, but due to size, it is easy to hide. The front has a picture of the toy and its name, as well as a circle that says it is made in Germany. The back has a little information about the toy in three different languages.

Personal comments:

I've used quite a few kegel toys and I consistently have liked SinFive's version. The heaviest balls are not too heavy for me to use and I like to wear them for long periods of time during the day. Without noticing, I get really turned on. I say this because the balls increase my natural lubrication A LOT. I am not kidding when I tell you that I can use these for a few hours and have my partner feel a difference the day after. I don't have any incontinence issues and have not had children yet, so my muscles are still tight. This makes them even tighter. I especially love working out with these in. My experiment with sex proved to be pleasurable too. If you have anal sex with these in, it provides a tighter sensation and pressure.

It is easy to forget I even have them in sometimes. With some other larger designs I feel discomfort and pinching when I sit or bend over while sitting. These are by far the most comfortable of the balls I have tried. I wish the retrieval cord were looped, but it is not a big issue.

I highly recommend the Emigi!

Experience:


Compared to the Teneo Duo and Smartballs by FunFactory.