I CUT THE CORD!
Emigi vaginal balls are a non-textured, elastomer kegal ball set made by SinFive. There are two kegal balls; heavy and extra heavy. They are easy to insert and remove. They are easy to clean and retain no smell. It's a great beginners set too.
Published:
Pros:
Easy to insert, comfortable to wear, easy to clean, great beginner kit.
Cons:
Made of Elastomer, "Heavy" kegal balls may be too light for advanced users.
Emigi vaginal balls are an Elastomer kegal ball set made by SinFive. The one set is heavy and the other of course is extra heavy. They come in black/white and red/white. I did not smell any odor and they were very easy to clean. According to the box you are supposed to only clean them with soap and water but I use a toy wipe as well. I find that the Emigi balls do not attract lint either. I'm a beginner to kegal balls. I do kegals but had never tried the kegal balls. I tried these and really do love them! However I do not like the cord because it was annoying and too long! I found it highly annoying and as my pictures will show I completely cut the cord off. They were very easy to insert and even after I cut the cord off I had no problem getting them out. Just bear down with your muscles. I tried the heavy kegal ball first but after a week I barely noticed it was in.
I then moved on to the extra heavy kegal balls and there is definitely a weight difference. Now according to what I've read kegal balls make you unconsciously contract around the ball so you're getting a kegal work out. I really love the heavier kegal ball! I do believe this set is strengthening my pelvic floor. To state the obvious these are kegal balls so don't insert them anally. Another obvious I would state is; don't have sex with them in. I don't think that would be possible anyway, at least not for me. These particular kegal balls are not textured and they feel very smooth. They aren't huge around or lengthy. The balls are 3 ¾ inch around (girth) and the insertable length is 2 ½ inches. As I said I cut the cord completely off. The balls inside the kegal set do not move around. Once they were inserted; I didn't feel them moving either. I only felt the weight. These are quiet once inserted and you won't hear one sound. According to the packaging (a cute black box with a see through front) you should only use water based lubricant.
I used Smooth and Slick by Cal Exotics. The shape didn't bother me or hurt during insertion. You can also store your Emigi balls in the box they came in. The box instructs you on how to remove/insert emigi, to use water based lubricant, how to clean them, and that they are made of Elastomer. There are no other instructions. The packaging is not discreet. Sometimes I store mine in the box they came in and other times I store them without, right next to my glass and silicone toys. If you're worried about your silicone toys then you can keep the emigi set in its box. As I said I have had no trouble putting them right with my silicone though. To state the obvious these are waterproof and they don't vibrate.
If you do have a room-mate these are easy to stash. You can even put them in your purse if you like. They're very travel friendly as well. I wouldn't wear them through security in an airport though because the balls (that don't move) inside are most likely metal. That would not be a nice tale to tell later. I think this is an amazing set for kegal ball "newcomers". I would not suggest the "heavy" emigi ball to an advanced user because as I said; I didn't notice it in a week. The extra heavy one would be great for an advanced user though. So, If your an advanced user you're really only getting your money's worth out of one ball. If you're a beginner; you have a great starter kit. I love these balls! My pictures included are after I cut the cords off the kegal balls (sorry).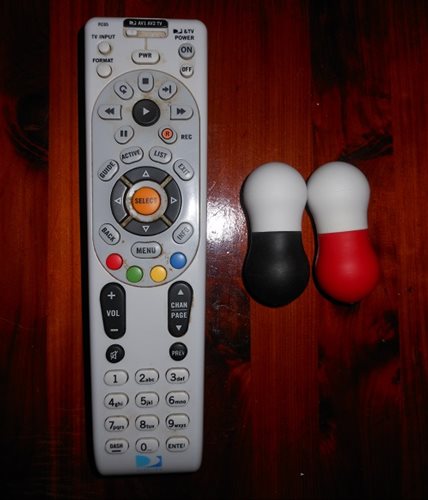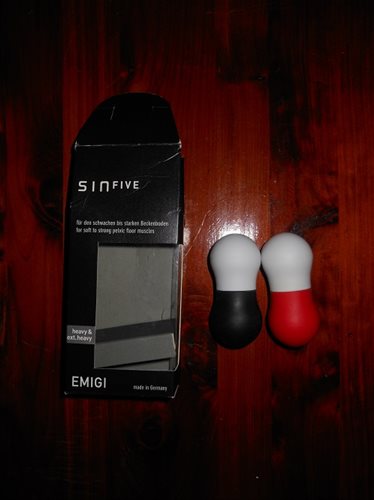 This content is the opinion of the submitting contributor and is not endorsed by EdenFantasys.com

Thank you for viewing
SinFive Emigi set heavy
– sex toy review page!