California Exotic Couture seduction - Vibrating anal plug from California Exotic

Product Details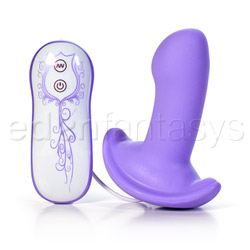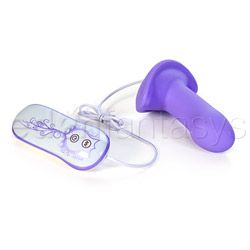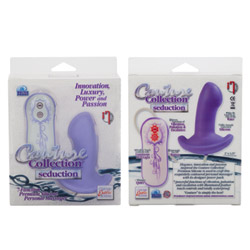 Summary:
It's for your vagina! It's for your butt! No, wait, it's for both! This lovely vibe can be enjoyed wherever you like it, including in the water. It's not every day that you see something made of silicone that's perfect for your booty and has the option for various vibration patterns and speeds. The Couture Seduction is great for just about anyone. Even though the vibrations are slightly buzzy, it's still good at what it does.
Pros:
Silicone, multiple functions, can work for anal or G-spot, waterproof
Cons:
Light and buzzy vibrations.
Material / Texture:

The Couture Seduction is made of silicone; which makes it perfect for anal use, as it can be sterilized. This is also a major plus for this toy because it allows it to be disinfected between anal and vaginal uses. The silicone is smooth, very velvety, and not as tacky as some silicone can be. This silicone doesn't seem to pick up a whole bunch of dust or lint like other silicone is notorious for. It is fairly rigid due to the internal vibration mechanisms, but the bottom base of the plug has some flex to it. The toy, as with all silicone, has no smell or taste. The controller and cord are made of a plastic material.

The texture is one that can be appreciated by a vast majority of users. The silicone gets pretty slippery when lubed up, but it may take a couple of extra dabs to make sure that the plug is slippery enough for anal. For this, it's best to use a thicker gel-like water-based lube. (Do not use silicone lubes with this toy as it will ruin the silicone of the toy.)

Material:

Silicone

Material safety

Texture:

Smooth

Safety features:

Food-grade material / Hypo-allergenic / Latex free / Non-porous / Phthalates free

Design / Shape / Size:

The Couture Seduction has a classic plug-type design. It doesn't offer too much of a flare on the actual plug itself and may not stay in without being held in place. The slightly angled flare at the top doesn't do much to keep it steady once inside and doesn't provide a good gripping point for the internal muscles. The best way to keep it in place is to hold it there or sit on it. The insertable portion is only about 3" long, while the entire plug sits at a little over 4" high. The base is about 2" long and around 1 1/2" wide, which makes it one of those plugs that's hard to nestle between your cheeks. Because of this and the slippage issue, it's not meant for any sort of extended wear. It measures 1 1/4" in diameter, so it's best for those with a little experience when using anally. The angled top of the plug makes insertion easy, but the tip is still slightly blunt and can be hard to insert for beginners when the plug is incredibly lubed up.

The base of the vibrator has a oval or diamond-like shape. On each end of the base there is a small nub that can provide clitoral or outer anal stimulation (when used vaginally). The cord is short, measures under a foot, and doesn't provide much range for the controller. This isn't too much of an issue during normal use, but may make it slightly difficult to use in the bathtub without submerging the controller (even though it claims to be waterproof). The base can be a bit of a pain when trying to use another toy, but this one seems to be able to do a lot on its own and can be worked around with a little creative maneuvering.

The overall design of this plug is very feminine and sweet. It's not an intimidating toy in the least. It comes in pastel pink and purple with a cutesy scrolly design on the controller. It's not the most discreet design out there, but won't scare anyone away with how it looks. (It would be nice if there were a more masculine design, as this is a great toy for men as well.)

Length:

4 1/2"

Insertable length:

3"

Circumference:

3 3/4"

Diameter:

1 1/4"

Weight:

0.4 lb

Functions / Performance / Controls:

The vibrations are controlled through two buttons on the base of the controller. One button with the classic circle with a line symbol will turn it on. The other button cycles you through the various speeds and pulsation modes. These both light up when the vibrator is on. There are your basic steady vibration settings, as well as a number of vibraion patterns. The patterns are pretty much the same as every other toy with them: pulsing, escalating, rollercoaster, and one slightly random setting that doesn't seem to have any rhyme or reason to it.

Overall, the vibrator is pretty quiet. It can't be heard under sheets or behind a closed door. The vibrations are middle of the road in strength, but they're quite buzzy. They not do too much for you internally, but are a nice treat when used anally. They seem to be located in the top part of the plug and don't travel down to the base all too well. When you have the plug set on the highest vibration strength the nubs on the base are around 1 or 2 vrooms at most. Unless you're incredibly sensitive, this might not do the job as a dual stimulator.

The back of the controller is removed just like the battery compartments of most other bullet. It slides right off. It takes two AAA batteries. There is a seal around the batteries in the compartment, which prevents water from getting to them, but it may not be the best at keeping water out of the actual inside of the controller. (Just another reason you might not want to submerge it.)




Functions:

Escalating / Multispeed / Pulsating / Vibrating

Special Features:

Light indicators
Waterproof

Control type:

Control pack

Powered By:

Aaa-2

Care and Maintenance:

Silicone is easy to care for. The waterproof design of this bullet-style plug also aids in cleaning. Silicone is non-porous, meaning that it doesn't absorb bacteria, lubes, or anything else. The plug can be sterilized using a 10% bleach solution. (You shouldn't boil this one because of the internal vibration mechanisms.) In between sterilizing, it can be washed with soap and water or toy cleaner. If you plan on using this vaginally and anally, make sure it is sterilized before making contact with the vagina. It can also be shared if it is sterilized between partners.

Storage is simple. The silicone doesn't seem to pick up dust or lint very easily, unlike most silicone, so you can store it just about anywhere you wish.

Care and cleaning:

Soap and water

Personal comments:

At first, I didn't think I'd be into this because of the buzzy vibrations and the style of it, but was incredibly impressed with it. It's a great anal toy for anyone looking to take that plunge into anal play with vibrating toys. You don't find many vibrating silicone anal toys out there that have something other than a small bullet in them. This one offers many more vibration patterns and functions than you'd get with a toy like that. The AA batteries are also a nice departure from watch batteries that die out easy and are harder to replace.