Don Wands Big bang snackbox - Bullet from Don Wands

Product Details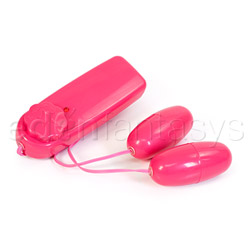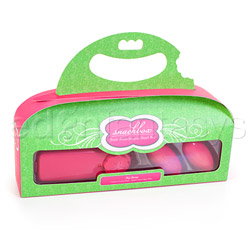 Summary:
This is an effective double egg vibrator. I get off quickly each time I pull it out of my drawer. I wish that I could turn off one egg while using the other. If you ar looking for a first or new egg vibrator, you will be happy with the Big Bang.
Pros:
**low maintenance
**easy to use
**solo or with partner
Cons:
**single control for 2 eggs
**not waterproof
Best use:
There are no surprises with this double egg vibrator. It is used to sexually stimulate (primarily) women, although some men may enjoy a bit of low buzzing under their testicles or around their nipples.

Most women will begin using this as a clitoral stimulator. It fits well in the labia or directly on the clitoris. If you are using this alone, you can use one egg on the clitoris and the other on your breasts, thighs, or anyplace you find pleasureable. For me, that is really too much "work". If I am using both hands to use the eggs, I don't have a free hand, which I want.

If two people are using this at the same time you need to be lying fairly close to each other (probably not a problem!) so that there is enough slack in the wires that connect the eggs to the control box. Speaking of the control box, that may be a problem for dual use. You may ramp it up and your buddy may ramp it down. Both eggs are controlled by the same dial. If you argue about the TV remote, imagine the discussions this remote will bring on. It won't be easy.

Although each egg has a two foot thin electric wire attached to it, please do not insert this either anally or vaginally. It is slippery and too easy to get sucked in. If you are counting on pulling it out by the cord, I wouldn't. It doesn't look like it could stand too much pressure while tugging on the cord.
Material / Texture:

The two eggs and the control box are made of hard ABS plastic. It is very smooth. There is a seam that circles each egg, but there are no raised portions or sharp edges so you should not have a problem using these eggs. Everything is a glossy hot pink/rose color. The official name of the color is "cotton candy pink". Cute.

As with most hard plastics, there is no smell or taste. The material will appeal to novices and veteran users.

Material:

Plastic

Material safety

Texture:

Smooth

Safety features:

Food-grade material / Hypo-allergenic / Latex free / Phthalates free

Design / Shape / Size:

Everything about the Big Bang is designed to appeal to those with feminine tastes. It is a shade of pink, the box is cute and it is easy to use. In the original package, it is not discreet. It is visible and the information printed on the box hints at what it is used for.

If you have never used an egg vibe or have been a fan for many years, you will be happy with the Snackbox Big Bang. There are no different patterns but the vibrations go from low to moderately high.

This is a double egg vibrator so you will be shocked to learn that both vibrator portions are shaped loosely like eggs! I would describe them as an egg/bullet hybrid. They are more narrow than a chicken egg and are 2" long. The control box is the same pink color as the eggs. All components are lightweight and small enough that you could tuck it away anyplace, including your purse. It can certainly be packed for a trip, either in carry on or checked baggage. It will not add more than a few ounces to the limited and closely monitored weight.

Length:

2"

Insertable length:

2"

Diameter:

3/4"

The set includes:

Control pack and two bullets

Weight:

0.3 lb

Functions / Performance / Controls:

The control/battery case measures 3.75" X 1". There is an easy to use round, scalloped edge dial that is used to ramp up the power of the eggs. There is a pretty 5 point star etched on the dial. The dial turns easily and you can feel a spot where the power amps up. It starts low (barely a tease) and goes moderately high. It was enough power to get me off. There are no different patterns, just a steady buzz. I respond to direct clitoral stimulation and that is the target audience for this vibe. If you are a "power queen" go ahead and buy the "Queen" of power stimulators!

There is a down side to the controls. A 24" very thin wire connects both eggs to the control box. You are not able to control each egg individuallly, nor can you turn one off if you are using this alone. If you like it high and the other person wants it low, you will not enjoy using this vibrator together at the same time. It is not waterproof, so any form of water play is out of the question.

For such a little vibrator (standard egg shape/size) and using only two AA batteries this does pack a punch. If you like a strong egg or bullet, this will fit the bill. It won't compare with larger wand vibrators but most women prefer eith/or, so the Snackbox is a good choice. It is noisy. The buzz can be heard through a closed bedroom or bathroom door. Your blanket will muffle the buzz, but anyone outside of where you are playing will wonder what they are hearing and what you are doing! It is extremely easy to insert the batteries. I have used this vibe 4 times for under 5 minutes each time and the batteries are still going stron. I can estimate how long the batteries will last.

Functions:

Vibrating

Special Features:

Control type:

Control pack

Powered By:

Aa-2

Care and Maintenance:

This is made of a hard ABS plastic that is phthalate free. ABS plastic is nonporous but can not be sterilized. It can be cleaned with a wet washcloth and some antibacterial soap (do not immerse in water) or you can wipe it down with isopropyl alcohol. It will be clean but not sterile. If you use this with a partner, you could mark each egg with a different color of nail polish or cover them with a condom when you use them. My preference would be to mark each egg with nail polish. Condoms can get expensive and may interfere with your pleasure.

The plastic is smooth and very glossy. Dirt, lint, dust is not attracted to these eggs so cleaning is a snap. Plastic is rated 8/10 on the Edenfantasys' safety scale. Water based, silicone and oil based lubricants are safe to use with plastic toys.

Care and cleaning:

Soap and water

Packaging:

I love the way this double egg vibrator comes packaged. It is in a carboard box (9"W X 2.5"H X 2"D, plus light caryying handles). There is a clear plastic window so you can see the two eggs and the battery case/control. The vibrator items are housed in strong plastic which slips into the box. It is this plastic housing that actually protects the vibrator. You could toss the box but use the plastic, or you could just store it in a drawer. The vibe is plastic, so no special care is necessary.

The box is designed to appeal to women, and it does appeal to me!! It is a pretty spring green with a tone on tone lacey pattern. The supporting colors are not quite hot pink/rose and white. The handles give the box a lunchbox sort of look. My favorite part is where on the handles there is a scalloped spot that looks like someone took a bite. Adorable.

No instruction brochure is tucked inside but there is a note on the back to the box hinting at the purpose of this item. This is one time I can make an assumption without worry: If you are purchasing this, I am pretty sure you know how to use this!

Personal comments:

Prior to receiving this I had never heard of GLOW, Industries. Using this product game me a very positive impression of them and I look forward to sampling more of what they have to offer!

This did the job for me. I used it solo and my male partner who used it on my clit and inner thight. I enjoyed it more when I was alone with the product. I found having someone else using it on me as a distraction, but I have that problem with most toys that concentrate on me.

One last comment for you to think about. I have no idea how much this will be priced at when it becomes available at Edenfantasys. The packaging is original, well thought out and well executed. It makes you think that you are getting more than you actually receive. Although very effective, this is only an egg vibrator. Do you want to pay for packaging or product?