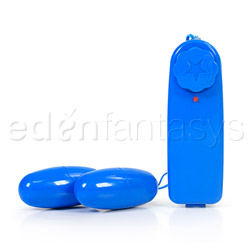 Big bang snackbox
Bullet
by Don Wands
Double Bubble Gum Blue Bullets Don't Offer Much Beyond Color
When you want two eggs buzzing at the same time---whether to corner your clit, or to keep your partner in tune with what you're experiencing, the Big Bang Snackbox is a sound choice. With very solid construction and well-anchored wires, you can expect your cheerfully colored eggs and controller to last a long time, and produce plenty of vibrations for your shorter play sessions.
Published:
Pros:
Gumball Blue, sound construction, dual eggs, strong vibes for 2AA.
Cons:
Buzzy vibes, wires are not "removal cords" so insertion isn't wise, gets hot.
USE
For those whose clits respond best to vibration, adding a small clitoral vibrator to the mix during penetrative sex, solo play, or any other time can change the experience from merely fun to orgasmic. There are many different styles of egg and bullet vibes---The Big Bang Snackbox set features two egg vibrators (more broad than a bullet, for those who prefer broad stimulation) connected by long wires to a battery pack. The two AA batteries held in the battery pack give the eggs a nice punch of power, and the fact that the controls are not on the eggs themselves means you don't have to worry about changing settings by mistake.
Though the packaging makes these eggs appear wireless, they do have a connection to the battery pack. These wires feel securely mounted to the eggs, and they withstand a light tugging---but people who would need a retrieval cord should not insert either of these eggs vaginally, and nobody should insert them anally. Egg vibrators are designed for all-over body (including nipple) stimulation, but they really shine at clitoral stimulation.
CONSTRUCTION
The simple body-safe ABS plastic construction of the Big Bang Snack Box is quite sound. The battery compartment opens easily and does not feel flimsy, the dial turns along its track, neither too loose nor too stuck. The wires connecting the control pack with the eggs are nicely coated, and feel more solidly anchored in the eggs than other egg kits I've used. Where the wire meets an egg, there is a semi-flexible collar that makes the eggs lightly splashproof. (Don't submerge them, but feel free to clean them thoroughly with soap and water.)
The eggs are a common size: each is two inches long, and a gentle ellipse-like shape (more slender than an actual egg) with a maximum diameter of about an inch at the center. Both eggs contain motors, and there is a seam at the mid-point of each egg where this motor was installed. The construction is strong enough that the seam cannot be pulled apart. Personally, I prefer a clit vibe that is longer than these eggs, because when the motor fills the whole vibrator body, there is no way to keep your fingers from getting just as much attention as your clit. For partnered sex where the bullet is held against the body by another body, though, this is less of a concern.
This style of battery case/controller seems to be
actually
quite
common
among
egg
vibe
controllers
from both Doc Johnson and Shaki Toys. If it's popular, t here's a reason---the dial is easy to understand, easy to use, and difficult to use accidentally in the throes of passion. It is about 3" long, 0.5" thick, and 1" wide, which is an ideal size for fitting into an average-sized hand. The wires connecting the control pack with the eggs are about 3 feet long, so letting a partner control them from a short distance will work just fine.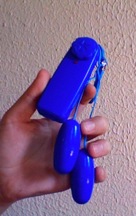 PERFORMANCE
While the color and construction of this egg set gave me high hopes, the performance is where my opinion of the Big Bang Box started to fade. First, my body doesn't respond well to buzzy vibrations, and the two AA batteries here produce vibrations t hat are on the buzzier end of the spectrum. I also prefer not to have my fingers vibrated at the same time as my clit, and these eggs are vibrating across every square inch of surface. Of course, these problems are going to be the same no matter which egg set you choose, and the Big Bang eggs are no worse than any other egg.
The dial control is extremely easy to use---following the diagram, you turn the dial counterclockwise to increase vibration, and clockwise to decrease or turn it off. Both eggs vibrate at the same strength and frequency, so one can easily be, for example, held in a controlling partner's pocket to keep in tune with the lucky vibration recipient. Also possible (although not advised, especially if you are unsure of your ability to remove an object without using your hands) is the insertion of one egg vaginally while the second is used clitorally. Used properly, the eggs can both be held together to nestle or squeeze the clit between them.
Battery life does not seem to drain incredibly rapidly, but I will post an update on this in my follow-up review. When being used for more than 30 minutes in one go, the eggs do start to heat up to the point of being uncomfortable.
Experience
PACKAGING
The packaging seems to be the biggest draw for the Big Bang Snackbox, in the world of controller-pack, dual-egg egg sets. It is styled like a carry-to-school lunch set, and features the eggs in Gum Ball Blue and Cotton Candy Pink. The packaging is only minimally informative, letting you know about the body-safe ABS plastic construction, that the set "manufactured by Glow Industries - Perrysburg, OH / Riverside, CA" and "made in China."

The box, while it is stylish, is not really reusable, both because it is rather bulky, and because it requires a plastic inset to hold the eggs and controller in place.
PERSONAL THOUGHTS
I've never actually owned vibrating eggs before, because I know my preference is to not have my fingers in contact with strong vibrations. From my point of view, the Big Bang Snackbox has much higher quality construction than I was expecting, and I would imagine these would hold up to at least a year of regular use. The wires seem very sturdily anchored. Because I have practice with ben wa balls with no retrieval system (like
these
, and after I had tested that the eggs were splashproof, I did have an enjoyable time with one egg inserted and the other nestled against my clit when grinding in a prone position. For me, this is more of a hassle than usual, but for women who naturally use a position like that, or for women who don't mind vibrating fingers, this set seems quite nice. It definitely exceeded my expectations for a style of product I am not well-suited to.
This product was provided free of charge to the reviewer. This review is in compliance with the FTC guidelines.

Thank you for viewing
Big bang snackbox
– bullet vibrator review page!