BSwish Bnaughty unleashed premium - Bullet from BSwish

Bnaughty unleashed premium videos
Product Details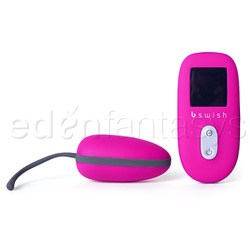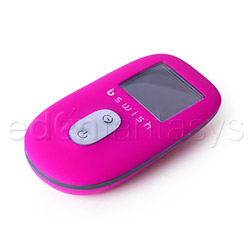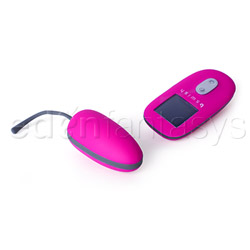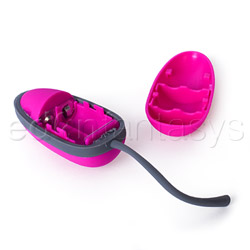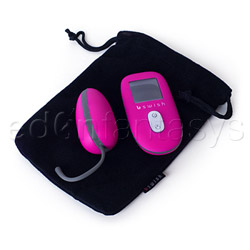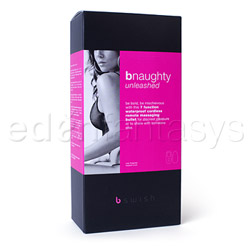 Summary:
This is a beautiful option for someone seeking out a wireless remote controlled vibrating egg - smooth feeling, powerful rumbling, and adequate range. However, it uses strange batteries.
Pros:
Wireless and remote controlled, strong, quiet egg with great patterns.
Cons:
Needs two types of non-standard batteries, consumes the remote battery very quickly.
Best use:
The Bnaughty unleashed is a wireless remote control egg vibrator, suitable for all types of vibrator play. It excels at ranged 'teasing' at the hands of a partner. Due to an overall larger shape the toy is really best when placed internally and triggered from afar, which is the classic use of a wireless egg. The Bnaughty is accordingly strong yet quiet, so it can be used out in public without anyone else being the wiser.
Material / Texture:

The Bnaughty Unleashed in made of PU coated ABS plastic, which is like a 'rubber cote' with polyurethane coating instead of rubber. The feel is velvety, the texture is smooth and the surface is hard and non-porous. There's grip, but add lube and it gets slick and slippery. The PU coating seems to 'consume' lube more so than other, uncoated, hard plastics.

Material:

PU coated plastic

Material safety

Texture:

Velvety

Safety features:

Hypo-allergenic / Latex free / Non-porous / Phthalates free

Design / Shape / Size:

The egg is elliptical and slender - 3" long and 1.4" wide. It has a pointier end, and a stubbier end that also features a retrieval cord. It is large, frankly, the way remote controlled eggs often are, but it is slimmer than most and thus may work for some who find wider eggs a little too large to wear for long. The remote is almost pocket friendly at 3.7" by 2" wide, but the buttons are rather easily triggered in pocket. It's a little large for holding in your palm for long periods of time, because it is pink and too large to conceal easily in hand so its just not discreet.

Length:

3"

Insertable length:

3"

Circumference:

4 1/4"

Diameter:

1 3/8"

Functions / Performance / Controls:

The Unleashed features seven vibration settings - three constant levels and then four different patterns. The patterns are great - lots of variation from low to high with fervent intensity. I personally find that wireless eggs do best when vibration levels are changing - constant buzzing gets dull and ignore-able very very fast - so I am very pleased with the variety of patterns available in the Unleashed. The remote works to cycle the egg through the seven functions through a single button. There is also an on/off button. There is a light up screen that visually shows what pattern is happening through illuminating different parts of a flower image. I find this a little strange, awkward, and unwieldy, but hey - it works. If the remote's battery dies while the egg is on, the egg keeps vibrating and must be opened up itself in order to have it shut off.

The remote takes 1 12v 23A battery, and it kills the battery when left on standby so be sure to remove it when not in use. It's a goofy battery and ran out pretty quickly, allowing only two casual play sessions before I found it dead. The Egg takes 2 12V batteries, and does not seem to consume those voraciously.

Functions:

Escalating / Pulsating / Vibrating

Special Features:

Batteries included
Multifunction
Multispeed
Powerful
Quiet
Remote controlled
Waterproof
Wireless

Control type:

Remote control

Powered By:

12V-1 / N-2

Care and Maintenance:

Wash the egg with soap and water after use, and allow it to dry off completely before storage in the included storage bag. Take the batteries out of the egg and also the remote. Toy cleaner could also be used, and if you wish to sanitize the egg you may soak it in 10% bleach for 10 minutes.