Bnaughty Says "Batteries Are the Nom!"
While I think this is an absolutely adorable novelty item and particularly great for couples looking to add a little naughtiness to their foreplay, I can't see it being a staple of a more experienced collector. It's made of plastic, battery operated (and a battery guzzler!), and has uncomfortable seams. But in its defense, it has an impression range of control, a unique screen to show you the setting, and well designed controls.
Published:
Pros:
~ Cute Screen
~ Easy Controls/ Dedicated On-Off
~ Storage Pouch Included
Cons:
~ Power Guzzler
~ Huge Seam
~ Uncomfortable Cord
Greetings, sex lovers, toy connoisseurs, and curious passersby. I want to introduce you to the
Bnaughty Unleashed
, a cordless, remote-controlled, 'waterproof' bullet. This little thing is meant both for external stimulation or vaginally massage. However, it is not safe for anal use and should not be inserted into the rectum.
I don't want to be redundant so I will recommend the product page which was extremely well done for basic measurements and shape. But there are some things about the design that I want to touch on briefly. One is that the soft black or charcoal colored band around the bullet makes for two very noticeable and irritating seams. They do not sit flush and are scratchy. It made insertion unpleasant. Also important to note is that because it doesn't sit flush, I don't trust submerging it to find out if it is truly waterproof. But I can see space between and recall spending more time than I wanted cleaning. Second is that the retrieval cord is very stiff and also has a less noticeable seam. It was not as forgettable as a tampon string and if you're sensitive, it can rub your raw if worn around rather than just lying still on a bed.
Third is the batteries. My god I hate the batteries! Both the remote and the bullet use completely different but equally small and difficult to find little things that die rather quickly. They nommed the batteries right up! In fact, the information on the box says, "Use time: 3 hours". That's not how long they recommend playing for each time. That's how long it will take for it to suck every drop of energy from your included batteries before forcing you out on a treasure hunt to find new ones, which hopefully come in a economy-sized pack to last you another, oh, 2-3 days. Probably my least favorite aspect of this toy, can you tell?
Before I move on to functions and power, I do want to give the Bnaughty credit where it's due. The PU coated plastic does feel very nice. It's smooth, velvety, and very nice for skin contact (avoiding seams, of course). And both the bullet and remote are easy to open to get those
(@#$%!)
batteries out.
Our first stop in the functions category? The cute remote! And it really is adorably designed. It rather looks like a flash-drive mp3 player to me with it's little screen and it's somewhat flat, rectangular body. Now, don't get too excited because nothing really special shows up on the screen. I was hoping, honestly, it'd either be a graph showing
exactly
the pattern of the current setting or have a digital read out of some kind. But hey, at least you get this cute lil' flower that changes for each setting. (The back-light on the screen goes out fast so it was tricky getting this picture!)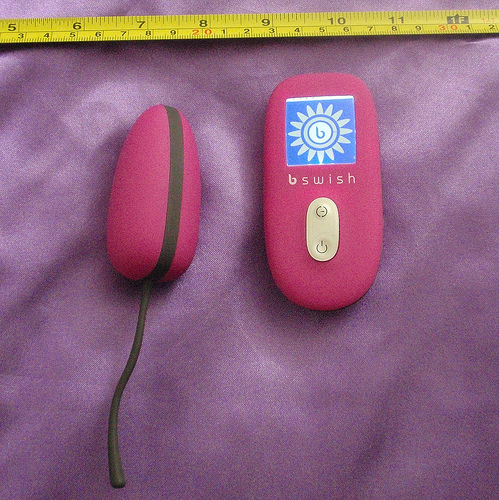 So first stop is that bottom button. It's a dedicated on/off for the bullet, which is super nice! It's also a concave button for preventing accidentally turning it off when you're in the middle of fun (or accidentally turning it on when you're rushing to hide it). You do not have to scroll through patterns to end your session. And no matter what pattern you stopped on, it's starts back over with the first setting. And that leaves the top button for scrolling and this one is actually convex, allowing you to easily feel it out in the dark.
And I bet most of you are wondering about the range of the remote to the bullet. Well mine actually performed excellently! I was three rooms away, behind closed doors, when I tested it. I was pretty impressed, actually. But I have seen that others had varying experiences with ranges on remote toys so don't assume that yours may only do two rooms away or possibly even a bit further than mine. The packaging claims to cover a minimum of 3 meters (which is about 9.8 feet).
It's finally time for the vibration settings! But strangely enough, as I prepared to jot them down for you after playing (before my batteries were nommed) my bullet decided that it would have a stroke. I don't know. I blame the batteries. Anyway, the remote screen would show the pattern that should have been escalating and instead my bullet sat in high, steady. I thought it was just a fluke so I tried again but instead of returning to steady vibrations at the end of the patterns, it pulsed. I may not been a medically trained doctor but I did stay at a Holiday Inn Express once and I think that once you see your bullet do this, it's its swan song (or in its death throes, if you will).
Experience
But before my bullet bit the dust, it had 7 settings to boast of. They were decently powered and moderately quiet. The bullet became almost impossible to hear even in a completely silent room once inserted vaginally. The vibration pitch is fairly rumbly, rather than the high-frequency kind.

1. Low, steady vibration
2. Medium, steady vibration
3. High, steady vibration
4. Rumbly escalation from low to high
5. Slow pulse on high
6. Fast pulse on high
7. Two short followed by one long pulse on high

And before we part, I do want to say that this bullet did at least come with a storage pouch and general (i.e. vague) information in an pamphlet in the packaging. The storage pouch is a felt material and not pleasant (for me) to touch. It gives me itchy fingers. But it's at least big enough to hold both the bullet and the remote inside. And the box it came in was very modest and presentable. There were no naked people or embarrassing words in large letters stamped on the front. It would make a fine gift, though it's not stealthy enough to be given in 'mixed' company (such as toy lovers versus toy haters).

All in all, I would say this bullet was cute and unique but a hassle. Above all of the cons it has for me, the batteries are the most annoying. If it were rechargeable or even just used AAA-sized, I'd be much more pleased.
This product was provided free of charge to the reviewer. This review is in compliance with the FTC guidelines.

Thank you for viewing
Bnaughty unleashed premium
– bullet vibrator review page!