Evolved Engagement finger ring - Bullet from Evolved

Engagement finger ring videos
Product Details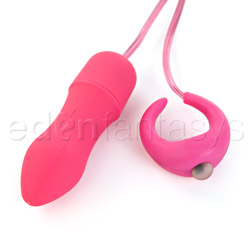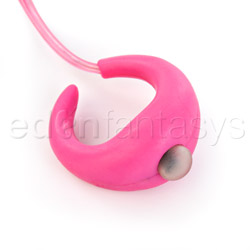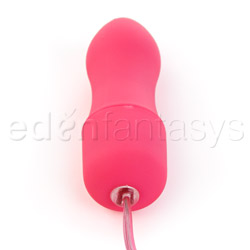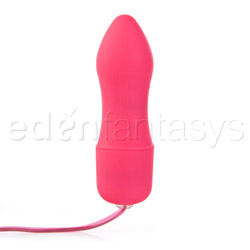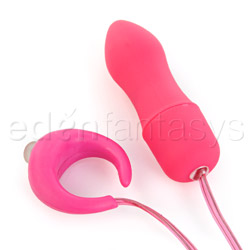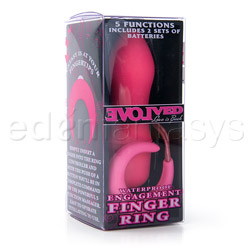 Summary:
This excellent addition to any bullet lover's collection is designed for pinpoint stimulation. The ring stays in place on your finger. The wire's long enough to move around, but stays out of the way. It's light and compact making it excellent for travel. Its vibration strengths and pulsation variables are perfect for beginners and experienced users alike. And it comes with two sets of three watch-style batteries.

Just don't offer it to your lady instead of a diamond. She won't be amused.
Pros:
Discreet, excellent control pack design, extra batteries.
Cons:
Screwing the battery cap on too tight makes it stop working.
Best use:
The Engagement Finger Ring is meant for erogenous and clitoral stimulation. Its control pack makes it excellent for solo use. It's small enough to tuck in any bag and take with you on the road. Beginners and experienced users alike will find it easy to use, non-threatening and enjoyable.
Material / Texture:

This toy is made of a hard plastic with a soft matte finish, which gives it a little more drag than a shiny plastic toy. It doesn't smell or taste like anything. It's hard, which makes it great for bearing down.

The only real complaint I have is the sharp seam running down the side. But that really only affects the aesthetics of the toy, as you can't feel it in use.

Material:

Plastic

Material safety

Texture:

Smooth

Safety features:

Food-grade material / Hypo-allergenic / Latex free / Phthalates free

Design / Shape / Size:

This bullet is shaped ideally for pinpoint stimulation. It's two and one-half inches long and about three-quarters of an inch wide and it's shaped sort of like a bullet. It features a blunt, pointed tip that slopes down into a thin "waist" and then flares out again into a slightly wider base. I find myself resting my fingers just above its base or holding it like a pencil.

It's connected to the ring that controls it by a thin thirty-one inch wire. The ring is about one and one-quarter inches in diameter and has a button resembling a stone in the center. It's open on the side opposite the button, making it one-size-fits-most. It's too big for all my fingers (my wedding ring is a size seven), including my thumb, but spins less on my index finger.

On the bottom of the battery cap, there's a clear rubbery wire protector holding the wire in place. Unscrew the battery cap and you'll find an o-ring and a set of batteries already installed. Pull the paper tab out of the spring, screw the battery cap back on and you're all set.

Toss it in your suitcase or purse and take it on the road. But you're probably not going to stick it in your pocket without an interesting, identifiable bulge.

Length:

2 1/2"

Circumference:

2 1/2"

Diameter:

3/4"

Weight:

0.1 lb

Functions / Performance / Controls:

The Engagement Finger Ring is controlled by a button on the ring. You don't get much easier to use than a button on a ring on your finger. The name is sort of deceiving as wearing it on my ring finger was not comfortable at all. I found it more comfortable and convenient on my index finger with the button turned toward my thumb. That way, I could hold my hand however I wanted and just toggle the button with my thumb.

It has five vibration settings: low, high, and three pulsation variables. Two of the pulsation variables are a series of staccato vibrations, one just a little bit slower with slightly longer pulses than the other. The last is a quick series of short and long pulses. To turn the bullet off, you must cycle through all five.

It's a pretty powerful little bullet. The vibrations are strongest at its tip. It's not overly loud. And it's great in the water.

Functions:

Pulsating / Vibrating

Special Features:

Batteries included
Multifunction
Waterproof

Control type:

Control pack

Powered By:

3 watch batteries

Care and Maintenance:

This toy can be washed with non-abrasive antibacterial soap and water or wiped down with isopropyl alcohol. Store it in the box it comes in, or wind up the wire and drop it in the drawer. It's nonporous, so feel free to share it between orifices or partners, just be sure to give it a quick scrub between.

I'm not sure I'd suggest inserting this toy. I'd be worried about pulling on the cord and possibly damaging it.

Before using your bullet in the water, be sure the o-ring and rubber wire protector are still in place. Otherwise, the water might damage it. I usually suggest screwing the battery cap on as tightly as possible, but when I did that with this bullet, it stopped working. So just under as tightly as possible is fine.

Packaging:

It comes in this little black plastic box inside a thinner, clear plastic box sporting Evolved's logo and the toy's claims to fame, as well as some butterflies and girly decorations. The bullet rests on black molded plastic with a slit in the middle that the wire's fed through. Underneath the black molded plastic and coil of wire is a second set (Yes, you read me right!) of batteries inside a piece of clear molded plastic.

Experience:

This bullet is perfect for me. Yes, I said perfect.

The control pack is right at hand and doesn't fall off. Squeeze the bed covers. Punch the pillow. Chew your knuckle. Flail around like a mad person. Then twitch your thumb toward your index finger to speed it up or make it pulse and it's STILL THERE.

The lowest setting isn't too low. The highest isn't too high. The pulsation variables are all at just the right speed with out too many glaring gaps. Matter of fact, there's almost no gap between pulses. The Engagement Finger Ring is, without a doubt, my new favorite bullet.