WHK GmbH Fish and Bait - Bullet from WHK GmbH

Product Details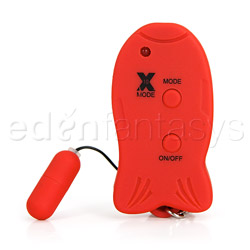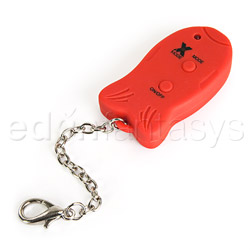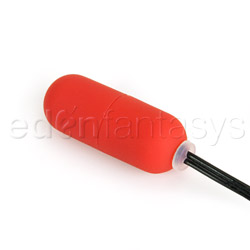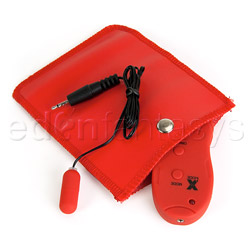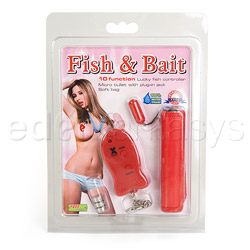 Summary:
This a low budget sex toy. The bullet is tiny, the control pack is ergonomic and has instant on/off button. The set includes small travel pouch. The Fish and Bait is a nice vibe for travel or novelty only!
Pros:
Compact, discrete design with numerous functions and nice vibration.
Cons:
Poor quality, is not waterproof as advertised.
Best use:
The tiny micro bullet on the Fish and Bait is no larger than a gel-capsule you might take as a vitamin. It is the perfect size the nestle up to your clit or place between your labia for safe keeping. Some might be quite inspired to use it for anal stimulation, although the small cracks in the plastic might make thorough cleaning difficult; so if using anally, don't use this toy for vaginal stimulation as well.

The Fish and Bait is one of those toys that is so easy to throw in a bag and take along, I can see it being used as a travel vibe or maybe on the train on your way to work while you hold the remote in your jacket pocket. If you don't mind a lunch mate asking about it, you might even opt to keep the key-chain equipped base on your keyring for just such an occasion that you'd like to plug it in on your way home.
Material / Texture:

This toy has a very slight manufacturing smell right out of the box, but given about 24 hours, that smell was almost completely gone. It is not so much to interfere with use, if you just can't wait to give it a try when the mail man drops it off!

The hard plastic has a velvety texture which is one of my favorites. I feel that the velvet-type finish glides so much more nicely over my skin than other finishes, and it's easy to tell when it's clean after you're done using it.

Material:

Plastic

Material safety

Texture:

Velvety

Safety features:

Food-grade material / Hypo-allergenic / Latex free / Phthalates free

Design / Shape / Size:

The Fish and Bait is my first-ever "micro bullet". I was intrigued by its compact size and did not have very high expectations for such a small toy. However, I was surprised (pleasantly) when I found that the tiny bullet sat right next to my clit like they had been made for one another, and the same right between my labia. The small size means that it vibrates from all sides equally.

I'm disappointed by the 20" cord that attaches the bullet to its remote. I think that even just 6 more inches would provide enough mobility to keep me from feeling constrained by the cord.
Since everything is compact about this vibe, it is absolutely ideal for traveling. The cord unplugs from the base, minimizing the likelihood of an accidental power on when not in use. Also, due it its compact nature, this vibe is perfect for novices or anyone looking for a tiny toy... although this is not the toy for someone looking for intense vibration.

Color:

Red

Length:

1"

Circumference:

1 1/4"

Diameter:

3/8"

Weight:

0.2 lb

Functions / Performance / Controls:

For such a small toy, the Fish and Bait has quite some gusto. Even on the lowest setting, I find the vibrations to be surprisingly strong, especially when applied directly to my clit. It's only a tiny bullet, so I wouldn't have high expectations for the strength of vibration, but I found it to be usable through a pair of jeans. The noise level is dis-similarly quiet, a feature one can almost always love in a vibrating toy. One caveat to the noise level is that if the bullet touches something (say a desktop or bed post), it will of course make a racket.
The controls are straightforward and take no explanation really: an "on/off" button controls the vibe's power while a "mode" button cycle through the vibrator's 10 different functions (ranging from steady vibration to pulsation to rapid pulsing to roller-coaster and everything in between). I personally loved the variable setting and especially the roller-coaster which build up slowly and then backs off before you get too hot.

My favorite part of the controls is that the vibe will not turn on unless the bullet is plugged into the base, saving batteries and avoiding potential embarrassment in your purse or suitcase. Just unplug the cord and you're guaranteed to be saved from any accidental "turn-ons".

The manufacturer claims on the packaging that this toy is 100% waterproof, which is completely ludicrous. I can in fact see inside the battery case because of its poor construction, so I know that water can get in too. That said, the Fish and Bait did continue to perform when submerged and afterward as well. I however, would absolutely not recommend that anyone use this toy in the water due to the risk of shock, or simply damage to the electronics of toy.

Functions:

Escalating / Pulsating / Vibrating

Special Features:

Batteries included
Multifunction
Multispeed
Waterproof

Control type:

Control pack

Powered By:

3 watch batteries

Care and Maintenance:

The Fish and Bait comes with a coordinating vinyl bag that snaps shut for convenient storage, a nice feature given its small nature. Since the toy is plastic and the manufacturer claims that it is 100% waterproof it can theoretically be submerged in soap and water for washing. However, when I tried this method, I found found that water seeped into the battery case. Soap and water might be more appropriate on the bullet once it is detached from the power remote. It is so small though, that a little alcohol on a cotton ball or two would suffice to clean the little bullet and its attached power cord.

One of the beauties of plastic is that it is compatible with virtually any lube you want to slather it in, although you may find that this little vibe needs little to no lube to be enjoyable!

Packaging:

The Fish and Bait comes with no user instructions.

The packaging features a bare breasted woman with blurred out nipples, which I found to be hardly tactful or erotic. It did conveniently come packaged with the three required batteries. The batteries were especially nice since watch size batteries can be difficult to find and most people don't have them laying around the house.