California Exotic L'amour bullet - Bullet from California Exotic

Product Details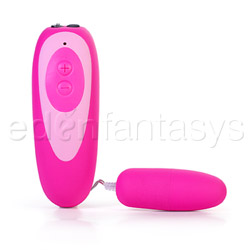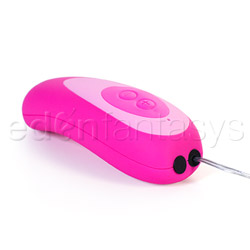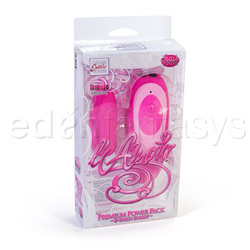 Summary:
The L'amour bullet looks just like any other bullet. The only difference is that the it packs a good punch. It is lacking in the function department, but it makes up for it in the power department. The L'amour has a lovely texture that anyone would enjoy. It is perfect for use in solo situations or in group situations.
Pros:
Powerful, discreet, beginner friendly, compact.
Cons:
Limited functions, kind of loud.
Best use:
You're never too old, or have too many toys, to get a new bullet... at least, that is how I feel about it. I love adding new bullets to my collection. The L'amour bullet is perfect for anyone, whether you're a beginner or someone more advanced. You can use the L'amour bullet to stimulate your most sensitive areas. You can use the L'amour bullet on your own, or with a partner. You can use it in your bed, the shower, or bathtub. The vibrations are perfect enough to suit even the most sensitive user. This bullet should not be used anally, because pulling on the cord can cause it to fray or even detach.
Material / Texture:

The L'amour bullet is made out of PU coated plastic. PU coated plastic is ABS plastic with a PU coating and is Phthalate free. When using it, I would recommend using it with a condom if you're sharing (if you are sharing with a fluid bonded partner then I do not push using a condom, but you still always can). When you first open the package, the L'amour bullet does not have any type of smell or taste.

The L'amour bullet does not have any real texture. When I say real texture, I mean it did not have any bumps and ridges or pattern on the exterior that you will feel during use. The L'amour bullet does have a little bit of a drag, almost like the drag of a silicone toy, although it is not silicone. The bullet and the handle both have this same texture. The light drag of the handle is perfect because it keeps you from losing it when using it. It will not mistakenly fall or fly out of your hands.

The bullet's drag may require you to add a little extra lube. I've had a couple of times where I did not need to add extra lube when I was extremely turned on, but for whatever reason, you may need to add a little extra during play time.

Material:

PU coated plastic

Material safety

Texture:

Velvety

Safety features:

Latex free / Phthalates free

Design / Shape / Size:

The L'amour bullet has the normal shape that most bullets have. It is nothing extraordinarily special. It does have a cord attaching the bullet to the control. Although some may not like the cord, the cord allows you to do more with the L'amour bullet than bullets that do not have one.

The L'amour bullet does not take up much space at all. It's about 3 1/2 inches in length, and the controller is a little over 4 inches in length. You can hold both items in your hand. You can carry around the L'amour bullet bullet inside of a small bag, or what ever you are using to tote it around. It will not take up much space at all. The L'amour bullet is perfect for beginners and for the more advanced. The lack of texture and the power that it does pack makes it perfect for many people. The L'amour bullet is perfect for solo use, and it's perfect for using it with a partner.
.

Length:

2 3/4"

Insertable length:

2 3/4"

Circumference:

3 1/2"

Diameter:

1"

Weight:

3 oz

Functions / Performance / Controls:

The L'amour bullet is actually quite easy to use. It only has two buttons, and it is pretty self explanatory. It has one button that has a "+" and another that has a "-" on it. When you press the "+" button it turns on the bullet. It also increases the vibration speed. Pressing the "-" turns it off and it also decreases the speed.

The L'amour bullet does not have any significant settings. I was quite disappointed with this. This bullet has your normal low, medium, and high; it also has an extra high setting. The vibrations are quite strong, but they can sometimes feel a little buzzy. This can be a problem because the vibrations are not felt that deeply when using it internally.

The vibrations are also pretty loud. You can hear the vibrations through the covers and possibly through a closed door if you are in a silent room. The L'amour bullet also takes more batteries then you would think: it runs on 4 triple A batteries. This can be a problem, only because some people do not have that many triple A batteries lying around the house.
.

Functions:

Vibrating

Special Features:

Ergonomically shaped
Light indicators
Multispeed
Powerful

Control type:

Control pack

Powered By:

Aaa-4

Care and Maintenance:

The L'amour bullet is very easy to clean and care for. When you are not using it, you can use the package for storage, or you can use something else to house your toy. When it comes to cleaning it, you can use mild soap in water, or you can use your favorite toy cleaner. The bullet of the L'amour is waterproof, but the controller is not. When washing it you should make sure not to get any water into the compartment. If you do, you should allow it to air dry before using it again. When using it with lube, you can use water and oil based lube.

Care and cleaning:

Soap and water

Packaging:

The L'amour bullet comes inside of your normal plastic casing. It is not anything special, but it is good enough for storage. The package has purple writing on it, making it very girly. The package can be used for storage, or you can toss it if you like. It may not be good enough to be given as a gift, because the toy is in full view.
.