Best use:
The Lighted Shimmers Leo Turbo Teaser clitoral vibrator by Cal Exotics is my first bullet/egg. I have been wanting one for a long time and was very excited to be assigned this product. After the first time I used it I turned to my husband and asked, "Why in the hell didn't you get me one of these as my first sex toy?"
I love the versatility and power behind this product. While the Lighted Shimmers Leo Turbo Teaser is designed as a clitoral stimulator, you can really use it just about anywhere. It produces the greatest feeling when used on your nipples, perineum, internal labia, and anus, but of course you can use it to tease your partner on other non-erogenous zones.
While the toy does produce a strong vibration it does not by any means produce an earth-shattering, give me twenty minutes before I can stand, orgasm. It is as it states in the name, a teaser. It is great as a supporting toy, but not a main use. It is best suited for stimulation during foreplay, combined with another toy, or during actual sex. I preferred to use it during vaginal penetration with my husband. Normally I love to use a vibrator for clitoral stimulation during sex, but sometimes those can get in the way of the real action and hinder things. I will be replacing the vibe with The Lighted Shimmers Leo Turbo Teaser during sex because it provides the extra stimulation I crave without hindering us and we can use it in more versatile positions.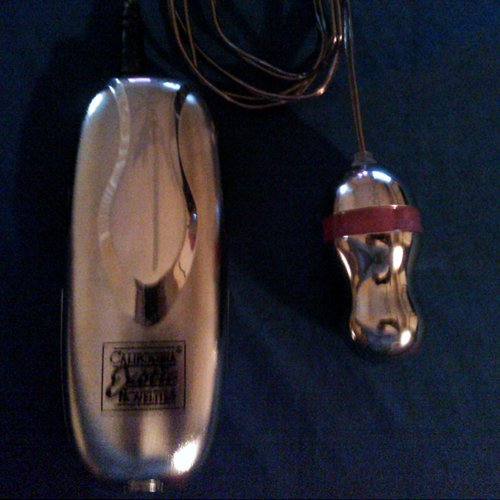 Material / Texture:

The Lighted Shimmers Leo Turbo Teaser clitoral vibrator by Cal Exotics is made of a smooth plastic that is food-grade material, hypo-allergenic, latex free, and phthalates free which gives it an 8 on the material safety scale. The plastic is non-porous which makes it easy to clean and maintain and it is safe to use water, oil, or silicone lubricants on it.

The bullet is made of hard, smooth, plastic; there is not any flex to the bullet/egg. It is a metallic, silver colored product with a clear colored ring around the bottom wide part of the bullet. In my case it was pink, but it is also available in blue.



There are two seams on the bullet, one on each side of the light up ring. These do not seem to add any stimulation and there is not any risk of catching anything on the seams. The cord that runs from the bullet to the jack is covered with a clear flexible plastic that makes it easy to wrap for storage. The remote control is also made of a silver plastic that is a mixture of a smooth and gritty texture. I am assuming that the added texture is to assist with grip. The actual switch control is made of black plastic. The only downside to this is that the control feels cheaply made and it may break when you are opening the door to insert the 3 AA batteries. Also, there are no strange smells associated with the device.

Material:

Plastic

Material safety

Texture:

Smooth

Safety features:

Food-grade material / Hypo-allergenic / Latex free / Phthalates free

Design / Shape / Size:

I really like the design of the product. Being this is my first bullet/egg, I was not quite sure what to expect as far as use goes. Being that I am a beginner with this type of product, I would definitely advise it for beginners, but this is a great product that could also be enjoyed by advanced users. It is very easy to use and control.



The bullet itself is roughly 2 1/4" in length and about 1" wide at its widest base. The hourglass shape allows for you to hold it between two fingers on the neck for a good grip and control. The only problem with the design of the bullet is that sometimes with lube it can be too slippery to hold and you can't apply as much pressure as you might like to. To remedy this during a solo session I actually wrapped a cock ring around the bullet and slipped my fingers through the ring. By doing so I was able to apply more pressure for greater pleasure and did not have to worry about it slipping out of my hand.



The bullet/egg is a great size for its power. Since you can unplug the bullet from the remote it is easy to clean and store. It also makes for discreet travel and use. Very easy to hide as long as you can hide the cord. The only thing that may draw attention to you, aside from your moaning, is the light that gets brighter with the intensity setting.

The controller is the only real downside to this product and they are only minor flaws at that. The controller is about 4 1/2" in length and the cord stretches from the jack to the bullet by 35 inches.



As I said previously, the controller feels like it is made of inexpensive plastic, but since you will not really be playing with that much, it is not a huge concern. The only other thing I would change with the controller is the direction in which you push the switch up or down to increase the intensity of the vibrations. Being that I am right handed, the bullet of course is in my right hand while the control is in my left. It just seems natural to hold it with the cord running towards my wrist and that I should be able to push the switch up to increase the intensity, but you actually move it towards the cord. It is just my preference, but there it is.

Length:

2 1/4"

Circumference:

3 1/4"

Diameter:

1"

Weight:

2.5 oz

Functions / Performance / Controls:

The Lighted Shimmers Leo Turbo Teaser is exactly as described in the name, a teaser. While it does produce some great vibrations and with some work you could definitely have an orgasm, it is better suited for use during foreplay and as an added stimulus during sex. It is great for waking up the nerves down there to intensify orgasms during sex.

The vibrations are of course located in the bullet/egg as is the light that is a big feature of this product. While I cannot say that the light added to the pleasure obtained from using the product, it is cute and made me and my husband come up with the nickname of "The Star Wars Egg" for our new toy. Yes, I could not help but shake it around like a light-saber. The vibrations are not loud enough to be heard outside the bedroom door, as tested by my hubby, but if you are lying next to someone they are definitely going to think you are abusing the vibration setting on your cellphone.

The controls are easy to use, just move the switch up or down. As I said before I would just prefer that it moved in the opposite direction. While I believe it is supposed to have many different levels of intensity, I could really only feel three different levels myself. While this is not a bad thing because all of them feel great, I did expect a bit more of a difference between the levels.

This is NOT a waterproof product, so do not use it in the tub or shower.

Functions:

Vibrating

Special Features:

Light indicators
Multispeed
Powerful

Control type:

Control pack

Powered By:

Aa-3

Care and Maintenance:

Being that both the bullet/egg and the remote control are made of plastic, they are very easy to clean and maintain. The bullet can be unplugged from the controls and washed with soap and water, just be careful to not wet the end of the cord. The remote can and should be cleaned with a damp cloth.

Storage is easy, you can wrap the cord as to not take up much room. I have a special box for all of my toys and it was able to find a small spot easily.

This toy is compatible with many toys. I highly suggest setting the vibrations to the max and then use a dong or strap it into a cock ring. I cannot wait until tomorrow to see about strapping it to the cock ring on my husband while we have sex. (That will be discussed in the follow up for sure.)

Because this is made of plastic you can use oil, silicone or water based lubricants. It is HIGHLY advised to use lube with it, especially one of the clitoral stimulating gels.

Care and cleaning:

Soap and water

Packaging:

Here is a picture of the packaging:


It is not very discreet, but to honest it kind of looks like a package for some sort of toy, but there are not any nude pictures, so it is not as bad as some other packages. The box itself is made of cardboard and the product itself is wrapped in clear plastic inside the box.

I suppose you could hold on to the box for storage, but I do not care to hold on to the boxes since I have a special place for organizing all of my toys.

Experience:

Being this is my first bullet/egg, I was so excited when I heard the doorbell ring. Granted, once I took it out of the box and got the batteries in, I immediately made a noise like a light saber when I turned it on.

After the novelty of the light wore off my husband immediately grabbed it from me and grabbed the lube. First he began to tease me running the bullet from my chin down to my chest where he began to tease me with a combination of suckling my nipple and circling my nipples with the bullet. From there he ran it down my stomach and went right to business running up and down my clit. Then he would slowly circle it, adding more pressure and switching between light and great intensity. Finally after a bit of teasing he handed the bullet over to me, made me flip over to all fours and had me use it on myself while he took me doggy style. This is when I really felt the best of the bullet. It added a great intensity to my orgasm that made this the perfect addition for the moment.